Reviews
Drizzle It On
From varieties made and sold by the cases to versions whipped up and served at your favorite restaurant, these flavorful dressings are all locally crafted and available for you to enjoy at home.
By Savannah Waszczuk
Jan 2015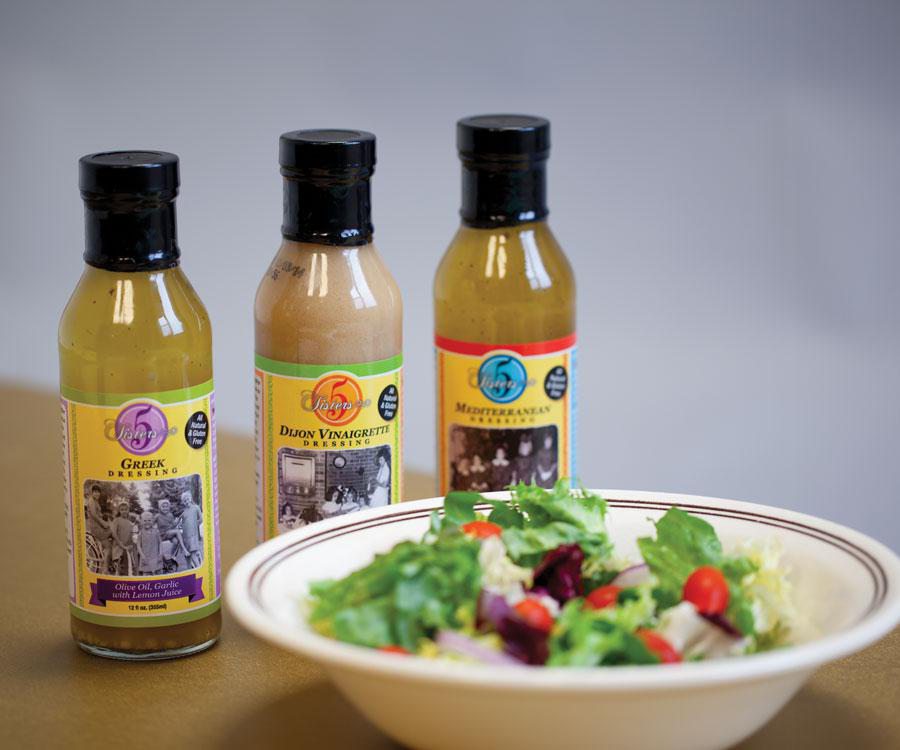 5 Sisters Salad Dressings
Buy It: $3.99–4.99 per bottle at Price Cutter and Summer Fresh stores 
Tasty Tidbits: 5 Sisters Salad Dressings come in three varieties: Mediterranean, Greek and Dijon Vinaigrette. All of the creations have a base of olive oil, lemon juice and garlic, but the Mediterranean, created from the original recipe passed down from the girls' Syrian grandmother, also includes red wine vinegar. The robust flavors of olive oil, garlic and lemon juice help make each variety the perfect light-yet-flavorful finish to salads. 
Try This at Home: The Mediterranean is terrific mixed with tuna, quinoa and potato salads. The Greek works well for marinating chicken, pork or fish, and the Dijon is great for drizzling over veggies before grilling. Enjoy! 
Cravin' Pizza Salad Dressings
Buy It: $7.50–8.50 per 20 ounces at Cravin' Pizza
Tasty Tidbits: If you ever dine at Cravin' Pizza, you know that the struggle of picking a dressing to top your side salad is tough. The pizzeria makes its house vinaigrette, ranch, bleu cheese and Caesar dressings in-house with fresh ingredients. The house dressing features a blend of oil, balsamic and a secret blend of seasonings that truly makes you lick your lips, and the ranch boasts a creamy buttermilk base with fresh herbs. The bleu cheese is perhaps the most cheese-packed variety we've ever had, and the Caesar offers a slight zip thanks to a squeeze of lemon juice. 
Try This at Home: While the house vinaigrette is a great marinade, the ranch is perfect for dipping pizza crusts.
Blueberry Poppy Seed Dressing at Devil's Pool Restaurant
Buy It: $6.95 per bottle at Collections Boutique at Big Cedar Lodge and Arnie's Barn General Store at Top of the Rock
Tasty Tidbits: The blueberry poppy seed dressing at Devil's Pool Restaurant has a sweet, rich blueberry flavor that's balanced with the acidity of cider vinegar. Rather than competing, the flavors complement one another to make a one-of-a-kind dressing you'll want to order by the bucketload. At the restaurant, the creation is served on the house salad along with spicy pecans and tangy goat cheese.
Try This at Home: Create your own salad with fresh seasonal fruit and something spicy.
Sesame Vinaigrette at The Argentina Steakhouse
Buy It: $4 per 8-ounce bottle or three bottles for $10 at The Argentina Steakhouse
Tasty Tidbits: Made with a recipe that includes sesame oil, soy sauce, vinegar, brown sugar and sesame seeds, this dressing offers a light finish to any salad. While it's a tad sweet, it's also subtle and allows the true flavors of fresh salad ingredients to shine. At The Argentina Steakhouse, it's served on the salad made with mixed greens, cherry tomatoes, mushrooms, Parmesan cheese and bacon.
Try This at Home: Use the dressing as a dipping oil for your favorite bread.
Pear Honey Dressing at The Keeter Center
Buy It: $6.95 per bottle at the bakery and gift shop at The Keeter Center at College of the Ozarks
Tasty Tidbits: This dreamy creation is made with pear-honey preserves produced in the fruit and jelly kitchen at College of the Ozarks. The first taste you pick up on is a bit of sweetness from the pears, then you taste a slight sharpness from the rice wine vinegar and Dijon mustard. The dressing finishes with the sweetness of the honey and the zest of fresh chives.
Try This at Home: Next time you make a ham, use this dressing as a glaze.