Style
How to Wear It: White Collared Shirt
The stylish mavens at Cocos in Joplin share a few fashion tips on how to rock this wardrobe staple, whether you're heading to the office or out on the town.
By Ettie Berneking
Jan 2015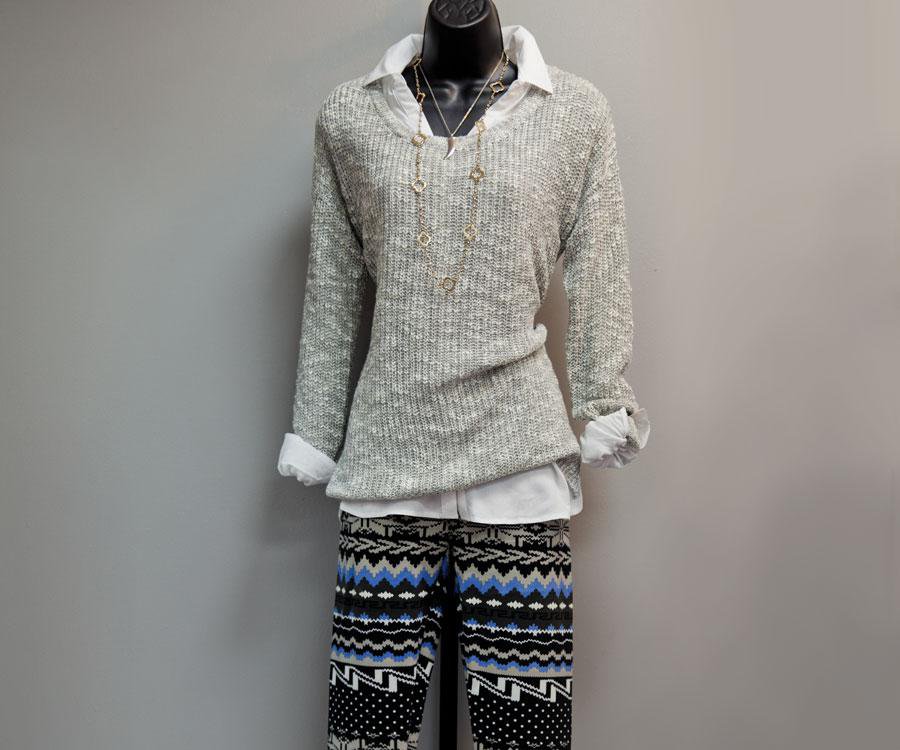 Besides that perfect LBD, the classic white collared button-up shirt is one wardrobe essential that looks great dressed up or dressed down. To get the skinny on how to tie this fashion must-have into some of the season's hottest looks, we turned to Misha Wilson, co-owner of Cocos (2901 E. Fourth St., Joplin, 417-850-2620, lovecocos.com) clothing boutique in Joplin. 
Denim Jackets are Back! 
Throw on a pair of red or cobalt skinnies, a white collared shirt and your favorite denim jacket for a great go-to look. 

Staccateo white blouse, $33; Flying Monkey blocked faux leather pants, $52; long-fringe Skyler  necklace, $34; black tear-drop necklace, $20; all from Cocos
Rock the Half-Tuck
By just tucking in one front corner of the shirt, you can create a waistline and help add some shape when layering multiple pieces, but you'll still have a more casual, laid-back look. It's simple but still stylish.
Go for Contrast
Since you don't see much white during the winter, it's nice to flash just a pop of white by showing off the collar or shirt tail. Toss on a chunky sweater or some plaid with dark denim jeans or black skinnies for a perfect winter outfit. 

Buddy Love Kim blazer, $92; Staccateo white blouse, $33; Flying Monkey barely bootcut jeans, $72; Shira Melody short necklace, $48; Shira Melody long necklace, $34; all from Cocos
Don't Forget to Accessorize 
Layering necklaces is hot right now. For a classic, preppy look, button the collared shirt all the way, slip on a knit sweater and add a chunky statement necklace. If you're rocking the collared shirt under a cardigan or blazer, leave the top unbuttoned and add two necklaces of varying length.
Add some Glam
For a stylish and sophisticated look, slip on a collard shirt and pair it with a flippy skirt and a fitted blazer. For a more casual date-night ensemble, you can wear the same shirt half tucked into your favorite boot-cut jeans. Throw on a dangly necklace to complete the ensemble. 
Layer the lengths
The high-low look is big right now. Find a simple high-low sweater in any pattern or color and wear it over your white collared shirt with some dark skinnies and flats. 
Find your favorite fit
Even as classic as the white collared shirt is, there are still variations. It's great to have a few options on hand. Pick out a crisp, starched option for work and evenings out and a loose-fitting option for a casual weekend look.