Travel
Quick Trip to the Other Miami
Get your kicks on Route 66 in Miami, Oklahoma, a mere 96 miles from Springfield. Miami is Northeast Oklahoma's corner for fun, entertainment and culture. From theater to gaming, there is something for everyone in this quaint little town. It's just a short
By Erin Gregory | Photo courtesy Miami Area Covention and Visitors Bureau
Jan 2015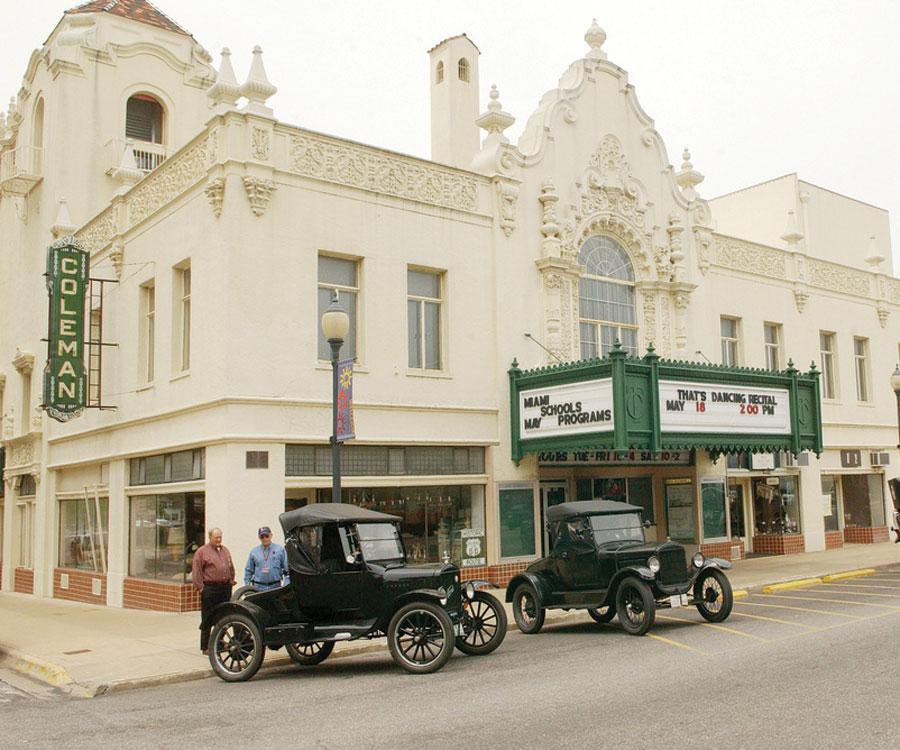 Where to Stay
Located on the grounds of the Buffalo Run Casino, The Buffalo Run Hotel (buffalorunhotel.com) features charming décor, comfortable amenities and relaxing accommodations. Guests can book one of 12 king bed suites that feature a wet bar and sitting area. With beautiful modern-rustic décor, the hotel is true to Oklahoma roots. It even features a complimentary breakfast. There are two restaurants nearby: the Coleman House Restaurant and Joe's Grill, both located inside Buffalo Run Casino across the street.
Where to Eat
Fill your belly at Stonehill Grill (stonehillgrill.publishpath.com). This homey steakhouse features one-of-a-kind homemade farmhouse loaded chips—and the chips are fried in-house. With a variety of menu options ranging from steak and hamburgers to the customer-favorite Asian salad, this is the perfect place to take the family. Just look for the big bull standing outside.
Down Route 66 is one of Miami's best burger joints, Waylan's Ku-Ku Burger (918-542-1696). Visitors can't leave town without trying the classic Ku-Ku Burger or diving into ice cream cones, milkshakes, an assortment of fried vegetables and waffle fries. Start with a quarter-pound of beef and a toasted bun; this burger is served to order just how the customer likes. More than 2,000 Ku-Ku burgers are served every week. To find the famous Ku-Ku burger, just keep your eyes on the hunt for the giant chicken popping out of the building.
Where to Play
Buffalo Run Casino (buffalorun.com) features a variety of games, fine and casual dining and live entertainment at the Peoria Showplace and Buffalo Run Amphitheater. Past performers have included Ronnie Milsap, The Oak Ridge Boys and Jason Boland and The Stragglers. The award-winning Coleman House Restaurant specializes in fine dining. Joe's Outback Grill, a more casual joint, is a great place to stop for a Greezy Cheesy Burger.
What to See
The Route 66 Vintage Iron Motorcycle Museum (route66vintageiron.com) is a must-see during a trip to Miami. A true Route 66 staple, the gift shop alone is a great site to find buttons, trinkets, mugs and almost every piece of Route 66 memorabilia imaginable. The Vintage Iron Motorcycle Museum features great displays of vintage motorcycles, an Evel Knievel exhibit including his famed bus and pantsuits, a new Steve McQueen collection and so much more.
This month, you have the chance to see the Miami Nation Tribe Stomp Dance (miamination.com). The event has become a tradition in Miami for nearly 19 years. Beautiful music, dancing, and an all-around good time, the Stomp Dance is definitely something to see. The annual winter gathering takes place on Saturday, January 31, at the Council House in Miami. Gourd dancing begins at 3 p.m. and is followed by a stew and chili dinner at 6 p.m. The Stomp Dance begins at 8 p.m. Guests of Miami are welcome to come have a hot meal and enjoy the native culture of the Miami Nation Tribe.
The Coleman Theatre
The Coleman Theatre (colemantheatre.org, 918-540-2425), originally constructed in 1929, gives visitors a chance to step back in time in an elegant, timeless building. Completely restored, the theatre and new conference center and ballroom are hosts to big productions, silent films, weddings, events and more. Coming in February is a Valentine's Day to remember. On March 7 Dennis James, the famed organist, is performing on one of the original theatre organs. For event updates check the Coleman Theatre website.