Reviews
Branson Pasghetti's Italian Restaurant
Right off the Branson strip sits a ginormous building. But the building probably isn't what you'll notice—in front of Pasghetti's is a 15-foot meatball. This new Italian joint is fit with loads of pasta, seven dining rooms and friendly staff bound make yo
By Peyson Shields | Photos by Kevin O'Riley
Jan 2016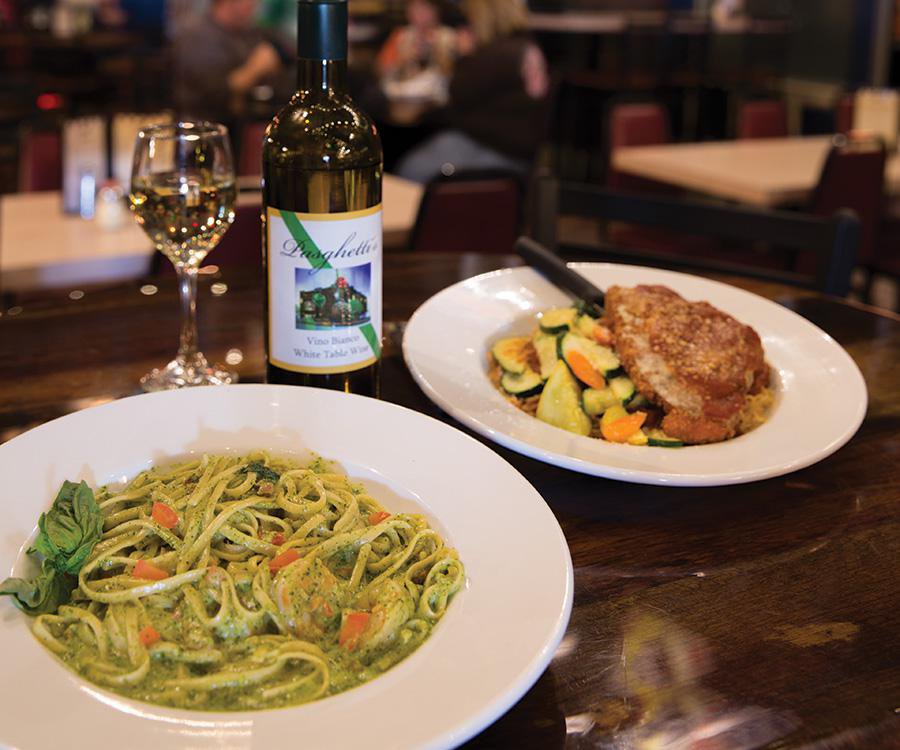 Ever since I was little, I've spent almost every summer at my grandparents' house on Table Rock Lake. I loved my childhood summer days and nights, but my favorite was when it would thunderstorm. My grandparents would pile us kids into the car, and we would head to the big city of Branson. We would check out the newest movie, explore a silly museum, enjoy the cheesiness of a show or my personal favorite, go out to eat. And what's the fun of fine dining in Branson? Midwest glitz. And nothing says glitz like a gigantic meatball at the entrance.


Guests of Pasghetti's enter the restaurant through a giant meatball.
My dining bud Cam and I headed to Branson Pasghetti's Italian Restaurant, a new family-friendly destination that opened last summer. The restaurant features seven dining rooms, all with different themes and their own music to suit—from a speakeasy dining room to a trolley car.
When we first pulled up, we were in awe of the size of the building, adorned with cartoonistic pieces of oversized vegetables, noodles, an insanely tall fork and oh, the casual 15-foot meatball—which just happens to have a walkway in the middle of it. As we walked through the meatball, it was almost like transporting into a different dimension. If we weren't ready for some pasta beforehand, we were ready for some now.
We sat down in the middle of the main dining room known as the Boulevard, decked out with the faces of buildings and stores, like you would see in Newsies. Our server promptly greeted us with a big Branson hello. She played along with our amazement and acted just as excited as us—which I really appreciated. 
After much discussion over the vast menu, we decided to start out with the stuffed mushrooms, which our server raved about. She brought us the baby buttons smothered in cheese along with freshly baked breadsticks and an alfredo dipping sauce. The cheese with a side of mushrooms didn't blow my cap; however, I could have cuddled with those breadsticks. The alfredo wasn't anything fancy, but it was creamy and delicious. Plus, when it's paired with warm, fluffy bread, you can't go wrong.
While we snacked on our pre-dinner bites, we contemplated what to try for dinner. The most popular item is Pasghetti and Meatball. When I looked to my right I saw a kiddo slurping noodles and digging into a baseball-size meatball, and I wanted a bite. I'm a big sharer, though, so instead we landed on picking two opposite items so I could taste a variety of things. I decided on the basil shrimp pesto, and Cam stuck with his favorite, chicken Parmesan.
When the hearty portions arrived, I could see carb-lover Cam's eyes widen. The hand-breaded chicken Parmesan was ladened in mozzarella and the restaurant's housemade marinara. He dug right in, and I snuck a bite. The chicken was juicy, and the red sauce blanketing the dish balanced all the flavors.
Biting into my pasta, I was expecting a mouthful of basil, but the sauce was milder and cream-based. It was very similar to the alfredo I had dunked my breadsticks in earlier, but a little basil joined the party. The shrimp were tender, and we had no problem twirling bite by bite on our forks until it was all gone.
Our seats provided a view of three other dining rooms, but we were also able to see "Coney Island." Yes, folks, that's right, Pasghetti's has  own little carnival equipped with a ferris wheel and arcade games.
After we finished our meal, we decided to explore. We made our way to each dining room, Coney Island and the cable car. It was like we were on vacation wandering through a new city.
Pasghetti's is a fun environment that is bound to entertain the whole family. The very Branson vibe restaurant is a must-see and can complete your family fun day in the Vegas of the Midwest. Plus, if you get a family photo by the big meatball, I'd consider your dining venture a success.

Pasghetti's boasts a family-friendly environment complete with a ferris wheel. 
Q&A with Head Chef Ethan Texeira
​417 Magazine: How was the menu created?
Ethan Texeira: Our general manager Jeff Hurshman, myself and owners Nolan and Babette Fogle all worked together to develop the menu.
417: What's your favorite thing on the menu?
E.T.: It's hard, I love our alfredo sauce. It's heavy on the garlic, and I love garlic. I like the meatball on a sandwich, too.
417: Is everything made from scratch?
E.T.: All of our sauces are made from scratch, and everything is freshly prepared.
417: What's a guest favorite?
E.T.: The Trifecta with our lasagna, Pasghetti and Meatball and chicken alfredo.