Life
Ask Dylan: Highway 65's Frog Sculpture
417 Magazine's former General Manager Dylan Whitaker looks near and far to find the solutions to all your 417-land queries.
By Dylan Whitaker | Photo by Vivian Wheeler
Jan 2016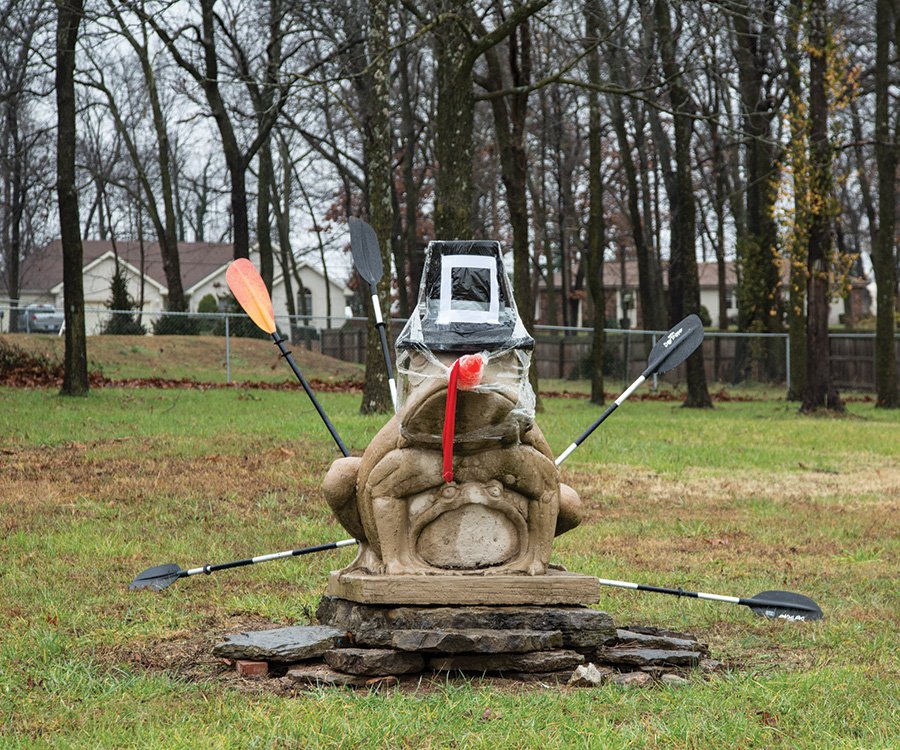 What's the deal with the big frog in the field off Highway 65?
We have frogquently wondered the same thing, so grab some popcorn and settle in for story time as J Hill with Cross Creek Architectural Artifacts (owner of said frog) laid it out for me. The giant frog (let's call him Fred) that many 417-landers have become familiar with during their morning commute originally sat in front of the interior design business Touche Design Group that used to be at the corner of Cherokee Street and National Avenue in Springfield. You can now find a hotel on that corner. When Touche moved its location to Ozark, they needed a place for Fred, so they moved it to that plot of land they own right off of Highway 65 and Evans Road. Fred weighs in at a whopping 4,000 pounds and a crane was needed to transport him to his current location. You may have seen Fred dressed up and decorated from time to time (Thanksgiving had him looking like a turkey, I think), and that is the doing of the kids at the church next door. Fred likes it.
Now for some history on where Fred came from. A famous artist and sculptor by the name of Bob Cassilly created Fred. To some of you the name Bob Cassilly may ring a bell, especially if you have ties to the St. Louis area. Cassilly is a St. Louis native and is probably most well known for his creation of City Museum in St. Louis. The word eclectic is probably the best way to describe City Museum with its use of reclaimed materials to create a giant metal playground. That alone is a pretty cool story, right? The guy who created City Museum and numerous other giant sculptures is responsible for our beloved Fred.
Well, that's not really the end of the story. During my Fred history lesson with Hill, he gave me another twist to the story that has nothing to do with Fred; I just found it to be amazing. On May 21, 1972, Cassilly was visiting St. Peter's Basilica, Vatican City, and inside St. Peter's is Michelangelo's famous Pieta. The sculpture was created between 1498–1499 and depicts the body of Jesus on the lap of his mother, Mary, after the Crucifixion. On the day Cassilly is viewing this amazing piece of work, another man named Laszlo Toth is also in attendance. And that's when things get interesting. Toth goes crazy, climbs the Pieta and with a hammer delivers 15 damaging blows to the Pieta. Cassilly quickly jumps into action, grabs Toth, pulls him off the Pieta and restrains him until security gets ahold of him. 
How crazy is that?
Think about that next time you drive by Fred. Cassilly, who single-handedly stopped a crazed man from destroying a gorgeous and historical piece of art, and who created a 600,000-square-foot fun house for the young and old, also created our 4,000-pound amphibious friend Fred. And all this time you just thought Fred was just a big concrete frog.