Reviews
Eurasia Coffee & Tea Culture Cafe
A little café up on Commercial Street offers luscious flavors that won't break the bank on a menu filled with Mediterranean tastes.
By Katie Pollock Estes | Photos by Vivian Wheeler
Jan 2016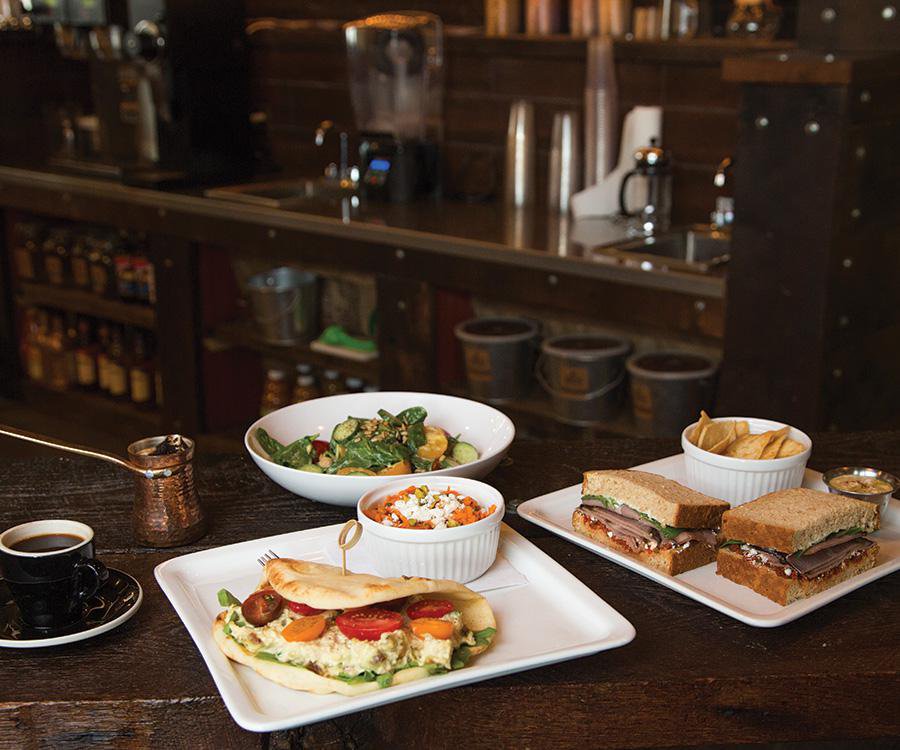 As Commercial Street continues to up its game in the world of dining—with Café Cusco, That Lebanese Place, Big Momma's Coffee, Askinosie Chocolate and more calling it home—we continue to get excited when we  hear about new eats that pop up on the street.

Recently we finally had the chance to devour a killer lunch at Eurasia Coffee & Tea's Culture Cafe, which has been open and serving up flavorful dishes since last spring. I popped in for lunch with my friend Katie Thieman one afternoon, and I was impressed. Although the menu focuses mostly on a few breakfast favorites and just a handful of sandwiches, it was worth it to go a little bit out of the way for lunch, because each and every item was thoughtfully put together and anything but boring.
The space is a combination of industrial and rustic, but with a warm and inviting feeling, tall ceilings and huge windows to let in plenty of sunlight. We checked out the small but mighty menu and both landed on the Curried Tuna Naan'wich with a side of Casablanca Carrot Salad.
Everything on the menu here sounds pretty basic: tuna salad and carrot salad. But the flavors are anything but. There was a ton of taste packed into that folded homemade naan. The bread itself was delightful, soft and chewy but sturdy enough to hold the filling that threatened to burst out. The tuna salad inside was nothing like that mayo-and-relish stuff you make at home. It featured sweet Turkish apricots, crispy cucumber, crunchy walnuts, spicy arugula and some of the freshest little sweet tomatoes I've ever had in the dead of winter. 

The restaurant's Tuna Naan'wich features tuna combined with Turkish apricots, cucumber, walnut, arugula and tomatoes
The carrot salad was equally surprising in its wealth of flavor. Shredded carrots mingled with medjool dates (my weakness!) and lentils, cilantro, feta cheese, pistachios and spices. We finished off our lunch with a Chocolate, Oats and Nuts cookie that the thoughtful cashier offered to warm up for us. It was so gooey and sweet and satisfying!
I decided that one trip to Eurasia's little eatery was not enough for me, so I visited later to try some more goodies, like the Roast Beef, Feta & Roasted Red Pepper Sandwich that was topped with spinach, served on hearty wheat bread and had the perfect little hint of cumin in every bite. Even the salads feature surprising tastes, with chickpeas and tahini topping a spinach salad that could have otherwise been ordinary.

Eurasia's spinach salad features chickpeas and tahini. 
But don't forget that Eurasia is a coffee roaster. That means there is plenty of coffee shop fare on the menu as well, including tasty locally brewed flavors (they were sampling their yummy autumn blend when we visited), Chemex by-the-cup service and even Turkish coffee. For the morning crowd, the yogurt has a Middle Eastern flair and features granola flavored with rose water, pistachios and pomegranate. And that means, of course, that my next trip to Commercial Street will be for breakfast and a cup of joe.