Features
Sweets Treats in 417-Land
Sit back, prop up your feet and enjoy this sugar-spun story filled with the many candy-coated, caramel-drizzled, chocolate-dipped wonders of 417-land.
By Ettie Berneking and Savannah Waszczuk | Photographed by Brandon Alms and Abby Gust | Styled by Abby Gust
Dec 2015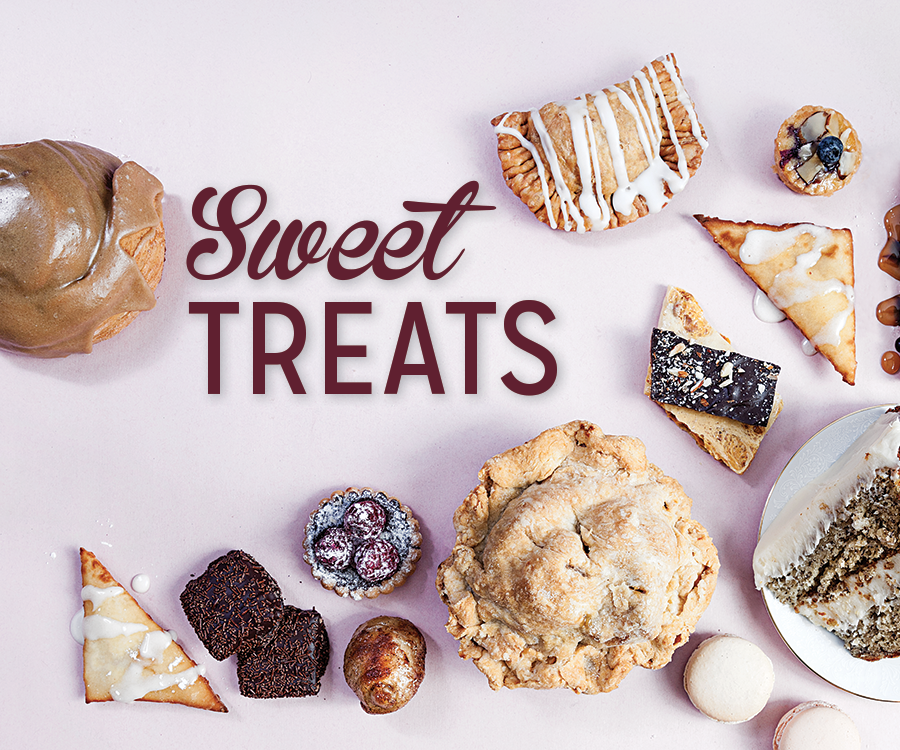 There are oh-so-many ways to enjoy sugar in 417-land. 
For example, if you're a sweets lover, you haven't truly lived a complete life until you've devoured a slice of St. Michael's double-decker banana cake. Or let a salted caramel truffle from Elle's Patisserie (Editors Note: Since this article was first published, Elle's Patisserie has closed) slowly melt away in your mouth. Or sunk your teeth into European Cafe's light, delicate macarons that easily rival those found in Paris.
These treats are just a handful of dozens upon dozens of delicious sugary delicacies in our corner of the state. From famed restaurant desserts that keep diners around long after dinnertime to countless little bite-sized artisanal treats from purveyors opening up shop all over southwest Missouri, there's a definite richness to our sweets scene, and we wanted to tell you all about it. 
Sit back, prop up your feet and enjoy this sugar-spun story filled with the many candy-coated, caramel-drizzled, chocolate-dipped wonders of 417-land.


---


White almond sour cream cake from Spring Creek Tea Room, banana cake from St. Michael's (left) and mocha opera cake from European Cafe are three of the tastiest cakes in Springfield. 
You'll Go Bananas
Banana Cake
St. Michael's Sports Bar & Grille, 301 South Avenue, Springfield
You know how McDonald's is known for its fries, and Dunkin Donuts is known for its coffee? Anyone who's tried the banana cake at St. Michael's would agree that this spot could go global with this homemade dessert. Two thick layers of the moist, flavor-packed cake are generously covered with a sweet homemade buttercream, making a towering wonder that'll cause your jaw to drop with utter amazement. People who don't even like bananas still love this cake. It's that good!


Sour Cream Surprise
White Almond Sour Cream Cake
Spring Creek Tea Room, 107 South Third St., Ozark
At any time, Spring Creek Tea Room has at least half a dozen cakes up for grabs (plus an array of cheesecakes and pies). The white almond sour cream cake is always a favorite. Three layers of cake are separated with house-made fluff icing—a delicious concoction made of cream cheese and Cool Whip—and then topped with scratch-made raspberry sauce. It's a fluffy, gooey, messy treat.


A Pumpkin-y Punch
Roasted Pumpkin Shortcake
Metropolitan Farmer, (Editor's Note: Since this article was first published, Metropolitan Farmer has closed)
Just in time for the holidays, Chef Wes Johnson has created a scrumptious shortcake with everyone's favorite seasonal ingredient: pumpkin! Roasted pie pumpkins are tossed in a premium blend of spices and baked into a dense, flavor-packed shortcake, and homemade whipped cream takes it all to another level. 


King of the Cheesecakes
Featured Cheesecake
Nonna's Italian Café, 306 South Ave., Springfield
Mmm, cheesecake! Did you know this universally amazing dessert is even better at Nonna's Italian Café? Both locations feature monthly homemade cheesecakes that are carefully created by their respective chefs, and they're always divine. Past mouthwatering concoctions include chili mango, snickerdoodle and balsamic strawberry. Be sure to stop in and try the flavor of the month!


Triple Delicious
Coconut Tres Leches Cake
Café Cusco, 234 E. Commercial St., Springfield
Tres leches cakes are made by soaking sponge cake in three milks. We love the variety at Café Cusco that's made with angel food cake soaked in sweetened condensed milk, coconut milk, evaporated milk and apricot nectar. A plop of fresh whipped cream topping makes it even more decadent, and it's finished off with a light sprinkle of cinnamon. 


Orange Dreams
Orange Dreamsicle Cupcake
Sweet Spot Cakery, located in Wine Spot, 2640 S. Glenstone, Springfield
You never know what'll be up for grabs at Sweet Spot Cakery, and that's part of the fun! This bakery specializes in alcohol-infused desserts, but we love the non-boozy goodies here, too. The orange dreamsicle cupcake is made with white cake, fresh orange juice and orange zest and then topped with white vanilla buttercream and a mandarin orange, and it's one of our favs. Be sure to call a day ahead to order the creation.


A Taste of France
La Religieuse
La Galette Berrichonne, 143 E. Main St., Fordland
Chef Roland Parny recently started creating la religieuse, a traditional French treat he prepares with his famed homemade puff pastry. The inside is pumped full of homemade chocolate mousse, and the outside is dressed with just-made buttercream and chocolate ganache. And the pastry is oh-so-cute: la religieuse translates to "the nun" in French, and the treat actually looks like a little nun! If you want one of these creations, be sure to act quickly: The restaurant is open December 15 through January 15, but then it won't open again until mid-June 2016.
 
Layers Upon Layers
The Kringle
Supreme Bakery, 3314 S. National Ave., Springfield
When it comes to indulgences, the Kringle pastries at Supreme Bakery are a crowd pleaser. The ring-shaped treats are shareable, and they're made from a recipe that is more than 100 years old. All the treats feature flaky pastry dough surrounding a tasty filling (we are partial to the raspberry and pecan). A sweet glaze provides the perfect finish.


Excellence in Espresso
Mocha Opera Cake
European Café, 207 Park Central East, Springfield 
The mocha cake at European Café is made with almond flour, then flavored with vanilla and soaked with the spot's house-made espresso syrup to become extra moist and decadent. Next it's layered with house-made chocolate ganache and espresso buttercream, creating layer after dreamy layer of a vanilla-chocolate-espresso masterpiece. You'll be thinking of this cake long after you gobble up every last crumb.  


---
1. Old-Fashioned Ice Cream Soda
Taylor's Drive In, 139 Memorial Plaza, Springfield
Taylor's Drive In is the place to go when you want things served up "just like they used to be." This includes root beer floats, shakes and the harder-to-find old-fashioned ice cream sodas. To make these sweet treats, the pros at Taylor's fill an ice cream glass with layer after layer of vanilla ice cream and carbonated water that's been flavored with your choice of fresh strawberries, chocolate, vanilla and cherry. 


2. Strawberry Malt 
Pop's Dari Dell, 22527 Main St., Reeds Spring
Regular lake-goers know this Reeds Spring staple as the home of the twist. While that towering two-tone ice cream cone is a lovable treat, it can be made into something even better. Next time you're nearby, stop in for the strawberry malt made with vanilla soft-serve, real strawberries, liquid malt flavoring and milk. Oh, the fruity freshness! The drink can be ordered thick or thin, making it as sippable or spoon-ready as you'd like. Bonus: Everything here is customizable and can be made with vanilla, chocolate or twist soft serve.


3. Hot Fudge Milkshake
Billy Bob's Dairyland (Editor's Note: Since this article was first published, Billy Bob's Dairyland has closed)
When Billy Bob's Dairyland first opened it had three shakes on its menu. Now it serves up 10, including flashy flavors like pineapple and orange freeze. When you're here feasting on a burger, order up a hot fudge shake to wash it all down. The concoction mixes vanilla ice cream, a pump of vanilla syrup and a pour of milk with a thick, dripping scoop of hot fudge. The result is a much richer chocolate flavor than could even be dreamed of with a chocolate syrup. Chocoholics: You're welcome!


4. Chocolate Malt
Casper's, 601 W. Walnut St., Springfield
Yeah, we all know Casper's for its chili, but did you know you can order up a pretty mean malt here, too? Made to order with vanilla ice cream, rich chocolate sauce and malted milk powder, the chocolate malts pack plenty of malty flavor with every thick sip. And they're huge, too: The drink is poured into a tall ice cream glass, and the rest is served alongside in another cup. It's plenty to share, so be sure and ask for two straws and two spoons.


5. Peanut Butter Milkshake 
Louie's Drive In, 2415 W. Division, Springfield
The shakes at Louie's Drive In are blended to the perfect consistency, and every cold sip goes down nice and smooth. We particularly love Louie's peanut butter shake that's made with hand-dipped vanilla ice cream, peanut butter, milk and an extra splash of vanilla. With sweet, creamy flavors and a perfectly nutty finish, you'll gulp down every last drop.


---


Elle Feldman (left) is one of 417-land's most famous sweets pros. We joined her in the kitchen for an afternoon for a behind-the-scenes take of a patisserie. 
I first tasted one of Elle Feldman's salted caramel truffles nearly four years ago, and my life was changed forever. It was so rich, creamy and chocolaty, and every few seconds I'd hit a nice dab of salt. While I wished I could eat a dozen at a time, I knew even one of Elle's truffles was better than a case of Hershey's bars. 
I wasn't the only one who was going nuts for Elle's chocolate—after she opened her shop in February 2011, the demand for her truffles quickly soared. She found herself working long hours non-stop, and she almost threw in the towel. "It used to be so chaotic and stressful," she says. But thankfully, Elle stayed strong, and she grew her business. Today her husband, Jon, works at Elle's Patisserie full-time and is the king of the macarons, and he and a few other staffers help make pastries, ice creams and a variety of other sweet treats. But not the truffles. No one touches the truffles except for Elle.
As a four-year fan of Elle's chocolate and a life-long fan of baking, it was a small dream of mine to know about the magic that happened in her little purple shop on East Cherry Street (Editors Note: Since this article was first published, Elle's Patisserie has closed). Then this story came along, and I joined her for an afternoon on the clock.
"Tuesdays and Fridays are my long days here," Elle said as I followed her little blonde ponytail into her shop's kitchen. It looks just as you'd expect a chocolatier's kitchen to look: The counter is lined in parchment, a piping bag sits full of a dreamy melted chocolate and empty candy molds are stacked and scattered in nearly every direction. It's an organized chaos, and Elle is at the helm with a determination in her eyes and a mission in her mind. She explained "truffle season" runs from November through June as she removed her perfect-looking candies from their molds and lined them up like little soldiers on oversized baking sheets. "I'm very serious when I'm in here making chocolate," Elle said. "When I'm here, I'm in the zone and making it all happen. I come in, figure out what has to go out and get to work."
When I wasn't watching Elle in the kitchen, I joined her behind the burner to make another one of her popular items: Rocky Road bars. With a portable stove heated and ready in the front of her shop, we got to work. "This recipe is actually Mrs. Kreutz's recipe," Elle said as she poured butterscotch chips into a pot. "She's the mother of my friend, Ericka. We would always all give up chocolate for Lent, and Mrs. Kreutz would make these for us when Lent was over." 
Standing on a stack of phone books so she was tall enough to work on top of the pastry case, Elle continued making the bars. Cooking seemed to come as naturally as breathing. "Next I'm pouring in the dark chocolate," she said without even looking into the pot. She handed me the spoon to let me stir, and I watched the pot's contents melt into a velvety pool of perfection. A few minutes later, we were putting the magical treats in the fridge to cool, and I was counting the minutes until we could gobble them up. 
While her main duty now is making truffles, it's obvious that Elle is still a natural at mixing up all the other sweets. To her, it's not just a job; it's a passion. "At the end of the day I'm covered in chocolate and edible glitter," she said. "But I love it. I'm still amazed when I look at the things I make. I still think, 'I can't believe I made this.' I just love it."—Savannah Waszczuk


​
Mrs Kreutz's Rocky Road Bars
Provided by Elle Feldman
Ingredients:
11 ounces butterscotch chips
24 ounces dark chocolate chips
10 ounces peanut butter
16 ounces dry-roasted peanuts
24 ounces miniature marshmallows
To prepare: 
Heat a sauce pot to medium heat. Add butterscotch chips, and stir until melted. Add chocolate chips, and stir until melted. Add peanut butter, and stir until incorporated. Add dry-roasted peanuts, and stir until incorporated. Remove from heat, and stir in marshmallows. Immediately pour the mixture into a 9-by-13-inch pan lined with parchment paper, and spread evenly. Place in the refrigerator, and allow bars to cool for a few hours or overnight before cutting.


---
Sweet Talk
Auvia O'Neal, a registered dietician with Mercy Hospital Springfield, dishes up some sweet health benefits to dark chocolate. 

417 Magazine: First things first. Is chocolate actually good for you?
Auvia O'Neal: Chocolate does all kinds of things, but the health effects only work with dark chocolate that is 60 percent cocoa or above. 
417: So we can eat dark chocolate every day guilt-free?
A.O.: We're talking about ¼ of an ounce, so not a huge amount. 
417: What are some of the main health benefits?
A.O.: One thing it does is help lower blood pressure, and it has been found to decrease bad cholesterol that gets wedged in your arteries. It can also improve blood flow to the brain, which can help people think better and improve the cognitive function in the elderly.
417: Is there any truth to chocolate making people happier?
A.O.: Actually, yes. Chocolate makes you feel good because it increases serotonin in your brain, which makes you feel happy and calm. It also releases phenylethylamine, which mimics the feeling of love to make you more alert and excited. That's why chocolate is dubbed the love food. 
417: Why is it that dark cocoa has such health benefits?
A.O.: Raw cocoa beans are one of the highest antioxidant-rich foods out there. What happens is you can get damaged cells, and antioxidants help fight inflammation and repair those damaged cells. 


---
As 417-land's Askinosie Chocolate gains notoriety well outside Springfield (it's sold at Target now!), we decided to get back to the company's roots and follow along as a cocoa bean makes its way from the drawing board to the finished product produced in 417-land. Here's the trail of one of our favorite Askinosie Chocolate bars: the Toasted Coconut CollaBARation Bar.
---
Crunchy
Churros from Tortilleria Perches 
1601 W. Sunshine St., Springfield, 417-864-8195, tortilleriaperches.com
Calorie counters be damned! Especially when Old Man Winter settles in, there's nothing like an order of churros to melt away our blues. Two doughy breadsticks are piped full of diced apples and fried to perfection before being nestled under a scoop of cold ice cream that oozes its way into every crook of the churro. Topping the whole delicious mess is a drizzle of chocolate syrup and a sprinkle of cinnamon and sugar. Not sweet enough? You can always order yours with whipped cream. 


Gooey
Hurts Donuts Bread Pudding from The Order
305 E. Walnut St., Springfield, 417-268-5244, hotelvandivort.com
The true star of this bread pudding is its main ingredient: Hurts Donuts. Made fresh every day, unglazed yeast donuts make their way to the kitchen at The Order where they are cubed and mixed with a sweet cream mixture of vanilla, eggs and cinnamon. The resulting muddy mess looks more like a crème brûlée gone wrong, but this bread pudding is nothing short of a triumph. Baked for an hour and cut into large portions, the confection is scooped into a hot skillet and topped with warm Askinosie Chocolate ganache and melted salted caramel. 


Sticky
Cinnamon Knots from The Big Slice
1450 E. Sunshine St., Springfield, 417-720-1928, thebigslicespringfield.com
Warning: This dessert is not on the menu. You have to swing by this pizza joint in order to know about the warm, buttery cinnamon knots these guys can whip up. Made with homemade dough that's prepared fresh every day, these chewy bundles are rolled in cinnamon and sugar, and packaged six to an order. These little treats are only made better when dunked deep into a pool of the homemade icing that comes on the side. Yes, you can also spoil your appetite with one of The Big Slice's cinnamon rolls, which are on the menu, but why do that when you can be part of this delicious cinnamon-coated club where good things definitely come in small packages?


Sizzling 
Mexican Brownie from Cantina Laredo
4109 S. National Ave., Springfield, 417-881-7200; 1001 Branson Landing Blvd., Branson, 417-334-6062, cantinalaredo.com
Are all brownies delicious? Yes. But what makes this cocoa-packed bad boy especially tasty is its bake time. Six hours. That's right. Loaded down with crunchy pecans, thick walnuts, rich fudge and morsels of semi sweet chocolate chips, this decadent brownie batter is poured into a skillet and popped into the oven for six hours until it's ready to be devoured. Arriving at your table sizzling hot, the brownie is crowned king of the desserts with a coronet of vanilla ice cream and a splash of brandy butter sauce. 


Crispy
Sopapilla at Maria's Mexican Restaurant
406 South Ave., Springfield, 417-831-9339, mariasdowntown.com
This treat is simple but oh so delicious. Thick flour tortillas are dunked briefly in the deep fryer, and then while they're puffed up and still hot, they're drizzled with sugary honey and sprinkled with warm cinnamon.
 
Sugary
Cookie Dough Wontons from Peking House 
3108 E. Sunshine St., Springfield, 417-887-5454, facebook.com/PekingHouseSGF
Cooks at Peking House take a regular old wonton wrapper, load it full of chocolate chip cookie dough till the dumpling nearly bursts at the seams and then fry it until warm and crisp on the outside and gooey on the inside. Drizzled with chocolate syrup and powdered sugar, four wontons come per order, which makes this dessert perfect for sharing. 


Chocolatey
Chocolate Gateau at Ristorante Gilardis
820 E. Walnut Ave., Springfield, 417-862-6400, gilardisonwalnut.com
Imagine a rich, delicious brownie. Then take that chewy morsel and layer it with creamy chocolate mousse followed by more brownie-like wonder till you have a tower of chocolatey delight. Line it with dollops of chocolate mousse, and you'll have this masterpiece. Bonus: it's hit with a torch before it's served, making it just a touch gooey.


---
Coconut Cream Pie
Ruby Lena's Tearoom & Antiques, 224 W. Main St., Branson, 417-239-2919
The Crust: A thick homemade pie crust is the perfect flaky base for this pie.
The Inside: A layer of sweet coconut cream is topped with fluffy whipped cream and a sprinkle of toasted coconut.
The Taste: Light and creamy, this classic custard pie is the perfect fix for your sweet craving.


Sweet Little Apple Pie 
Market House Cafe & Bake Shop, 113 N. Second St., Ozark, 417-551-4370
The Crust: Made with lots of butter and shortening and a dash of baking powder, this double pie crust is firm enough to stand up to its gooey filling.
The Inside: A mix of thick apple slices, cinnamon, lemon juice, brown sugar and butter makes up the sweet filling.
The Taste: Served as individual pies instead of slices, these mini treats have just enough apple filling to balance out the flaky double crust.


Fried Pecan Pie
Ronda's Fried Pies, available at Farmers Market of the Ozarks, 2144 E. Republic Rd., Springfield, 417-259-9431
The Crust: Made with coconut oil and fried in coconut oil, these hand pies have some real bite to them. 
The Inside: This seasonal favorite has no preservatives and is made with sweet pecan filling that features sugar in place of corn syrup.
The Taste: There's a melt-in-your-mouth quality to these pies, and they pack a rich caramel flavor a bit friendlier to your waistline thanks to the lack of shortening.


Peppermint Swirl Pie
Big R's BBQ, 1220 E. 15th St., Joplin, 417-781-5959, bigrsbbq.com
The Crust: Not too dense and not too flaky.
The Inside: The base of this pie is a sweet vanilla cream that's hit with a dash of pink peppermint flavoring, which gives it that lovely swirl.
The Taste: The peppermint swirl pie is a holiday favorite. Creamy and sweet with a pop of bright peppermint flavor, this cream pie is worth every indulgent bite.


Banoffee Pie
London Calling, 836 N. Glenstone Ave., Springfield, 417-380-7943, londoncallingpastycompany.com
The Crust: The classic flour and shortening crust is replaced with a graham cracker base
The Inside: A layer of toffee covers the crust and is topped with thin slices of banana and homemade whipped cream with a sprinkle of cocoa powder on top.
The Taste: Both sweet and savory, these mini pies are good enough to share.
 
Tim-Tation Pizza
Rocco's Italian Kitchen, 250 Hwy. 60 E., Republic, 417-732-5311, roccospizzaandsubs.com 
The Crust: Rocco's regular pizza dough is used as the base of this pie.
The Inside: Vanilla pudding, cinnamon streusel and a layer of semisweet chocolate chips and powdered sugar combine to make a pizza pie like no other.
The Taste: This is a chocolate-lover's dream. The chocolate chip filling melts down and spreads out through the pie until every inch is a mix of vanilla, chocolate and cinnamon.
 
Pear Ginger Pie
Fork & Crust Pie Company, forkandcrust.com  
The Crust: Flaky and buttery, this double crust is good just by itself.
The Inside: Crystallized ginger is mixed with fresh pears and fresh cranberries.
The Taste: This mild pie has developed a cult following thanks to its slight tanginess. 


---
We called 16 local bakeries and sweet shops and asked them to prepare half a dozen of our very favorite cookies, then we pitted them all against each other for our Cookie Battle Royale. Next our team of five editors tasted them—each and every one—to come up with a winner that could be the cream of the most-delicious-cookie crop.
---
The One With Mixed Berries
Vegas Matt
Metropolitan Grill, 2931 E. Battlefield, Springfield
Metropolitan Grill now partners with Aviary for some of its top-notch desserts, so you can enjoy the talent of two amazing local restaurants in one flavor-packed dish. One of these creations is the Vegas Matt dessert featuring an oven-hot Grand Marnier berry fruit tart topped with a pistachio streusel and blackberry mint ice cream. A true match made in heaven, the tart is made by Aviary, and the ice cream is made by Metro. We love how the sweet-tart seasonal berries are mellowed down with the cool zip and depth of the homemade ice cream, and the pistachio streusel adds a subtle crunch. And really, can you beat a hot-cold dessert combo? We think not.


The One With Banana
Fried Banana 
Tong's Thai Restaurant, 3454 S. Campbell Ave., Springfield
A fresh banana is peeled, wrapped with a spring roll wrapper and then fried to create the base for this dessert. A trip to the fryer blankets the fruit with a nice, crispy coating, then it's topped with honey and sesame seeds, paired with a scoop of vanilla ice cream and served to hungry customers. We love the warm banana and the way its crispy coating contrasts with the velvety ice cream. 


The One With Raspberries
Raspberry Crumble Bars
MaMa Jean's Natural Market, 1110 E. Republic Rd., Springfield
To construct these fruity little squares of wonderful, the pros in the kitchen at MaMa Jean's blanket a pan with hand-made shortbread then mix up an almost pie-like filling with the freshest seasonal fruit available and spread it across the top. Then, the entire mixture is sprinkled with a streusel-like topping. We're particularly fond of the sweet-tart punch of the raspberry crumble bars, but since they're made with seasonal fruit, all of the bars are pretty incredible. 


The One With Blueberries
Cumulobluebus
Persimmon Hill Farm Restaurant, 367 Persimmon Hill Lane, Lampe
Imagine this: A freshly baked blueberry Thunder Muffin made with perfectly sweet Persimmon Hill blueberries. It's split into two when still warm, then topped with a scoop of premium home-style vanilla ice cream and rich whipped cream. Dreamy, right? But it ain't over, yet. Next it's drizzled with sweet Persimmon Hill Farm blueberry syrup and sprinkled with even more blueberries. The dessert is only available when blueberries are in season (starting in June through November or so), but it's definitely worth eating when you can. 


---
Cranberry Walnut Muffin
Start your day off with a sweet and filling Cranberry Walnut Muffin at MudHouse Coffee (323 South Ave., Springfield, 417-832-1720, mudhousecoffee.com). Mudhouse takes its regular whole wheat muffin batter and adds a heavy amount of walnuts and cranberries. Baked fresh every morning, these morning heavyweights sell out quickly. 


Fancy Waffles
Once you have your drink of choice in hand, it's time to choose a late-night snack. And what better way to start your night, or maybe your morning, than with a waffle from Scotch & Soda (310 South Ave., Springfield, 417-719-4224, thescotchandsoda.com)? Slightly sweet, this batter is thick enough to hold up to the barrage of delicious add-ins including Nutella; bacon and chocolate chips; black forest ham and white cheddar cheese; or peanut butter, banana and honey. Take your pick Tuesday and Wednesday from 11 p.m. to close and during brunch on Sundays.


Caramel Cinnamon Rolls 
The Caramel Cinnamon Rolls at Tea Bar & Bites Bakery and Café (621 S. Pickwick Ave., Springfield, 417-866-7500, teabarandbites.com) have become so popular that you have to arrive early to snag one. This two-day process uses an oatmeal bread recipe owner Colleen made into caramel rolls for her kids when they were little. Denser and chewier than a normal cinnamon roll, these bad boys are drowned in homemade caramel sauce and shucked out to early risers. 


Old Fashioned Sour Cream Donut
Coffee and donuts. Is there a better combination? And if you want a donut that holds up to a hot cup of joe, go with the Old Fashioned Sour Cream Donut at St. George's Donuts (3012 S. National Ave., Springfield, 417-882-1718, 3628 E. Sunshine St., Springfield, stgeorgesdonuts.net). While the donut crew at this local shop doesn't give out any of its secret ingredients, it doesn't take much to know that this glazed favorite is a winner. 


Cinnamon rolls
Large and in charge, the Cinnamon Rolls at Amycakes Bakery (1108 E. Walnut St., Springfield, 417-831-6095, amycakesbakery.com) are soft and packed with warm cinnamon. The best part, besides the buttery layers of dough, is the icing, which slowly works its way deep into the folds of the roll.


Bear Claw
Stuffed with sweet apple pie filling, the Bear Claw at Ray's Donuts (3654 S. Campbell Ave., Springfield, 417-886-0040, rays-donuts.com) starts as a regular glazed donut. Once rolled out, filled with apple pie filling and folded back up, the donut is proofed and fried. Voila!


Pecan Rolls
Part of what makes the Pecan Rolls at Red Barn Café & Hen House Bakery (107 W. Mt. Vernon Blvd., 417-466-4650, facebook.com/Red-Barn-Cafe-Hen-House-Bakery) so delicious is their simplicity. A regular dense cinnamon roll is caramelized and topped with crunchy pecans. Breakfast is served!


Chocolate Walnut Babka
Next time you host a holiday gathering, impress everyone by showing up with a Chocolate Walnut Babka from Legacy Bagelry & Bakery (legacybagelry.com). It's the attention to detail that makes this yeast bread so delicious. That and the filling—made with chopped walnuts and dark chocolate.


---
Butter Rum Pecan Pie Cupcakes 
In the luscious Butter Rum Pecan Pie Cupcake at That Crazy Redhead's Bakery (Editor's Note: Since this article was first published, That Crazy Redhead's Bakery has closed), rich chocolate cupcakes hide a sweet pecan pie surprise inside a rum-spiked batter topped with a swirl of butter cream frosting. 


Row Hard Root Beer Float
The classic root beer float from your youth gets a delightful upgrade with the Row Hard Root Beer Float at Sequiota Bike Shop (3521 S. Lone Pine Avenue, Springfield, 417-881-4488, facebook.com/Sequiota-Bike-Shop). A 12-ounce pour of hard root beer is mixed with simple syrup before a large scoop of vanilla ice cream is plopped in the glass. Bottoms up.
 
Rum Bread Pudding
When life gives you lemons, make lemonade. And when life gives you extra muffins, make bread pudding. That's the philosophy over at Touch Restaurant (1620 E. Republic Rd., Springfield, 417-823-8383, touch-restaurant.com) where they make a Rum Bread Pudding from a variety of house muffins. It only gets better thanks to a coating of warm vanilla rum reduction sauce and a dollop of Andy's Frozen Custard.


---
Maple Bacon Bars
Hurts Donuts (320 Park Central West, Springfield, 417-300-6106, facebook.com/HurtsDonutCompany) has lots of popular donuts, but the maple bacon bars are especially sought-after. Slightly salty and slightly sweet, each bite gives you a mouthful of bacon-y goodness. 


Anpan
Instead of being overly sweet, this Asian dessert, made by Echigo Farm (available at Farmers Market of the Ozarks, 2144 E. Republic Rd., 417-849-4000) borders on savory. That's thanks to the red bean paste that fills the egg-washed yeast roll. 


Candied Bacon 
Choose from three types of candied bacon at Bon Bon's Candy House (3857 S. Campbell Ave., Springfield, 417-883-3900, candyhousesgf.com). One version is dunked in caramel and chocolate and sprinkled with sea salt, one is coated in creamy milk chocolate or go simple with the brown sugar candied bacon.  


Salted Caramel Cheesecake
Known for a tasty rotation of cheesecakes, Chateau Grill (415 N. State Hwy. 265, Branson, 417-334-1161, chateauonthelake.com) makes this cheesecake with a crushed Oreo crust, a butter popcorn-flavored cream cheese filling and a pretzel dust topping with a drizzle of sea salt caramel. It's the perfect combination of salty sweet.


---
A homemade Butter Pecan Ice Cream cone
Hannah's Ice Cream Parlor at Silver Dollar City, Branson, silverdollarcity.com
A creamy ice cream base made with milk, cream and sugar that's frozen in an old-fashioned ice cream maker with ice and rock salt

Plenty of chunks of butter-roasted pecans

A sweet cake cone that adds plenty of crunch but is subtle enough to let the flavors of the ice cream shine    


Andy's Ozark Turtle
Andy's Frozen Custard, various locations in 417-land, eatandys.com
Creamy vanilla custard that's made fresh hourly

A thick drizzle of melty hot fudge

A mega spoonful of crème caramel

A hefty handful of nutty roasted pecans

A cherry on top


Raspberry Sorbet
Made by Benissimo Gelato, Springfield; available at MaMa Jean's, Hy-vee, Harter House and other local retailers
A raspberry puree made of pure sweet-tart berries

The perfect amount of sugar to sweeten it all up

Water to help it all blend together

The occasional raspberry seed (proving authenticity)


Bobcat Crunch Ice Cream
The Keeter Center, Point Lookout, keetercenter.edu
A rich chocolate ice cream base made on-site 

Bits of house-made "turndown cookies," which have a chocolate chip-oatmeal base

Bites of pecans and almonds


Butterscotch Bomb ice cream in a dipped waffle cone
Sweet Caroline's Cream & Coffee, Joplin, sweetcarolinescc.com
A butterscotch ice cream base

Ribbons of butterscotch syrup 

Prized chunks of chewy brownies

Sizeable hunks of Heath bar

Softened globs of Oreo cookies

A sweet, crunchy waffle cone dipped in creamy chocolate


The Famous Cakes-n-Creams Supreme
Cakes-n-Creams, Branson, Cakesncreams.com
A freshly-made funnel cake

A dusting of powdered sugar

A scoop of vanilla ice cream

Freshly sliced strawberries in a sweet strawberry glaze

A mountain of whipped cream

One single picturesque cherry


Strawberry Bingsu
Caffe Bene, Springfield, caffebene.com
Layers of shaved ice

Strawberries

Sweet red bean paste

Strawberry gelato


---


Senior Editor Savannah Waszczuk ties on an apron and heads to the 417 Test Kitchen to create a sweet treat with locally sourced ingredients. 
I'm a lover of all sweets, large and small. And I don't just buy them and eat them—I make them myself, too. A lot of them. In fact, there's hardly a loved one's birthday that goes by without me whipping up homemade cupcakes, scratch-made cookies or even a batch of rich and creamy ice cream. But this love of sweets combined with my love of baking occasionally causes a problem: a far-too-full belly, plus a ton of goodies left over. I've learned that one girl can only eat so much sugar before her pants pop. 
Recently, I've dabbled in creating things that are just a tad bit healthier than my typical gooey chocolate cookies or peanut butter fudge ice cream. That way I could have my cake and eat it, too, right? In the midst of my quest for a healthier dessert, it was my mom who tried a recipe for power balls loaded with oats, peanut butter, coconut, raisins and other goodies, and they were surprisingly great! When I was given this assignment, I had her pass me the recipe, then did a little brainstorming and searching for local ingredients to try out my own modified creation. Next I headed to the 417 Test Kitchen, pulled out a mixing bowl and got to work on my own version of power balls with Granolove granola, East Wind peanut butter and Honey Heaven honey. The result is one I'm pretty proud of, and weighing in at roughly 150 calories a pop, they make the perfect midday snack or after-dinner sweet treat. And they're great to make ahead and keep in the fridge for a few days. Feel free to use your favorite granola and modify the recipe to your preference—it should mix together similarly. 


417 Power Bites
Ingredients: 
1½ to 1¾ cups peanut butter 
Chocolate Granolove granola
1/2 cup East Wind natural peanut butter 
1/3 cup Honey Heaven honey
1 teaspoon vanilla extract
Shredded coconut for coating (optional) 
To prepare: 
Cover a cookie sheet with parchment paper. Using your fingers, crumble granola into small, workable chunks (be sure to break up any large clusters and loosen any nuts or raisins). Pour 1½ cups crumbled granola in a large mixing bowl. In a separate bowl, stir the peanut butter and honey mixture until well combined. Pour the mixture over the crumbled granola, and mix to coat. If the mix still looks too sticky, add remaining ¼ cup of granola. Once completely mixed, add vanilla. Mix well. Using a teaspoon, scoop up a large spoon of the mixture, and roll into a ball. Roll ball into shredded coconut to coat, if desired. Continue until you use all of the mixture (recipe makes 12 power bites). Place rolled balls on cookie sheet. Refrigerate until firm, at least a few hours, preferably overnight. Enjoy!
Nutrition (per bite):  162 calories 4 grams protein


---