Style
How to Wear It: Leggings
Can you wear leggings as pants? What kind of shoes do you wear with leggings? From printed and solid to fleece-lined and sheer, Springfield, MO style experts share their dos and don'ts for wearing leggings, the oh-so-favorite staple.
By Savannah Waszczuk
Jan 2016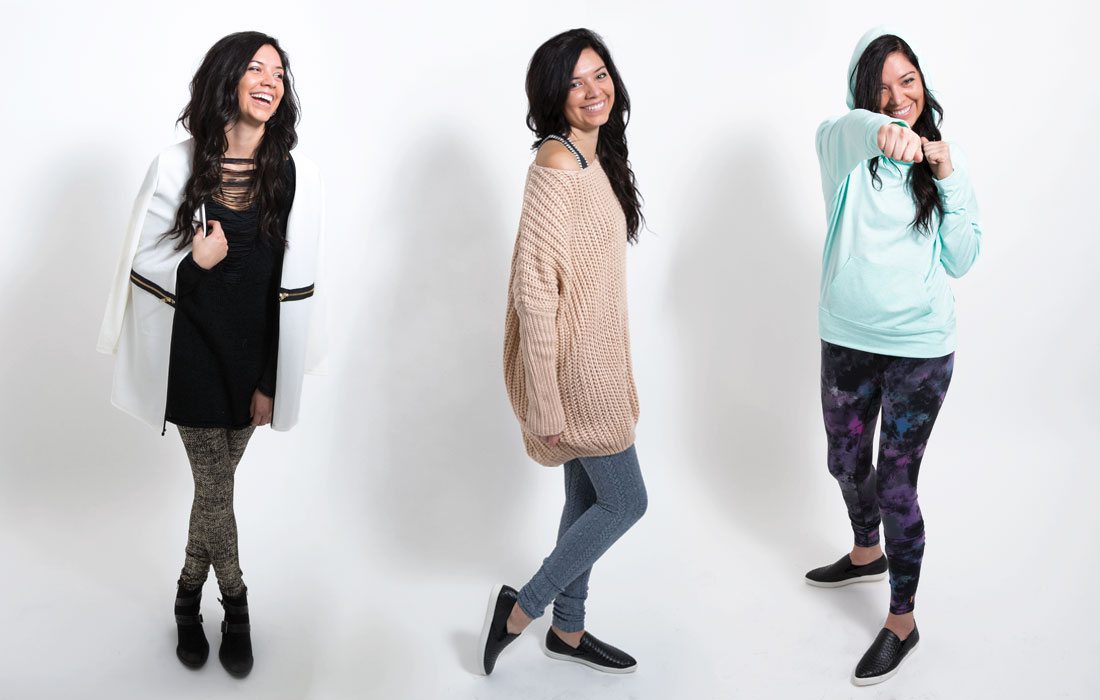 Look 1:
These glitter leggings are a dressier version that would be great for work or a night on the town.  
Adrienne blazer, $55 at The Uptown Boutique; PPLA Clothing back v-neck, $69 at The Uptown Boutique; Chocolate gold chain, $18 at Hip Chick Boutique; Adrienne gold leggings, $33 at The Uptown Boutique; Diva lounge black booties, $43 at The Uptown Boutique; Boutique collection diamond hoops, $8 at Hip Chick Boutique
Look 2:
Soft knits add warmth and the oversized top balances everything out.
Hot & Delicious pink sweater, $49 at The Uptown Boutique; Niki Biki grey leggings, $29 at The Uptown Boutique; Qupid black scale tennis shoes, $27 at The Uptown Boutique
Look 3:
We love these multi colored leggings. The pattern is subtle but still adds a punch.
Lucy baby blue hoodie, $85 at Dynamic Earth (Editor's Note: This business has closed since the initial publication of the article); galaxy leggings, $89 at Dynamic Earth; Qupid black scale tennis shoes, $27 at The Uptown Boutique


---
Tips for How to Wear Leggings:
DO: Have Some Fun

"This season, leggings aren't just limited to cotton and black. Our customers love our seamless and subtle pattern leggings, our faux leather leggings, our fleece fabric leggings, our suede blend leggings, our plaid leggings and our glitter leggings." —Sarah Schaeffer, The Uptown Boutique
DO: Layer it up

"We always preach layers. We want our guests to be prepared no matter what the weather brings. Merino wool leggings are great for wearing as a base layer, whether you're going hiking, kayaking or climbing or just want to wear them under jeans, because they regulate your body temperature. Smartwool and Icebreaker are both great brands to trust."—Valerie Rooney, Dynamic Earth
DON'T: Show too much

"You don't need to show off all of your latest Victoria's Secret items when wearing leggings! Remember—the key to leggings is having the right shirt to go with them. I wouldn't wear them with anything shorter than six inches above your knees."—Susan Beach, Hip Chick Boutique
DON'T: Trust synthetic materials

"As far as performance goes, never wear synthetic layers to keep in body heat. Clothing made with synthetic materials, like polyester elastane, doesn't do anything to keep you warm."—V.R. 
DON'T: Wear cotton outdoors

"If you're planning a day outside, never trust cotton leggings. They aren't a good base layer at all."—V.R. 
DO: Stock the Basics

"Everyone should have a black pair and a brown pair of leggings, plus some fun patterned and colored pairs to add variety."—S.B. 
DON'T: Wear leggings that match your skin tone

"Never wear leggings the exact color of your skin. It looks too much like you aren't wearing pants at all. I always say to stay at least one shade darker than your skin if you need to wear tan leggings."—S.B.
DO: Trust Fleece

"Fleece-lined leggings have been all the rage the past few seasons, and they're perfect for cold offices or chilly nights out. They're also great for those days you wish you could stay in your pajamas but you know errands won't run themselves. They help keep it comfortable, yet stylish." —S.S. 
DO: Pair Appropriately

"As for dressier occasions, parties or even business outfits, I recommend sheer leggings or tights. Pairing chiffon materials against cotton is like pairing leopard print with black stripes—it's harmful to the fashionista's eyes." —S.S.
DON'T: Stray away from sneakers

"Typically, when people wear leggings they are pairing them with some sort of boot, which works great. Another trend that has become popular this season is the sporty, athletic look that pairs leggings with sneakers or slip-on shoes. In this instance, make sure you're wearing ankle-length legging that shows just a bit of skin between your leggings and shoes."—S.S.
DON'T: Pair Patterns

"If you have a pattern on the bottom, you want to make sure you are pairing it with a solid color on top. Let the pattern be the focal point of the outfit." —S.S. 
DO: Go Darker

"Make sure that you wear leggings that are darker than whatever color top, tunic or dress you are wearing. If you wear lighter leggings on the bottom, you may look larger than you are."—S.S.
DON'T: Get too clingy with your top

"Leggings are fitted and skin tight, so you want to make sure you're wearing something a bit oversized up top to balance your outfit."—S.S. 
DO: Go for Color

"If you have colored leggings, go for them! They're a great way to add a fun pop of color to an otherwise dull winter outfit."—S.B.