Style
Puff, Puff, Puff it Up with Puffer Coats
Want to stay toasty warm but look cool as a cucumber? A puffy coat is the way to go. Follow advice from local experts to create extra heat with this season's sleek take on a bulky staple.
By Jennifer Johnmeyer | Styled by Jewel Perkins | Photos by Brandon Alms
Jan 2018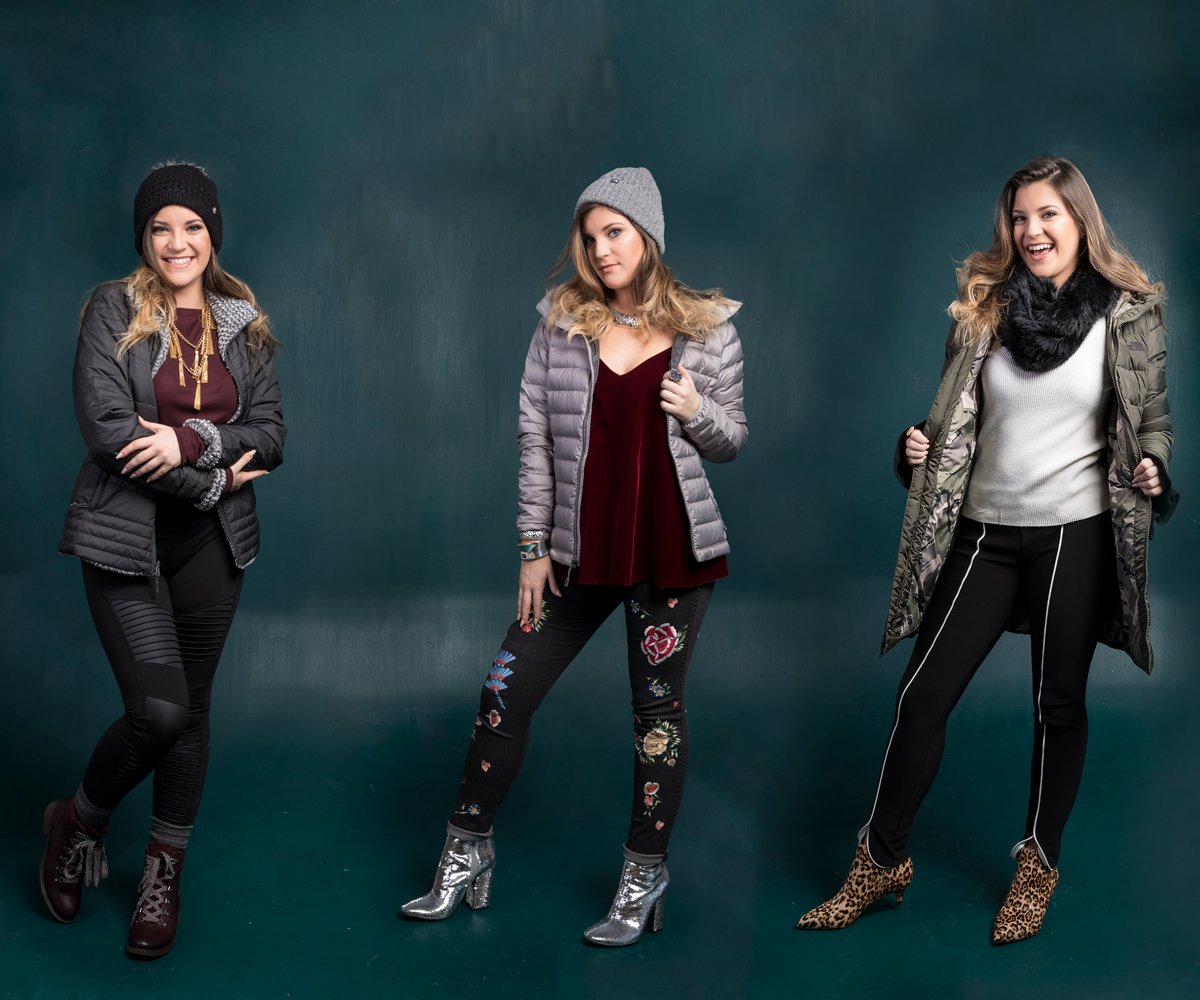 Get the Look
Look 1: The North Face reversible coat, $149, Sypder Icicle beanie, $35, Smart Wool cable socks, $17.95, all at Ozark Adventures; Twenty mulberry top, $119, Rachel Zoe gold necklace, $525, Alo moto leggings, $128, Sam Edelman wine boots, $150, all at Harem & Company
Look 2: Patagonia down sweater hoodie, $279, The North Face lambswool beanie, $30, both at Ozark Adventures; silver hammered necklace, $349, Derek Lam velvet camisole, $425, silver cuff, $279, silver hammered bracelet, $219, Alice & Olivia jeans, $595, Kendall & Kylie boots, $119, all at Harem & Company 
Look 3: The North Face Gotham parka, $249 at Ozark Adventures; 525 fur scarf, $169, Ramy Brooke sweater, $325, Chan Luu gold ring, $239, Joesph R. pants, $209, Sam Edelman cheetah boot, $240, all at Harem & Company
---
How to Wear It
DO: Your Research
"Find a company that spends the time to make a nice-fitting, great-looking puffy. The North Face, Patagonia and Arctyrex are all companies that spend a lot of time and effort designing jackets that not only perform at the highest level but also fit well and look great."—Aaron Mihalevich with Ozark Adventures
 
DO: Slim it Down
"I suggest pairing with slim underpinnings for a flattering silhouette. Go bold with white denim or sleek with leather leggings."—Julie Schuchmann with Harem Boutique
 
DON'T: Dress it Up
"For women, I would avoid wearing a puffy with any kind of dress or skirt. That look can be very difficult to pull off. For the most part, it just doesn't work."—A.M.
 
DON'T: Go Big
"Avoid pairing these with any pant with fuller legs, as that creates a boxy silhouette. It's all about proportions. Wide-leg pants just don't create an appealing silhouette."—J.S.
 
DO: Have Fun
"Unique elements, like a fur-to-puffer reversible style, and accent colors such as silver and bronze metallic are all new and fun looks."—J.S.
 
DO: Consider Your Style
Think about what you would typically wear and find a puffy that matches appropriately. Some jackets offer shorter stitch lines and thinner baffles. These tend to have a sporty look and go great with leggings and athletic-inspired bottoms. A longer stitch and thicker baffles have a very nice casual look and can easily be paired with slacks or dress pants. Some styles come in a parka length, which can look really cute with a pair of leggings and boots.—A.M.
 
DON'T: Go Tight
"Avoid getting a jacket that fits too tightly in order to look more slimming. This can lead to not-so-flattering crease lines."—A.M.
 
DO: Know Your Body
"Find the brand that fits your body type best. Each company has its own way of doing things, so they each have a unique fit that will work for some body types but not all. You want something that fits the curves of the body without being too tight or too loose. The coat should sit off the body with enough room for a light sweater or something of that sort underneath."—A.M.
 
DO: Cinch It
"I like to look for something that has a draw-cord cinch. This allows you to bring in the side of the jacket at the waist, which offers a flattering look for most."—A.M.
 
DON'T: Go with the Flow
"One thing to avoid is wearing very loose-fitting clothing underneath. This can cause sections of the jacket to look very frumpy. Tighter fitting clothing under the jacket is the way to go."—A.M.
 
DO: Find a Happy Medium
"I also really like boot-cut or flared pants paired with the puffy. Both of these work well, as they give a slimmer look through the legs without being too wide."—J.S.