Life
Try These New Art Classes in 2018
Ready to learn something new? We rounded up seven ways to connect with a new hobby and get your art on starting in 2018.
By Courtney Caldwell
Jan 2018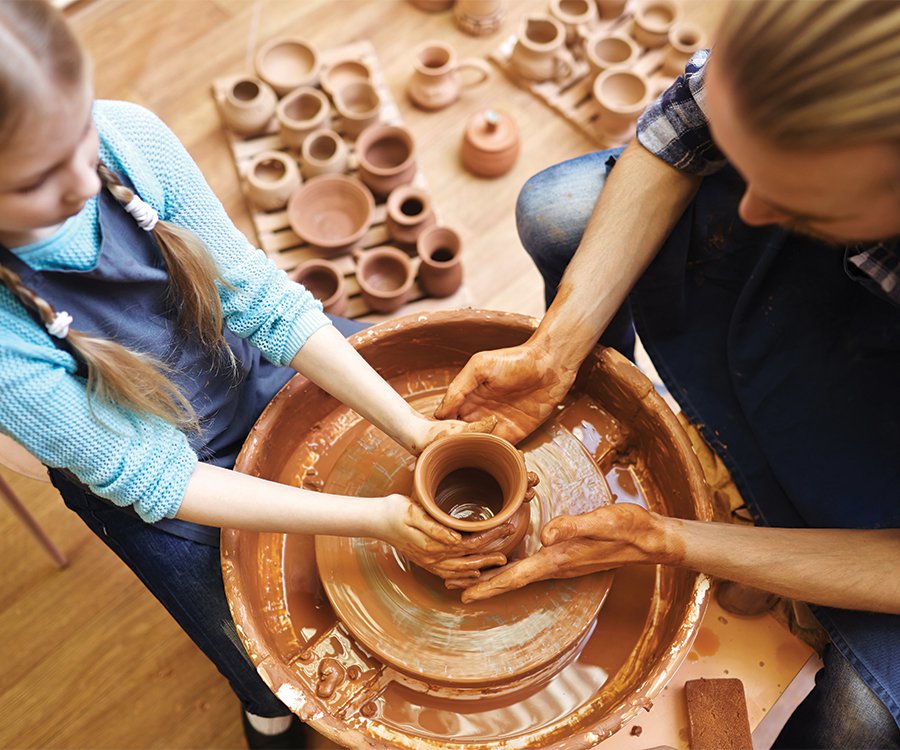 Throw Clay
Get your hands dirty at Crackpot Pottery & Art Studio (3820 E. 20th St., Joplin; 417-623-1455; crackpot-pottery.com), every Saturday from 10 a.m. to noon. Try throwing your clay on a wheel, hand-building or even sculpting your own pottery—any way that's comfortable for you. Then you can put your creations on display at home!


Fuse Glass
Bring a group of friends and learn how to make beautiful fused glass pieces at Creative Escape Glass LLC (1700 S. Campbell Ave., Suite H, Springfield; 417-693-4991; creativeescapeglass.com). Every Wednesday through Saturday in January you can come and pick a project size to fit your style and your budget. No experience needed to get creative—the instructors walk you through every step and offer advice.


Craft a Date Night
We all get tired of the same old dinner and a movie date, so spice it up a little bit! Make fun memories at Creava School for the Arts (1667 Saint Louis St., Springfield; 417-880-3531; creava-arts.com), creating your pieces on the wheel, then you can return in two to three weeks for your second class to glaze and paint your pottery together. Adults and teens are welcome at the two-hour classes. Classes are Fridays from 7 to 9 p.m. for $90 per couple, plus a small fee to keep your pottery.


Try Weaving
On Mondays and Tuesdays throughout the month of January, find a new love for weaving at Art Zone (107 W. Aldersgate Drive, Suite 6, Nixa; 417-224-9816; artzonenixa.com). For $30 at 10:30 a.m., try something new and unique for the new year. Bring your friends, kids or family together to bond over something artistic and special to you. Make beautiful objects for your home as well as capturing beautiful memories together.


Paint Pottery
Bring your kids out to listen to storytime and painting a piece of pottery at Firehouse Pottery (4150 S. Lone Pine Ave., Springfield; 417-881-8381; firehousepottery.com). Bring the plot to life by painting a character from the weekly story. Classes are on January 2 at 10 a.m. and January 6 at 9 a.m. for $10; register online for an experience your kid will not stop talking about. Firehouse Pottery also hosts a Princess and Pottery event on January 27 at 9 a.m. for $30, which includes breakfast, pottery and live princesses. What better way to spend a Saturday?


Blow Glass
Learn how to turn liquid glass into home decor with Springfield Hot Glass (314 S. Campbell Ave., Springfield; 417-868-818; springfieldhotglass.com), a family-owned and -operated glass studio that strives to help others make beautiful art out of glass. Take the furnace glassblowing course with instructions, techniques and safety procedures for making solid pieces and vessels for $200. This is only a one-day class on January 27 from 10 a.m. to noon or 2 to 4 p.m., so call and book quickly!


Dig into History
Help your kids learn about local history through a hands-on gallery and art-making activities at the Springfield Art Museum (1111 E. Brookside Dr., Springfield; 417-837-5700; mo-springfieldartmuseum.civicplus.com). Wonder Rooms makes it fun to learn about outside art, prints, drawings, photography and more. This collection is located in the Community Room at Springfield Art Museum. Drop in from 10 a.m. to noon on January 27. Admission is free and open to the public, but come quickly before the doors close.