Reviews
Customizable Asian Fare at Kuma Japanese Ramen & Sushi
East Springfield's Kuma Japanese Ramen & Sushi is the go-to place for build-your-own Asian fare.
By Rose Marthis
Jan 2019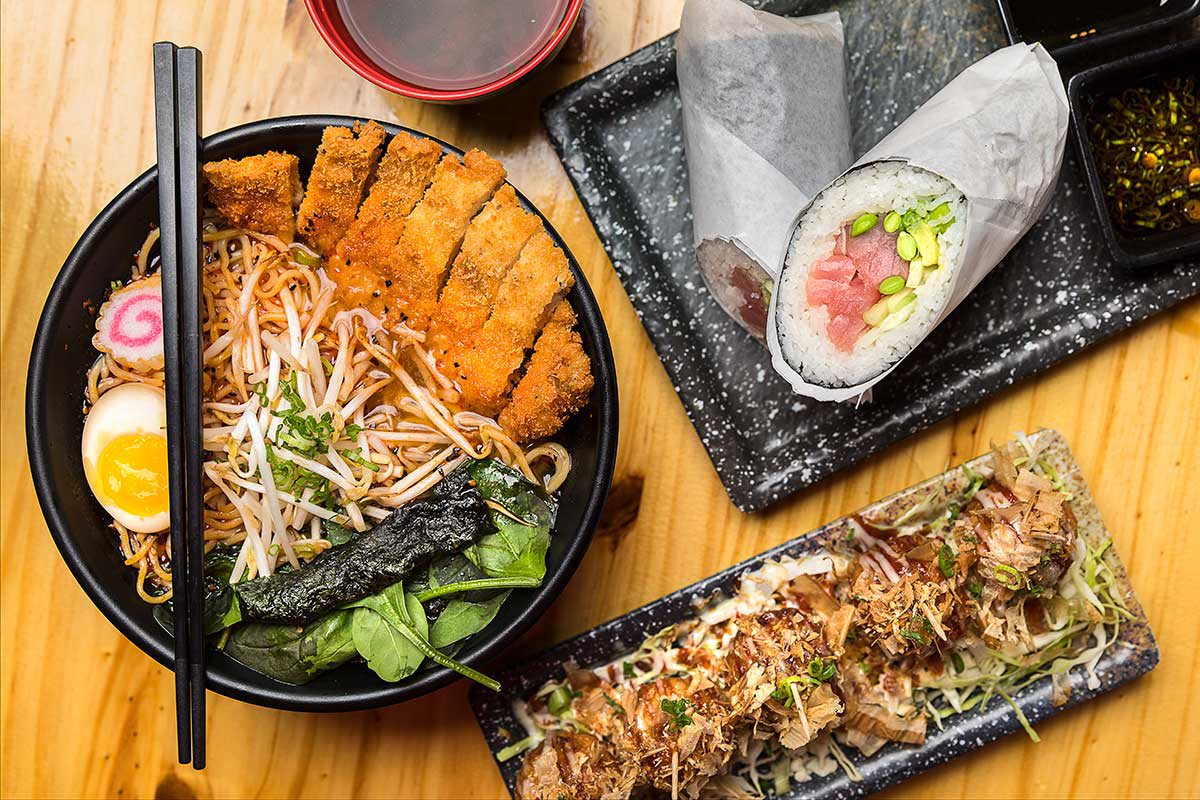 One of my challenges at sushi restaurants is finding a roll with everything I like in it, so I end up ordering multiple rolls. (A tragic cross to bear, I know.) If only you could build your own sushi roll! Alas, my dreams were finally realized during a recent dinner date with my boyfriend, Brandon Pratt, at Kuma Japanese Ramen & Sushi. 

Kuma is all about build-your-own. You can customize everything on this menu, including ramen, regular maki rolls, sushi burritos, poke bowls, bento boxes and more. While this might seem overwhelming at first, the menu choices are actually easy to navigate, and you know you can order something you'll like. Brandon and I like ordering things we've never tried before, so we started with the takoyaki appetizer. It's octopus and green onion croquettes topped with bonito flakes and two sauces. The outside is nice and crispy, and the inside is soft, but almost too creamy. There is one small bite of octopus in each croquette, which is a good texture break but could get a bit chewy. Overall, they were worth a try and definitely something different from most Springfield menus. 

Next we built our own entrees. Brandon chose ramen, and I created a sushi burrito. For ramen (or udon) you can choose your protein and broth. He went with chicken katsu and spicy broth. It came with spinach, sprouts, seaweed, soft boiled egg, a fish cake and green onion. The broth had a great depth to it and wasn't too spicy. It honestly could benefit from a higher star rating if you can handle the heat. There was a good balance of ingredients and it was a good portion size for the price. The egg was perfectly set. The only downfall was the chicken breading melting off.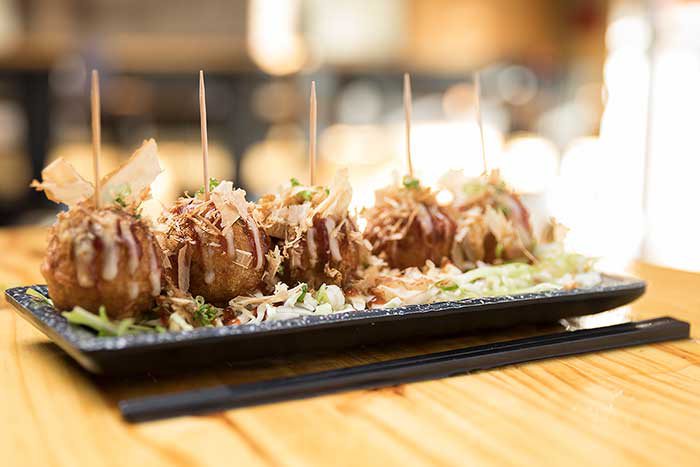 In the Takoyaki appetizer, octopus and green onions are encircled in dough and topped with crispy bonito flakes and two sauces.
Purchase Photo
Photos by Brandon Alms
For my sushi burrito (my very first one!) I went with tuna poke, cucumber, avocado and edamame wrapped in sushi rice and nori. You can choose two sauces, and I went with ponsu sauce and poke sauce. The sauces soaked into the rice to keep it from getting too dry. The weirdest part about eating sushi in burrito form is having to tear through the nori yourself. Once you get over not having pre-determined bite sizes like in a roll, it's a fun dish. You get fresh ingredients in every bite, and the size was filling without being too heavy. Along with my burrito came miso soup, and I have to give a shoutout to this soup. It is a staple of sushi restaurants everywhere, but Kuma's stands out. The flavor is rich, a mix of salty and sweet, and there are only green onions in it, no tofu. I was such a big fan of this soup I slurped it down before even touching my burrito. 

The menu has some unique Japanese dishes that give the restaurant credibility and authenticity. We ordered a Japanese soda (to continue our try something new rule) and the experience of opening and drinking it stands out just as much as the melon flavor. To open it, you twist off the cap and then push a glass marble down into the bottle. Our server brought us extra napkins, which was an omen I didn't catch. As soon as the marble hits the soda it starts to spew a bit—not enough to ruin your neighbor's outfit but enough to get on your hands. After my surprise wore off I thought it was fun and another experience you don't get in many restaurants. The soda itself was cream soda–esque, with a sweet melon flavor. 

To top off our meal we ordered one matcha and one chocolate mochi ice cream. They were cold and gummy and had really concentrated flavors—it was a good mouthfeel. They were delicious, and I could have eaten way more. 

Despite having a small dining room, Kuma doesn't feel cramped. You can spend your meal looking at the art, which has combined the kuma bear and classic pieces. (For example, you'll see a bear face atop the Mona Lisa.) It adds to the restaurant's fun, youthful vibe. The kuma bear is a tribute to the Missouri State Bears, a testament to Kuma's goal to be a local hot spot for innovative Asian dishes. It was a great dinner date, and now I know I don't have to settle for a sushi roll I don't like again—though I will still probably order multiple rolls as an excuse to try everything I want.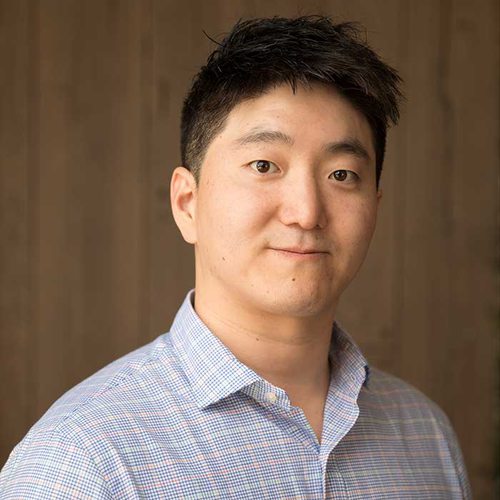 417 Magazine: What sets Kuma apart from your other two restaurants, OMO Japanese Soul Food and MaMa's Korean Grill, and others in Springfield?
Jay Jung: A lot of my cousins in California, they're all doing a poke shop. They knew I was doing a restaurant, and they said you should do this because it's a trend right now and you don't want to be behind. I was watching [poke restaurants across the state] for a couple of months to make sure they were working, and I was like "If they are working there, then why not in Springfield?" I always say Springfield local people are experts on food because there are so many restaurants in town. 
417: How long have you been in the food industry? 
J. J.: I've been in the food industry eight years. My mom was a chef ever since I was little, and my uncle, he's a very famous chef in South Korea. I have more family in the restaurant business on my mom's side. I grew up [in the] restaurant industry, and I came to the U.S. when I was 12. My uncle was a pastor and he invited my whole family to the U.S. At the church, about 90 percent of the church members are in the restaurant industry. I pretty much grew up with the restaurant. Sunday was like a feast because everybody cooked their own dish. 
417: Do you have any of your childhood recipes on the menu? 
J.J.: Because my parents were so busy when I was a little boy, I pretty much cooked everything by myself growing up. I have a little sister nine years younger, so I had to feed her. I never thought I would do a restaurant, but I grew up that way, and it kind of led me on this path. All our chefs always, every night, make a new dish—there's a lot of bad dishes, too. We try to eat something new every day. We have a lot of staff that's passionate about cooking and want to be very good chefs, so they inspire me a lot. 
417: What's one thing readers should know about your Kuma? 
J.J.: We're not rich people, and I've been broke so many times. We're trying to keep our margin very low and trying to make as good of food as possible—that's our goal. We're always studying. We'll try something new. If customers give us an idea of what we should do, we love to try everything, too.
Kuma Japanese Ramen & Sushi
Hours:
Monday–Friday: 10:30 a.m.–2:30 p.m., 4:30–9 p.m.