Health
The Magical Powers of Nixall
Business partners Kip Glass and Cap Briant found a way to stabilize electrolyzed, oxygenated water, creating a product called Nixall.
Written by Savannah Waszczuk | Photos by Kevin O'Riley
Jul 2012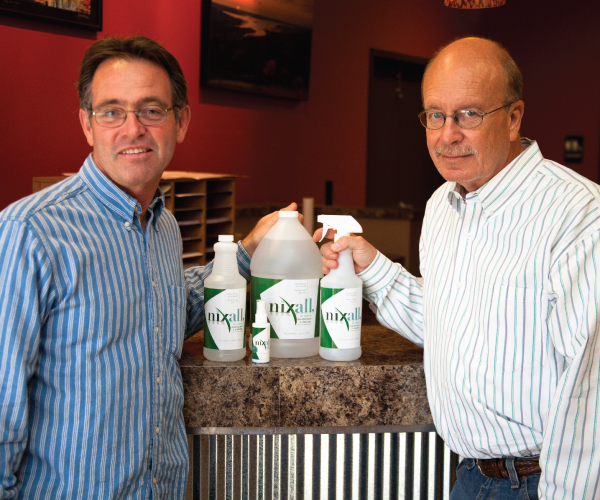 As he stands in the lobby area of his Nixa business, Cap Briant talks about killing infectious cold bacteria and extending the shelf life of food in the same breath. Surprisingly, both of these things can be done with just a few squirts of liquid. But not just any liquid. The liquid Briant talks about is sitting next to him in a little tiny bottle.  It's called Nixall, an all-natural electrolyzed, oxygenated water that he and his business partner, Kip Glass, figured out how to make shelf-stable. Doctors have said Nixall is safe, and it has passed an FDA GLP test that says it's even safe for the eyes. It can kill mold and mildew, and it can greatly extend the life of produce. It can oxygenate and hydrate your skin. It can be sprayed in the nose or mouth at the suspicion of a cold or flu. It can even be used on scrapes, bruises, minor burns, wounds and rashes. So, what's the story on this seemingly cure-all product? We found out.


How It All Started
Cap Briant has a background in commercial and property real estate. In 1998, he was on the hunt to find an organic, safe way to decontaminate watershed at a resort property on Table Rock Lake. A partner that he worked with at the time had heard of anolyte water, a natural product that was often used in other countries both medicinally and for decontamination purposes. And it had been around for a while. It was even used in World War I to save countless lives. "But it wasn't stable then," Briant says.

After doing some research, Briant and his former partner made a trip to St. Louis to meet with a couple of Russian businessmen. They purchased rights and a machine that could help them produce the product. The two created an anolyte water that eliminated every contaminated pathogen that tried to make its way to the Table Rock Lake property. But not too soon after that, the two ended the partnership.

In the following years, Briant occasionally dabbled with working on stabilizing the water. "In my spare time between endeavors, I'd fix it up and make it better," Briant says. But he didn't have any major progressions for nearly a decade and a half. And then he partnered with Kip Glass. As owner of Raised Right Meats, an organic southwest Missouri farm that raises poultry, pork, beef and lamb, Glass was also interested in finding a safe decontaminate that could help keep his farm clean and his animals healthy.

Neither of the two claim to be mad scientists, but they do claim common sense, and they don't mind trial and error. And a little more trial and error. In January 2011, they delved into producing a product that could prove successful in Environmental Protection Agency (EPA) and Federal Drug Administration (FDA) tests. And, by perfecting a process in which they were able to stabilize the electrolyzed, oxygenized water and give it a shelf life, they produced Nixall.


What Can Nixall Do?
The active ingredient in Nixall is hypochlorous acid, which is the same compound used by white blood cells to kill bacteria, viruses and fungi. Essentially, Nixall is an electrolyzed, oxygenated water. Since it's all-natural, it is considered a truly green product. It's pH-balanced and has various benefits.

Nixall is currently being developed as a skincare product by private-label companies. To use, individuals just spray it on the face and skin and then let it air dry, or pat it dry with a clean towel. It's a hydrator and toner than can oxygenate and hydrate the skin, and is non-irritating, non-allergenic and non-stinging. And in addition to replenishing the skin, it improves complexion, visibly reducing redness. It's oil-free and won't clog pores, and it's hypoallergenic. 
Nixall can also be used to kill germs. It is destructive to streptococcus, staphylococcus and MRSA, salmonella, e coli, viruses, bacteria, fungus, mold and even anthrax, and it can accelerate wound healing by being sprayed directly on wounds and minor burns. It is said to be 100 times more efficient than bleach (while being a lot safer). And it can even be used for general sanitizing and protecting by being diluted 10:1 with water. In this way, it can be sprayed directly on fresh vegetables and fruits.
All the Rage
Nixall is sold locally at MaMa Jean's Natural Market, and a handful of 417-landers are currently using it. One is Elisabeth Scott, owner of Pet Paws, a cage-free boarding, doggie daycare and grooming facility. Scott says she and her team use Nixall to clean the 8,000-square-foot Pet Paws building. "We use it for cleaning in the play areas because it's safe for the dogs to walk on," Scott says. "A lot of places use kennel disinfectants, and eventually, the bacteria can build a tolerance up to those and start to smell. This hasn't happened with Nixall yet." Also, they use it to clean out dogs' ears to fight infections. "The old-school medicine for ears used to take a couple weeks [to heal]," Scott says. "This just takes a few days before it's gone."
And perhaps the most impressive use of Nixall for Scott has been her experience with her own dog, a poodle named Waffle. Waffle was missing for a week, and when they found him, they learned he had been running in sewer drains and was most likely attacked by a coyote. One injury was a major 10-inch long gash that ran from the top of his back down to his middle. "Normally, major oral antibiotics would have been necessary," Scott says. But after just three stitches and two applications of Nixall per day, the wound was healed within a week.
Darren Loula, DVM of Christian County Veterinary Service, LLC, has also had success with the product. "I used Nixall as a component of a proud flesh treatment protocol in a paint mare," Loula says. The mare had a chronic wound for several months, and significant growth of proud flesh. The mare was sedated and the wound was cleansed, then they trimmed away the proud flesh. The follow up treatment included oral antibiotics, anti-inflammatory medication, cold-hosing the wound and an application of Nixall twice daily. Within three weeks, the wound showed significant healing.