Dishes
Mozzarella Ciliegine Salad from Bruno's Restaurant
Plus six other things that passed the test of our taste buds.
By The Editors
Jul 2012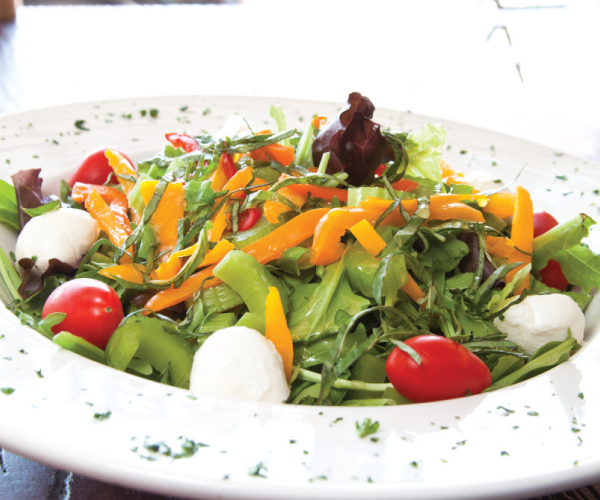 1. The mozzarella ciliegine salad from Bruno's Restaurant (416 South Ave., Springfield, 417-866-0007, brunositalianrestaurantdowntown.com) is a delicious dish if you're a fan of lemon. The lemon olive oil dressing is very tart with a bright summery flavor that blends perfectly with the salad's mild and creamy mozzarella balls. The slightly spicy arugula, the crunchy celery and the juicy tomatoes are delicious complements.
2. Chicken, potato and olives are baked into phyllo dough with just enough tasty curry in the chicken samosa at Aviary Cafe and Creperie (400 E. Walnut St., Springfield, 417-866-6378, aviarycafe.com). The phyllo is perfectly flaky and delicate, with bold flavors inside.
3. We've been loving the fish tacos at Big Whiskey's (multiple 417-land locations, bigwhiskeys.com). Not only is the pan-seared tilapia tasty, the slaw on top is the perfect mix of tang and spice when topped with the chipotle sauce. It comes served with rice for $7.99.
4. Our new favorite Mexican indulgence is the Jalisquito at El Charro (1779 S. Glenstone Ave., Springfield, 417-886-1444). Grilled chicken and beef, onions, tomatoes and bell peppers are served on a bed of rice and smothered with cheese sauce. Since it comes with warm flour tortillas, it can easily be split with a companion or taken home for another meal.
5. One staffer recommends The Whitaker Wedge at Mikayla's Grille at Millwood Golf & Racquet Club (3700 E. Millwood Dr., Springfield). It's shaved prime rib atop a wedge salad with blue cheese dressing. It's not on the menu; ask for it by name.
6. An explosion of Mediterranean flavors, the Persian lamb shank at Touch Restaurant (1620 E. Republic Rd., Springfield, 417-823-8383, touch-restaurant.com) has slow-roasted meat served with a pita, yellow split peas, spicy onions, charmoula, Greek yogurt and a bed of Mediterranean quinoa.
7. We love the pasta con camarones y vieyras at The Argentina Steakhouse (1410 E. Republic Rd., Springfield, 417-886-8010, theargentinasteakhouse.com). Scallops and shrimp are tossed with asparagus, mushrooms and grape tomatoes in a pasta with spicy Cajun alfredo sauce. It satisfies about four cravings at once.