Take the Cloth Diaper Plunge
If you're interested in cloth diapering but have yet to take the plunge, learn where you can get the goods in 417-land.
by Katie Pollock Estes | Photo by Kevin O'Riley
Jul 2013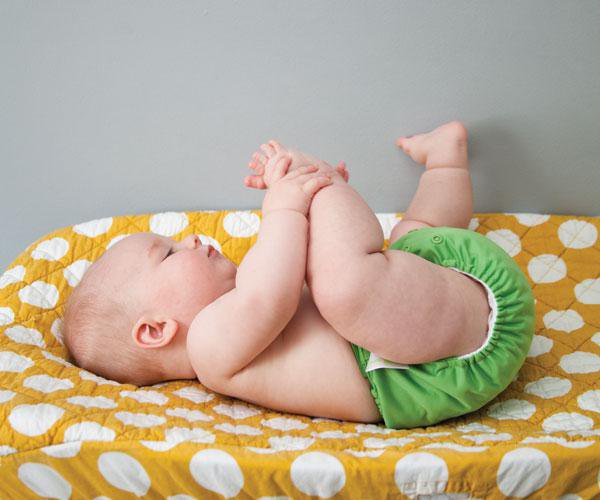 When my son, Oliver, was nearing the 6-month mark, I started to consider the potential perks of switching to cloth diapers (less trash, fewer chemicals). Armed with a few cloth options from 417-land shops, I started a mini cloth diaper trial.
The first cloth diaper I tried was a bright green bumGenius all-in-one diaper from Signature Style (111 N. Second St., Ozark). Since these diapers don't require any type of insert, you simply take the whole thing off your kiddo once it's soiled and then make it a part of your laundry routine (with a few specific washing instructions). The diapers come in one size, with snaps to adjust the length as baby grows. The first time we decked Oliver out in his bumGenius diaper, I had to admit it was pretty adorable. But it was huge! 
Not all cloth diapers are one-piece. I didn't try it out, but Bella Baby (900 E. Battlefield, Springfield) carries the Bambino Mio line of two-piece pocket-style cloth diapers, with an opening to stash absorbent cloth inserts inside colorful cloth covers. 
Some cloth diapers even include cloth exteriors with disposable inserts, like the hybrid G Diapers that I bought. You can get them online at gdiapers.com, and sometimes you can even find them at Children's Orchard. The benefit is that the disposable inserts are biodegradable (you can compost the wet ones) and flushable (for the dirty ones). Bonus: They are a lot slimmer than the one-piece.
There's some prep work (prewashing the diapers) and upfront money that goes into full-tilt cloth diapering. For the all-in-ones or two-piece diapers, you can expect to spend at least $500 to stock your changing station. The good news? It saves cash over time. According to Consumer Reports, the average family spends around $2,500 on disposables from birth to potty training. And while clean-up is a little tougher, the cloth diapering moms I've talked to say it simply becomes part of your routine if you're committed—whether for financial, environmental or health reasons.
Like the Idea, Fear the Reality?
If you are the kind of parent who deeply wants to cloth diaper but gets a little overwhelmed at the notion of buying and building your own cloth diaper stash and then finding the time to keep up with washing them (breathe in, breathe out), there are a couple of local services that can help with that.
There's a cloth diaper service, diapeRevolution (479-715-6048, diaperevolution.com), that's based in Arkansas but offers cloth diaper rental and cleaning services in 417-land to Springfield, Joplin and Neosho. They bring you two weeks' worth of cloth diapers. Every week, they picked up the dirty diapers and leave you with a batch of fresh clean ones to keep your supply up. There are a variety of packages that cost $15 to $35 per week, plus you can rent extras like diaper pails and cloth baby wipes.
Cover Your Bum Cloth Diaper Bank (417-869-0563, coveryourbum.org) is a nonprofit organization that aims to help families that might not otherwise be able to afford cloth diapers. It essentially helps with the big upfront cost of buying your cloth diaper stash. Cover Your Bum loans cloth diapers for a limited time, so families can learn to use them and see if they are right for their lifestyle. Then the organization helps families save the money to purchase cloth diapers.