Reviews
5 Best House Salads
Sometimes summer makes you want to eat light. Whether you're craving Asian flare, a Greek spin or just a simple plate piled high with plenty of fresh goodies, these house salads are here to impress.
By Rose Marthis | Photo by Brandon Alms
Jul 2015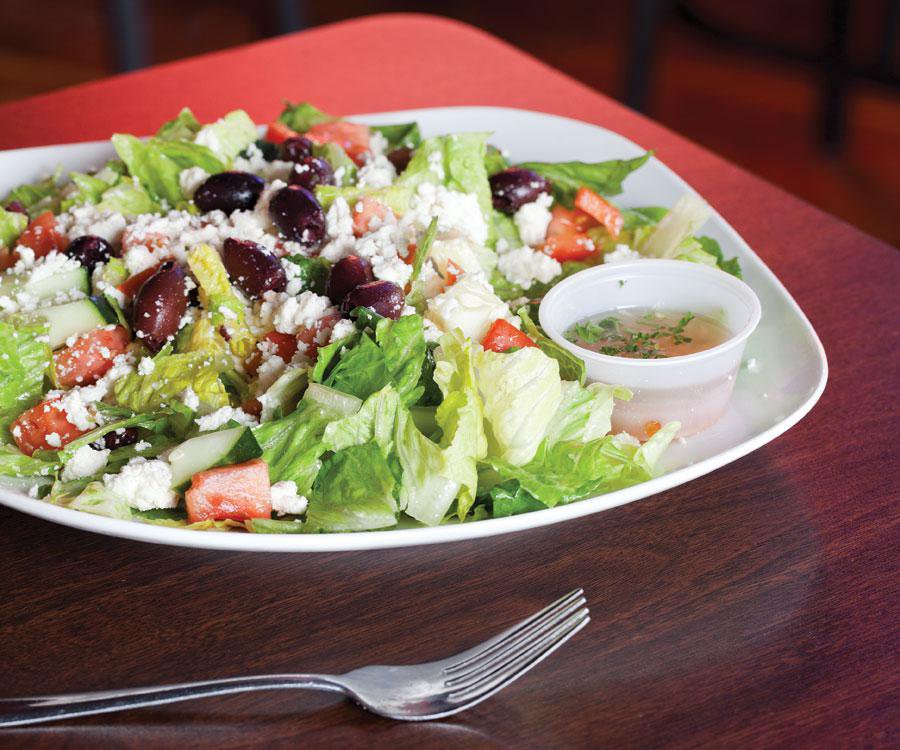 1. Riad
400 South Ave., Springfield, 417-720-1018
Why We Love It: Riad puts a Greek twist on the common house salad by tossing romaine lettuce, diced tomato and cucumber with a dressing of fresh garlic, olive oil, lemon and sea salt. Pile on the deliciousness with feta cheese and kalamata olives. 
Order It With: Gyro meat. Add it to the top of your salad, or order it in one of Riad's wraps. 
2. Argentina Steakhouse
1410 E. Republic Rd., Springfield, 417-886-8010, theargentinasteakhouse.com 
Why We Love It: The house-made sesame vinaigrette—made with sesame oil, white vinegar, brown sugar, sesame seeds and soy sauce—makes a simple salad of green leaf lettuce, tomatoes and red onion stand out. 
Order It With: The grilled salmon lunch entree.  (It's topped with seafood cream sauce!)  
3. Garbo's Pizzeria
2101 W. Chesterfield Blvd., Suite C 101, Springfield, 417-883-9010, garbospizzeria.com
Why We Love It: Garbo's knows the best way to eat vegetables is with loads of bacon and cheese. Lettuce, mushrooms, red onions and black olives are tossed with Canadian bacon, bacon crumbles, provel cheese and Parmesan cheese, then dressed with an oil and vinegar blend. 
Order It With: Any of the lunch specials. Try the tomato cream pasta, made with heavy whipping cream, marinara and crushed red pepper.  
4. Russo's St. Michael's Sports Bar and Grill 
301 South Ave., Springfield, 417-865-2315 
Why We Love It: Simple and delicious, the St. Michael's romaine and spring mix house salad is topped with sunflower seeds, gorgonzola and Parmesan cheeses and cherry tomatoes with homemade balsamic vinaigrette—made with just balsamic vinegar and olive oil. 
Order It With: The Italian Wedding soup as a soup-and-salad combo. This soup is made from scratch with small meatballs, carrots, celery, noodles and fresh spinach all in a tomato broth. 
5. Haruno Japanese Sushi Bar and Grill
3044 S. Fremont Ave., Springfield, 417-887-0077, harunosushi.com 
Why We Love It: The basic salad of crisp lettuce, chunks of tomato, bright cucumber and sliced radish is perfectly topped with a tangy house dressing that is made from mayonnaise, peanut paste, orange juice, vinegar and some other top-secret ingredients. The dressing is so delicious, you'll save some and dip your sushi in it. 
Order It With: Your favorite sushi roll. 417-land favs include the Oh My God Roll (served on fire!), the Sex and the City Roll and the Jurassic Park Roll.