Reviews
The Artisan's Oven
Craving homemade bread? Grab lunch at The Artisan's Oven on C-Street.
By Ettie Berneking | Photos Brandon Alms
Jul 2015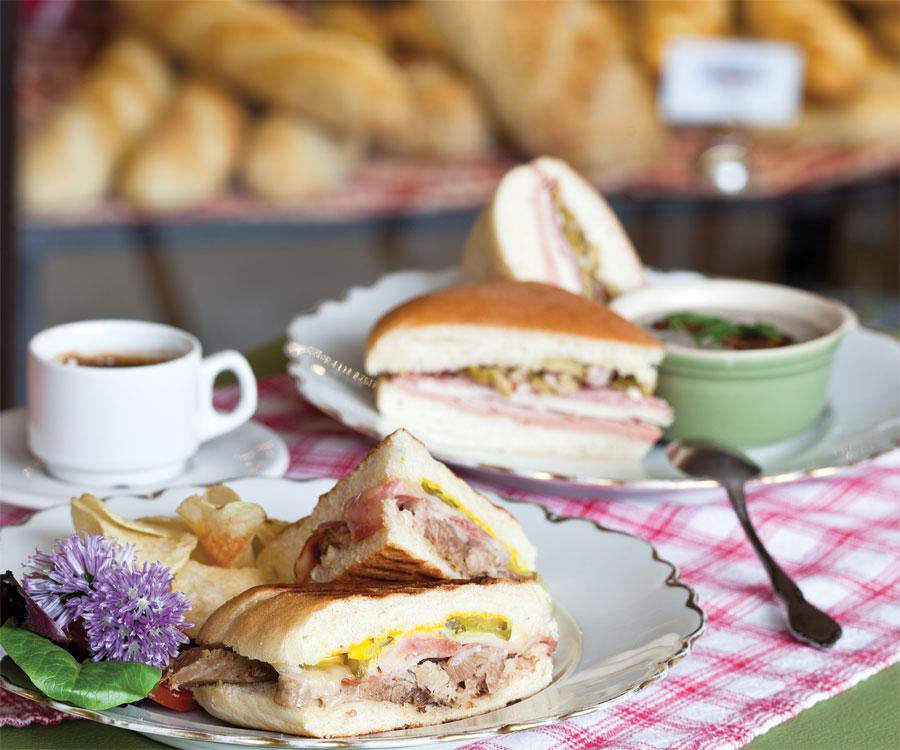 The Artisan's Oven
206 E. Commercial St., Springfield, 417-885-5030
Nothing beats taking a bite out of bread fresh from the oven. But in 2015, we are far from the days when neighborhood bakeries crowded every street corner and beckoned shoppers in the door with that tantalizing aroma. Unless, of course, you live near C-Street in Springfield. 
Down on the west end of C-Street, before any other businesses are stirring, even before the sun makes its appearance for the day, the crew at The Artisan's Oven is busy proofing loaves of bread. Golden brown French and Italian baguettes are pulled from the oven, loaded into the car and delivered to bakeries, grocery stores and restaurants around Springfield. And while sinking your teeth into one of those chewy French baguettes that you picked up at MaMa Jean's Natural Market or Homegrown Food is perfectly acceptable, making a quick lunch stop at Artisan's Oven to see the front display case filled with perfectly shaped loaves is a much more enjoyable experience. And that's exactly what I did.
I love bread. I used to come home from school and slather five slices of bread with cold butter. Calories be damned! Many years later, I can now admit that I have a problem. Put bread in front of me—pumpernickel, sourdough, rye, Boston brown bread—and I can't resist. 
Naturally, the sensible thing to do with addicts is to tempt them with their vices of choice. So with a lengthy lunch hour to enjoy, I headed to Artisan's Oven with 417 Magazine's marketing coordinator Lauren Stalder.
Walk in the door here, and you're immediately greeted with a display case filled with fresh breads, cookies, cakes and other homemade desserts. Past the counter is a clear shot of the kitchen where all the magic happens. If you're lucky, the metal racks next to the ovens will be loaded down with bread ready to be delivered or sliced up for the lunch hour.
The lunch menu at Artisan's Oven is small. You can build your own sandwich with a selection of coldcuts, baguettes and toppings, or you can choose one of the three daily specials: a thick muffaletta, a melty Cuban or a grilled turkey sandwich. I ordered the muffaletta and cream of mushroom soup. Lauren went with the Cuban sans pickles. 
As much as I love bread, I have never swooned over a sandwich. They always seem lacking. The muffaletta at The Artisan's Oven is anything but. Layers of salty meats and slices of cheese are crowned with a briny olive relish and hugged between two slices of dense bread that was tasked with keeping all that deliciousness from spilling out.
As for the mushroom soup, it was spot-on. I thought it was a little light on the cream, but that rich, herbaceous flavor more than made up for the slightly diluted broth. Each spoonful brought up tender cremini mushrooms sliced as thin as paper. 
Half the fun of trekking up to Artisan's Oven is seeing the new activity taking place on C-Street. Even Artisan's Oven is buzzing with upcoming plans to offer late-night eats. There's plenty to be excited about down here besides access to one of the few remaining corner bakeries. When you stop in, take note of the daily bread board with its garlic cheese, olive, cranberry pecan, rye or challah. 
Full and needing to get back to the work, Lauren and I made one last trip up to that gleaming display case. It wasn't those tempting loaves of challah that had me jonesing. It was the tiny iced lemon cookies, thick slices of bread pudding and crinkled espresso cookies. Needless to say, we ordered one of everything and headed back to the office.

The daily soup at The Artisan's Oven changes often, but the cream of mushroom is a winner.
Q&A​ with owner Craig Crosby
417 Magazine: How early does bread production start?
Craig Crosby: We start the dough at 3 a.m., and by 5 a.m. we're shaping the dough. At 6 a.m. the dough is ready to go in the oven just in time for us to open at 7 a.m.
417: How many restaurants do you deliver bread to?
C.C.: There are 18 restaurants and grocery stores that sell our bread. You can find it at Metropolitan Farmer, Queen City Deli and City Butcher and Barbecue.
417: What are the most popular items?
C.C.: Easily the French and Italian baguettes.
417: What's the difference between the two?
C.C.: A French baguette uses a 20-year-old sourdough culture, so it's chewier and has a slight sourness that Italian doesn't have.