Life
Bold Betties Brings Adventure to the Ozarks
Earlier this year, the national women-only adventure group Bold Betties launched its first Midwest chapter in Springfield with the mission to help women around the Ozarks embrace their own boldness.
By Ettie Berneking | Photos courtesy Bold Betties
Jul 2017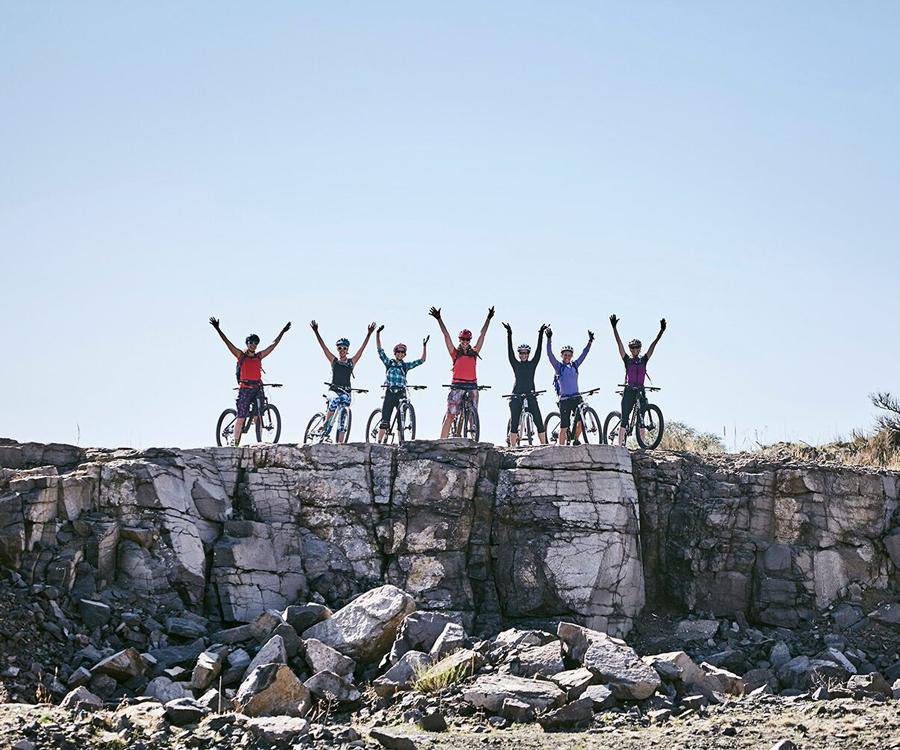 It took some convincing, but Bold Betties opened its first Midwest chapter in Springfield this spring. Leading the local charge is Kelli Conway, an outdoor enthusiast who first discovered the women-only outdoor adventure group while living in Texas. When the national organization launched calls for new group leaders, Conway signed up and made a big request: Open a chapter in Springfield.
Bold Betties started in 2014 in Denver, Colorado, after co-founder and CEO Niki Koubourlis quit her corporate job, got divorced and moved to Denver. "It was the perfect storm of having it all on the career side but being in a shit storm on the personal side," Koubourlis says. Once in Denver, she fell in love with the lifestyle and the community and spent seven months camping, hiking and rock climbing her way into a healthier and happier life. Along the way, she discovered her own courage and independence. "A lot of my time was spent outdoors doing things I had never done on my own or without a guy to handle the planning," she says. "I had always thought things like starting a fire or pitching a tent were intimidating. I learned it was easier than I thought." At the end of those seven months, Koubourlis decided to go into business for herself and launch a company that would help other women seek out their own boldness and adventures. With that seed of inspiration, Bold Betties was born.
Within the first two weeks of starting a Meetup group in Denver, Bold Betties had more than 200 members. Today, the group has more than 29,000 members, 29 chapters in the United States and one chapter in Canada. Most of that growth was focused on the West Coast and larger cities in states including Oregon, California, Nevada, Texas, Colorado, Utah, North Carolina, Tennessee and Arizona. Bold Betties had yet to open a Midwest chapter, but that changed when Conway became a chapter leader and started lobbying on behalf of the Queen City.
"We have two rules when considering a new chapter," says Arezou Zarafshan, co-founder and chief marketing officer of Bold Betties. "First we look at where people want to go, and where they are moving to. Second, what is the opportunity and access to adventure and outdoors? Are there mountains, rivers, skiing, hiking?"

When Conway first pitched the idea of opening a Springfield chapter, Koubourlis and Zarafshan weren't convinced. Springfield wasn't a city they were focused on. Compared to other cities, Springfield isn't a major destination, but Conway didn't let up and eventually got approval to start a Springfield chapter. "There's not a better place than the Ozarks for this," she says. "The number of activities and resources within a three-hour drive is incredible." 
Within the first month, Conway had 170 members. The group's inaugural event, brunch at Metropolitan Farmer, filled up quickly, so Conway planned a post-brunch happy hour. The group has hiked the Springfield Nature Center, wrestled their way through a ninja warrior training and taken part in Girls on the Run 5K—all in its first month. In fact, Bold Betties holds monthly contests among all its chapters to see who wins for most growth and for most engagement. Conway had the highest engaged members in her first month.
"This is about getting adult women together and discovering everyone can be bold and adventurous," she says. With members submitting ideas all the time, Conway's list of upcoming events keeps getting longer. There are plans to take fly fishing courses, take shooting and hunting lessons, try out aerial yoga, go rock climbing and backpacking, and even take a basic car clinic at Ozarks Technical Community College to teach the group how to change a flat tire and what to do if stranded on the side of the road. Members are planning visits to wineries and distilleries and even taking cooking classes.

Turns out Conway was right. Springfield is pretty great for adventure-seekers.

Bold Betties aren't afraid to take on the world one adventure at a time. The Springfield members are just starting their club, but members of the Colorado chapters have conquered North Table Mountain in Golden, Colorado on their bikes and raced through a Dirty Girl Mud Run in Denver (above).