Reviews
An Evening with Canvas, A New Pop-Up Restaurant
Instead of using paints and bold colors, chefs Drake Tillman and Hansel Herschend at pop-up concept Canvas are creating art on the plate with seasonal produce.
By Vivian Wheeler | Photos by Chuck Travers, courtesy of Canvas
Jul 2017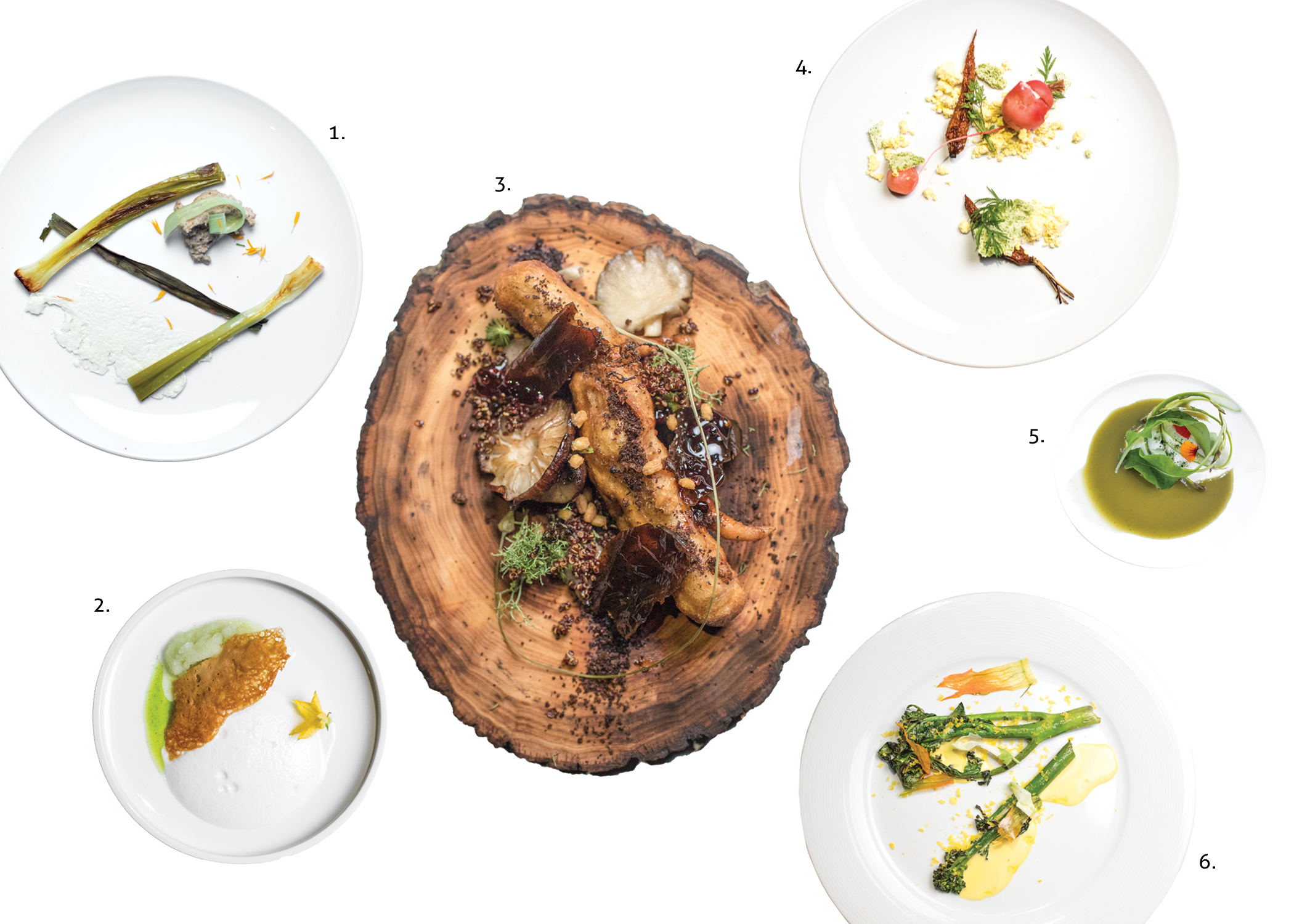 The six course vegetarian pop-up dinner we tried included (1) salt-packed, roasted leeks, (2) cucumber sorbet with buttermilk and honey, (3) the Forest Floor dish that had a fried bread base, (4) a young carrot dish with pickled radishes filled with salted cream, (5) spring greens over goat cheese puree and (6) Chinese broccoli with duck egg and zucchini sauce. 

In the past decade, 417-land's dining scene has grown in both size and quality. With this growth, a crop of young, driven chefs has emerged, so it should come as no surprise that in the last couple of years, Springfield has also seen the emergence of pop-up restaurants. For young chefs anxious to cook their own food, a pop-up restaurant is a chance to stretch their culinary wings without worrying about the overhead costs and business stresses that come with owning a restaurant. It allows them to indulge their off-the-wall whims and try out ideas that might not work in a traditional restaurant.

Hansel Herschend and Drake Tillman formed Canvas in October 2016 after Tillman returned from staging at Grace in Chicago. Tillman was inspired by his friend Daniel Ernce, who co-founded Progress, the pop-up we wrote about this past August. There have been five Canvas dinners since the first, which was at Q Enoteca Wine Bar, and in May I was able to attend Herschend and Tillman's dinner at MaMa Jean's Natural Market Republic Road location.
In the case of Canvas's dinner, the freedom that comes with running a pop-up was put to good use. Wanting to take full advantage of the season and the produce from local farms, the chefs made their dinner all-vegetarian. A vegetarian himself, Tillman describes his cooking in general as vegetable-focused, but he does cook meat. There were six courses, all of which were paired with a juice, plus an appetizer and an intermezzo. The dishes overall were inventive, surprising and delicious.
Before the official dinner began, there was a social hour, which was a little strange considering the event was BYOB; however, the appetizer served made showing up early worth it. The appetizer was a dehydrated tomato topped with spiraled golden beets and shavings of cured goose eggs. This tiny dish packed a ton of flavor, which I can only describe as tomato beef jerky. It was so good that I kept surveying the room to figure out when it was appropriate to go back for seconds. And then thirds.
Another highlight of the meal was the leek dish. The leeks were made by wrapping the outer leek leaves around the center sheath and trussing the leaves, the way you might a prime rib. That was then salt-packed and roasted. The leeks were halved and lightly caramelized in butter. It was served with the leek leaves that it had been wrapped in, which were by then crispy and salty. The contrast of texture and flavor of the two preparations of leek paired perfectly together. 
The young carrots dish was also a favorite of mine, though I think it was mistitled. The young carrots were good, but the best part of the dish was the pickled radishes filled with salted cream. When I took a bite, the acid from the pickle popped in my mouth, and just when I started to think it was too strong, the mild, salted cream hit my tongue and balanced everything out. Again, the deliberate contrast and play of flavors at work really made this dish sing.
On the other hand, the Forest Floor dish was not as successful. A piece of fried bread shaped like a tree root served as the centerpiece of the dish. It was topped with a confused list of ingredients, some of which Tillman had foraged, that included dehydrated reindeer lichen, puffed quinoa and barley, candied onion, mushroom puree, an assortment of other mushrooms and wild garlic. The dish's biggest problem was the fried bread, which had the consistency of tofu and was too chewy to be enjoyable.
The other three dishes fell short of the excellence achieved by the leek and young carrot dishes, but they were nonetheless good. Those included a broth of spring greens and herbs that was swerved over goat cheese Gra, Chinese broccoli with a duck egg and zucchini sauce and cucumber sorbet with buttermilk and honey.
What was most exciting about the dinner is that these two young chefs are committed to pushing the culinary envelope, and it seems—at least for now—they are committed to staying in Springfield. Beginning in July, Canvas opened for dinner on Friday and Saturday nights in Artisan's Oven, so we will have a chance to truly see what these guys are capable of.
Q & A with Drake Tillman and Hansel Herschend
417 Magazine: When it comes to cooking, what's your inspiration?
Drake Tillman: I care about the actual community. That's a big part of it for me, so we like to use local farms. That's a big thing for us, we like to use stuff that's from here. We have some awesome farms around here. And to use those typical ingredients in a different way instead of just kind of the same stuff, that's the challenge for us.
417: Do you have a favorite meal that comes to mind?
Hansel Herschend: Every time I go to Cuba, my aunt makes this lobster dish with lobster and tomato sauce. It's one of the best things I've ever eaten. She makes it every single time I go back to Cuba. In Cuba there are certain holidays where everybody pitches in a certain amount of food and we'll make a big pot of food, and everyone in the neighborhood eats from that. It's a very tight community, and that's just the food and experience I want to give people here.
417: How do you come up with your menus?
D.T.: Hansel and I collaborate on it a little bit. Usually I just start writing down ideas.
H.H.: Drake will write out the whole menu, and then whenever I get a chance, I'll come by and he'll show it to me. Drake likes to go very eccentric about certain things. Sometimes we have to tone it down, all of these crazy ideas flowing out of him.