Reviews
Cherry Picker Package x Fare
The masterminds behind The Coffee Ethic and Scotch & Soda have teamed up to create Cherry Picker Package x Fare, an eclectic addition to the Springfield dining scene.
By Vivian Wheeler | Photos by Kevin O'Riley
Apr 2016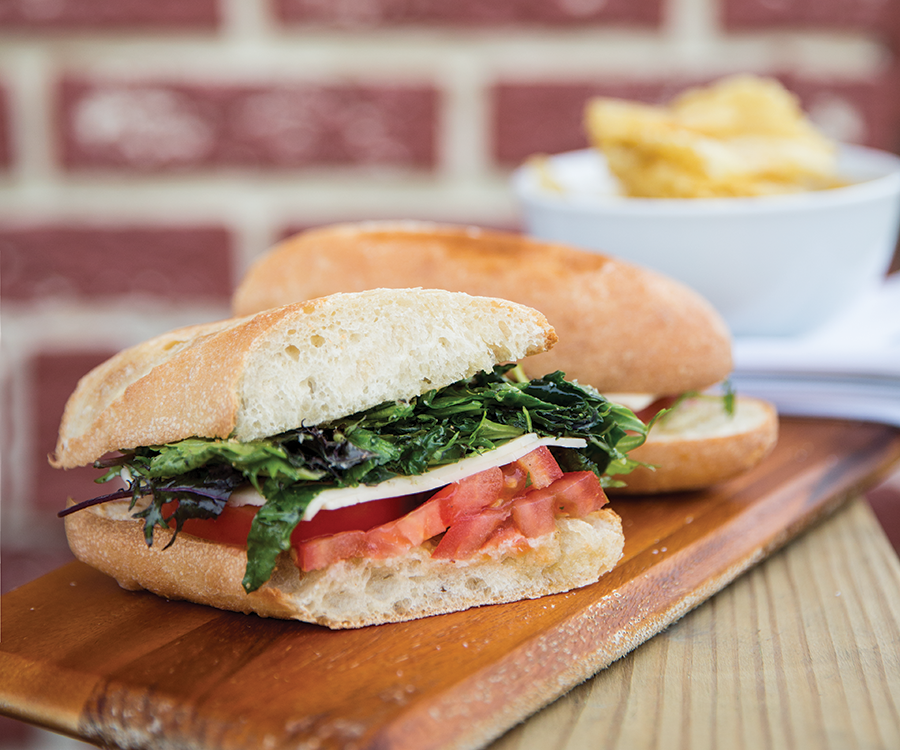 While it is strictly my opinion, I am convinced The Coffee Ethic has the best latte in Springfield, and I've tried a lot of lattes. So when I heard the owner, Tom Billionis,  was collaborating on a new project with Joshua Widner—who just so happens to run Scotch & Soda, a bar I find myself in far too often for my own good—I was intrigued. When I found out it was going to be a combination bar/coffee shop/cafe/liquor store, I was confused. 
After eating there, I'm still not entirely sure how it works, but I'm convinced it does. Cherry Picker Package x Fare is a delightful little shop that does everything in a small but well-executed way.
The first thing you should know about Cherry Picker is that there are only 16 seats inside. Plan your visit accordingly. This will not prove as much of a challenge in the warm weather, as it has a large patio. After hearing the weekends were packed, my dining partners and I opted for a Tuesday night. We managed to snag a seat at the large communal table in the center of the room. The only other seats are bars stools at the front windows. 
We wanted to try cocktails and were disappointed to learn they didn't offer any specialty drinks. I came to find out this was a disappointment shared by others. About a week after I dined at Cherry Picker, and after countless requests from patrons, a cocktail menu was released. Which is all the more reason to go back. 
The food menu was a collaboration between Widner, Billionis and Jorge Cespedes, a local food consultant in town. They needed to create a menu that could be executed in a small space, so options are limited: three sandwiches, one soup, two salads, toast and a cheese plate. I ordered the Le Jardin sandwich, which is an Artisan's Oven baguette topped with house-roasted garlic aioli, tomatoes, thick-cut havarti and oil-tossed Urban Roots greens. Everything worked well together, and the soft, flavorful bread was the perfect choice for the sandwich. You can have the most enticing sandwich ingredients in the world, but if you don't have good bread, all is lost. 




The Urban Greens salad comes topped with salty feta and crunchy pecans.


Bread ended up being the star of the evening. We also ordered fresh orange and tomato soup, which came with a healthy-sized chunk of multigrain baguette and house herb butter. One bite of that bread with a slab of butter, and I was in heaven. We ended up fighting over it. And while I liked the addition of the orange in the soup, the flavor was a bit on the bitter side for my taste. It may have been caused by the tomato skin and seeds. I also tried the Urban Greens salad with Urban Roots mixed greens, candied pecans, tomato, red onion, feta and house-roasted red pepper vinaigrette. It was fresh, balanced and not over-dressed—three things that make a great salad.
My only regret of the evening is we weren't lucky enough to participate in train shots. Every time the train passes, whiskey shots are only $1. Before my next trip, I might just have to check out the BNSF train schedule.


Cherry Picker Package x Fare's tomato soup is given a fresh twist with the addition of orange.


Q & A With the Owners of Cherry Picker Package x Fare
417 Magazine: Who picked what's on the shelves?
Joshua Widner: It was pretty much a collaboration between all of us. Spirits are my bread and butter, so I decided the spirits menu. For the wine we collaborated with two small, family-owned wine importers that do awesome portfolios that aren't really represented that well in Springfield; that was Integrity and Pinnacle Imports.

417: Who designed the space?
J.W.: It was Tom and me. All of the steelwork was fabricated here in town. My grandfather is my woodworker. He did all of the woodwork. We collaborated with a bunch of local people. The marble is from Phenix Marble down the street. 

417: What's your vision for Cherry Picker?
Tom Billionis: Well, we can't fit much more, so what you see is mostly what you get. I think it's safe to say it's really what we set out to make it so far.
J.W.: It's exceeded my expectations as far as neighborhood appreciation and customer satisfaction. The events we want to do in the summer are going to completely change the space, as far as tripling our size.

417: Considering the popularity of the place, are you guys thinking about expanding?
T.B.: No. Not at all. I love the size of this space. The size is an issue, but it's also one of the things that makes it what it is. It's very tight, very communal. You're forced to interact with other people, which makes it good for a neighborhood place. When people come in they will morph into whatever space is available.


---