Dishes
Ravioli at Harvest Restaurant
Plus six other things that passed the test of our taste buds.
By The Editors
Jul 2016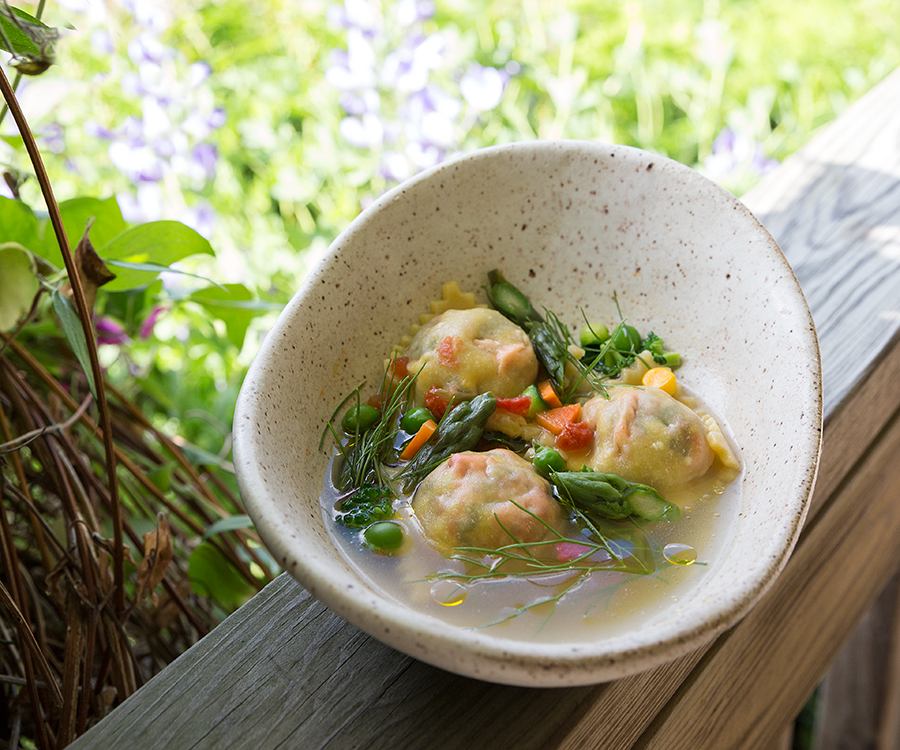 1. The ravioli from Harvest Restaurant (8011 E. Missouri AD, Rogersville, harvestmo.com) varies according to what product is in season, but it's always delicious. The latest version we tried was stuffed with Swiss chard, Edgewood Creamery cheese and pine nuts. The noodles were served in a fennel broth with spring veggies.  
2. Trust us when we say the risotto from Metropolitan Grill (2931 E. Battlefield, Springfield, 417-889-4951, metropolitan-grill.com) is not to be missed. Made with Arborio rice, Asiago cheese and smoked bacon, this decadent side dish is so good, it will end as the star of your meal. 
3. The mixologists at Ocean Zen (4117 S. National Ave., Springfield, 417-889-9596, tansoceanzen.com) infuse their Manhattan with cherry wood smoke, which combines with Makers Mark whiskey, sweet vermouth, black walnut bitters and cherry juice to create a cocktail you won't forget. 
4. If you've never had the palak paneer from Taj Mahal (1250 E. Republic Rd., Springfield, 417-719-4573), just imagine a spicy, Indian-style creamed spinach with hunks of cheese mixed in. It's served with rice, and it's outrageously good. One staffer claims she could eat it every day for the rest of her life. 
5. We love the hot chicken from Lucy's Chinese Food (3330 S. Campbell Ave., Springfield, 417-882-5383; 2456 E. Sunshine St., Springfield, 417-882-9964, lucyschinesefood.com). Chicken is sauteed with peppers, onion and a spicy sauce and served with a side of rice. 
6. There's a lot of good eggplant Parmesan in 417-land, but we especially love D'Arpino's Italian Café's (3014 S. National Ave., Springfield, 417-889-9898) version of this classic dish. Breaded eggplant is fried, smothered in homemade marinara and then topped with cheese. Yum! 
7. The guys over at Scotch & Soda (310 South Ave., Springfield, 417-719-4224, thescotchandsoda.com) know how to make a Cubana. It all starts with an Artisan's Oven baguette that is then topped with house-roasted pork, Black Forest ham, provolone cheese, dill pickles, roasted red bell peppers and chipotle mayo.