Dishes
Smoked Pork Chop from CB Social House
Plus six other things that passed the test of our taste buds.
By The Editors
Aug 2017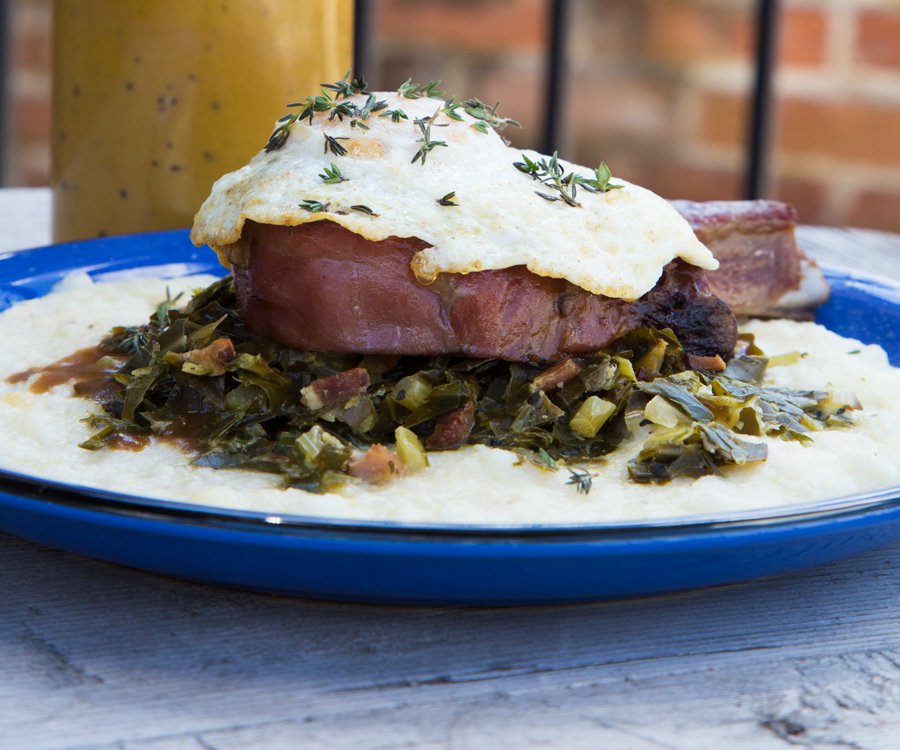 1. If you're feeling serious hunger pangs at brunch time, head to CB Social House (
314 S. Patton Ave., Springfield, 417-368-0778, cbsocialhouse.com
) and order the mouthwatering
Smoked Pork Chop
 served with goodies such as smoked cheddar grits and collard greens.
2. For some prime comfort food, one staffer is all about the Bangers & Mash at Dublin's Pass Irish Pub & Restaurant (2767 W. Republic Road, Springfield, 417-877-7625; 317 Park Central East, Springfield, 417-862-7625; dublinspass.com). It's just right when paired with a glass of Guinness.
3. Spice up your life with the spicy noodles at Thai Thai Cuisine (1615 W. 76 Country Blvd., Branson, 417-334-9070, thaithaibranson.com), a heaping helping of stir-fried noodles, onion, bell pepper, tomato, chilies, sweet basil and a choice of chicken, pork, beef, tofu or shrimp.
4. There are burgers, and then there are the gourmet burgers at Black Sheep Burgers & Shakes (209 E. Walnut St., Springfield, 417-319-5905; 2160 W. Chesterfield Blvd., 417-368-0227; blaaacksheep.com). Our favorite? Lately it's the What the Dr. Ordered burger featuring short ribs that are slow cooked for 12 hours in Dr Pepper.
5. There is no question that the To Brie or Not to Brie sandwich is a standout at Cherry Picker Package + Fare (601 S. Pickwick Ave., Springfield, 417-986-5800, cherrypickerpackage.com). The fromage-filled sammie features thin-cut ham, apricot preserves and salted butter spread on a hearty baguette.
6. Craving a classic cocktail with a summery twist? Go for the Quick Fix, a version of the prototypical Fix cocktail. Served up at Scotch & Soda (310 South Ave., Springfield, 417-719-4224, thescotchandsoda.com), the drink uses rye whiskey infused in house with vanilla beans. It's strong yet smooth and nicely balances sweet and citrusy notes.
7. Light and luscious, the lemon bars baked at Tea Bar & Bites Bakery and Café (621 S. Pickwick Ave., Springfield, 417-866-7500, teabarandbites.com) are a lovely way to wrap up a meal at the darling spot. Or just pick one up the next time you swing through the Rountree neighborhood.