Reviews
Black Sheep Burgers & Shakes
Black Sheep Burgers & Shakes, the newest restaurant in the Jalili family of top-notch eateries, specializes in creatively conceived rib-sticking fare.
By Katie Pollock Estes | Photos by Brandon Alms
Apr 2016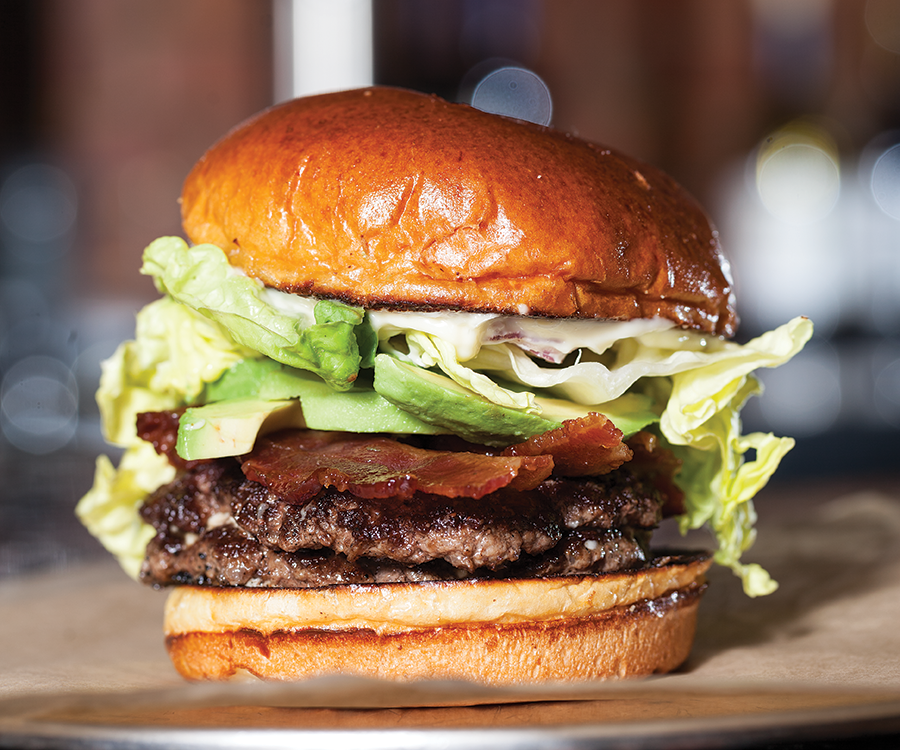 Black Sheep Burgers & Shakes
209 E. Walnut St., Springfield, 417-319-5905
2160 W. Chesterfield St., Springfield, 417-368-0227
2420 E. Sunshine St., Springfield, 417-823-8383
blaaacksheep.com
Hours vary by location.


I try to eat healthfully. I can't resist a big plate of roasted Brussels sprouts, and well-prepared veggies are just as appealing to me as a juicy steak. But sometimes you need something else. Sometimes, you need to throw "everything in moderation" out the window and just do something really, really bad. 
On a day when I was ready to completely ignore my diet, I paid a visit to Black Sheep Burgers & Shakes with my friend Katie Thieman. Sure, there are two salads on the menu, but I was there for the other stuff: the massive burgers with creative toppings and the heavy-but-delish apps.
We were stopping by for a quick midweek lunch, but the place was packed. There was a crowd of hungry customers near the door waiting for a table. Katie and I squeaked in and plopped ourselves at the bar to avoid the wait. From that vantage point, we could see the staff just across the bar from us in the little open kitchen, whipping up gigantic burgers and ridiculous waffles while the restaurant was all hustle and bustle behind us.
To start the meal, I ordered one of those ridiculous waffles: the waffle mac 'n' cheese from the appetizer menu. For $10.75 you get carbs, covered in cheese, grilled on a waffle iron and then topped with more cheese. I didn't think I would love this appetizer (über-indulgence usually just gives me a tummy ache), but I wanted to try it anyway because you don't see waffles made from mac and cheese every day. Turns out, it was oh-so-delicious. Heavy, sure. Indulgent, definitely. But the creamy cheese sauce that is poured on top of that crispy waffle-shaped macaroni and cheese puts the whole thing over the top. And the waffle itself is addictive. I took the leftovers in a box, then ate it all in the car on the way home. It would be incredible hangover food, if you could get it in the morning. If you're feeling really hungry, you can even get it topped with chili.




The Cuban Ricardo is loaded with flavor. It has three kinds of meat, Swiss cheese and lots of yummy toppings. 


For the main event, I opted for the Bleus Brothers burger. It was a messy monster, with two patties, candied bacon, bleu cheese, truffle mayo and avocados, with some lettuce, pickle and onion for good measure. Three bites in, and I was abusing the napkin pile and reaching for a fork and knife. But I loved every messy second of it. The crispy bacon and soft avocado were best friends, perfectly complementing each other's textures. But the bold flavor came from the combination of sharp bleu cheese and the more subtle truffle mayonnaise.
Katie had the Foodie burger, which featured that same truffle mayo but was also topped with boursin cheese and sweet caramelized onion. I didn't try it, but her reviews were positive. She also asked our server for an order of the salt 'n' vinegar fries. She offered to share, and I sampled plenty of these crispy little guys. You can choose from several dipping sauces, and we got them all: chipotle ketchup, sriracha mayo, truffle mayo, ranch dressing or baaahd sauce (a sort of Thousand Island clone). The chipotle ketchup and truffle mayo were my favorites, and I kept going back to them for more.  The flavors were hitting the spot. 




Drink like a boss by slurping down this concoction of chocolate vodka, Oreos, chocolate syrup and Andy's Frozen Custard.


We were both on a lunch break from work and opted not to indulge in one of Black Sheep's spiked shakes. But I was drooling over the options, like The Boss that's full of chocolate vodka, chocolate syrup and Oreos. There are about five options, all made with Andy's Frozen Custard. They'd be the perfect indulgent end to a super-indulgent meal. Or maybe a late-night treat.