Style
The Must-Have Label for Your Next Vacation
Dress for vacations and staycations alike with this culturally inspired line for the modern bohemian.
Written by Rose Marthis | Photos courtesy The Jetset Diaries
Jul 2017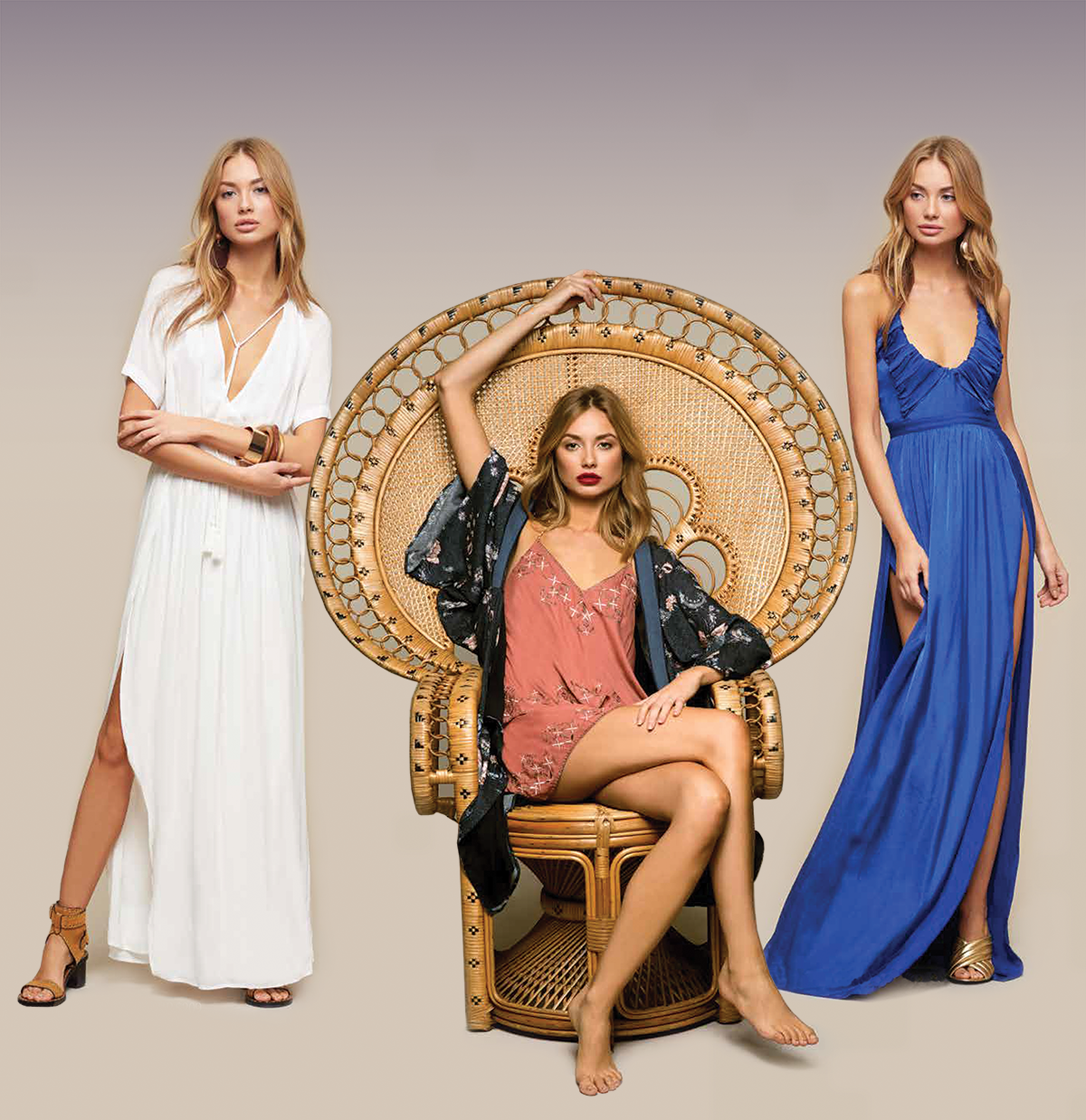 Get the Looks: 1. Tanzania maxi dress in ivory, $209, 2. Iman kimono, $199, and Desert Rose romper in salmon, $229, 3. Bamako Escape maxi dress in cobalt, $229
We're in peak vacation season, so you need to make sure the wardrobe you're packing is on-point. Whether you're crossing international borders or staying in 417-land, The Jetset Diaries line of maxi dresses, blouses and rompers is perfect for introducing the easy, breezy "I just stepped off a plane and I'm ready to explore" look to your closet.
Tara Hamilton, a buyer for STAXX (2144 E. Republic Road, Springfield, 417-866-2900), first bought a piece from The Jetset Diaries when she was a finalist for 417 Magazine's Best Dressed in 2016. She stepped into a bright red high-low dress, which was a collaboration between Jetset and Free People, to strut down the runway at 417 Magazine's Fashionation and knew she had to bring the brand to the shelves for others to see. Now STAXX has carried it for a little more than a year, and Hamilton says she's learned what pieces customers love. One such piece is the line's sequined dresses and skirts STAXX carried this past fall. The brand's designers use Moroccan tile for inspiration, which is just one of the ways the line embodies a bohemian, world-traveler vibe.
Hamilton says STAXX only carries a few pieces at a time because the line is more of a specialty than what's usually on the racks. It is a higher price point, but the line is made for every age. "It does have to appeal to someone who's a little more adventurous and doesn't mind to invest in quality and originality," Hamilton says. One of her favorite things about the line is seeing what culture the designers will use to inspire the next season, she says. The line is for the modern jetsetter, but Hamilton says it is relatable enough to make it work even if you aren't heading out of town. "If you are wanting a piece to stand out and still be comfortable, the No. 1 thing they have perfected is their maxi dress," she says. The dresses, tops, skirts and rompers can all be dressed up or dressed down, so Hamilton has seen a lot of customers come in for outfits for summer parties and family events.
Appealing to the inner nomad in all of us, The Jetset Diaries has collections influenced by women who travel the world with a free spirit. The pieces are meant to be a rotating wardrobe reflecting the islands, deserts, rainforests and urban jungles you're exploring and letting change you. They are bright, flowy, casual and a little sexy, perfect for stepping outside and seeing where the world takes you.