Style
RideWear Jewelry Repurposes Bummed-Out Bikes
Springfield entrepreneur Rachel Reed handmakes a jewelry line that's as unique as the wearer. Made from carbon bike frames, these second-life accessories add a little geometric fun to every outfit.
By Rebekah Olson
Jul 2018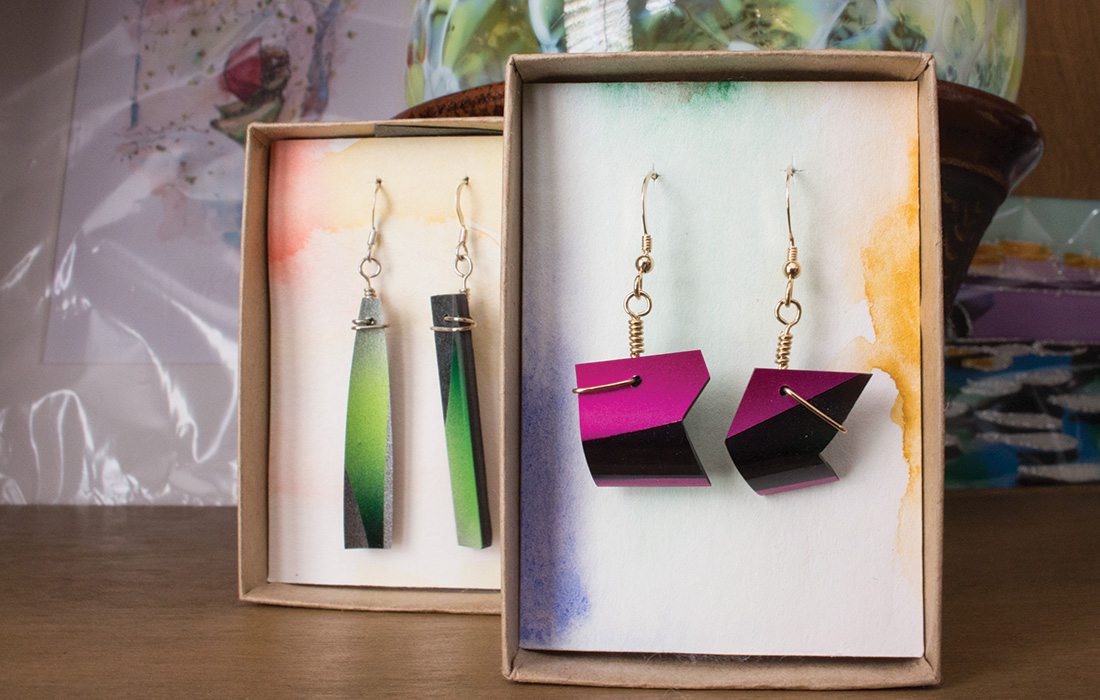 The first quirky pair of RideWear earrings happened by accident. One day in 2011, Rachel Reed's then-boyfriend Jon Reed pulled into the garage, forgetting Rachel's bike was still strapped to the roof of his car. "My bike was beyond salvaging," Rachel says. "He felt horrible. He tried his best to fix it, but it was beyond repair. Still, I couldn't just get rid of it." 
Weeks later, Jon drove to Rachel's apartment with a plan. He pulled out jewelry wire, pliers and pieces of her bike he had cut into geometric shapes. "I was overwhelmed by his actions, and I wore those earrings nearly every day," Rachel says. Friends and family took notice. "I got so many compliments that I started making more to give as gifts," she says. "Eventually I gave the line a name—RideWear—and the business grew organically from there." 
Now, owner and jewelry designer Rachel Reed upcycles a full line of one-of-a-kind jewelry from 12 different carbon bike frames. Each series has a name and its own unique look. "We make earrings and necklaces, but I'm always working to add products to the line," Rachel says. 
Production of this fun, stylish jewelry is small because every single earring and pendant is hand-cut and original. Rachel estimates she makes nearly 100 to 150 pairs a year. From cutting the carbon frame and adding the final wire detail, to customer correspondence and packaging, website and marketing, she handles it all. 
A portion of RideWear profits goes to Trips for Kids, a nonprofit organization focused on providing transformative cycling experiences for underserved youth all across the nation. "I wanted RideWear to have that give-back element from the beginning," Rachel says. "Partnering up with this bicycle-related nonprofit seemed like the natural thing to do." 
If you have a past-its-prime bike frame you've been wondering how to dispose of, you can donate it to RideWear by emailing upcycle@ridewear.co. In exchange, you'll get custom jewelry designed just for you from your old bike. Or, you can find all of Rachel's original styles at ridewear.co. You can match your outfit, your mood or even your bike. 
You can buy RideWear jewelry online. Use the coupon code "417_RWLove" for 10 percent off your first pair of earrings.