Travel
Arcadia Valley
Take a drive to scenic Arcadia Valley. The region is 3-and-a-half hours from Springfield and encompasses a handful of small towns, some tasty eats, a little history, the highest natural point in the state and a whole lot of outdoor adventures.
Jun 2014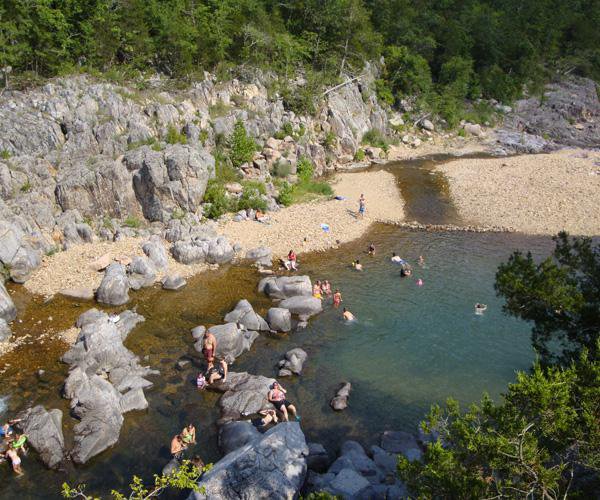 Arcadia Academy was once a Catholic girls' school, but it's now an intimate and relaxing bed and breakfast.
Where to Stay
For lodging that's packed with plenty of fun for the whole family, visit Wilderness Lodge (2331 County Rd. 342, Lesterville, 573-637-2295, enjoywilderness.com). Located on the crystal clear Black River, this stop was originally a private hunting lodge. It has since expanded to  include 27 cabins. Some rest in the river valley and others atop the hill overlooking the river. A three-course dinner and hot breakfast are included with your stay. Plus, there are tons of activities for you and your family to enjoy, including rafting, canoeing, kayaking, tubing, hiking, mini golf, Frisbee golf, volleyball and more. Rates are per person and range from $90 to $120 per night for adults and $40 to $50 per night for children ages 3 to 12. 
If you're looking for a more relaxing atmosphere, stop for the night at Arcadia Academy (211 S. College St., Arcadia, 573-546-4249, arcadiavalleyacademy.com). Remodeled into a quaint bed and breakfast, Arcadia was once an Ursuline Academy Catholic girls' school. It features original architecture that has been lovingly restored. Take in some of the rich history of the academy by taking a tour of the seven buildings on the grounds then enjoy a delicious home-cooked meal any day of the week when you visit the on-site restaurant. Currently, only five rooms are available, so if you're planning on going to Arcadia Academy, call early. Room rates range from $129 to $189.

Thee Abbey Kitchen whips up made-from-scratch breads and other homemade eats.
Where to Eat
Even if you aren't staying at Arcadia Academy, you can eat at its on-site Thee Abbey Kitchen (211 S. College St., Arcadia, 573-546-4249,
arcadiavalleyacademy.com) to satisfy your cravings for home cooking. Thee Abbey Kitchen is home to a restaurant, a bakery and a creamery, and every dish on the menu is made from scratch. Staffers grind their own wheat flour to create loaves of fresh bread every day, as well as cinnamon rolls and other pastries. To cool off from the summer heat, order a scoop of ice cream served in crunchy homemade waffle cones. 
If you have a hankering for smokehouse barbecue, visit Baylee Jo's BBQ Seafood and Grill (1315 N. Highway 21, Ironton, 573-546-2100, bayleejos.com). The menu is packed with classic barbecue dishes including pulled pork sandwiches, but it also features some seafood items such as shrimp, beer-battered pollock and crawfish. Try the homemade spiral-cut French fries that come topped with chili and cheese. 

Johnson's Shut-Ins State Park is the perfect place to take a swim. Visitors can also camp, hike, bike and even horseback ride.
Where to Play
The Arcadia Valley area is filled with opportunities for outdoor adventures and gorgeous must-see natural sights. Start at Johnson's Shut-Ins State Park (148 Taum Sauk Trail, Middlebrook, 573-546-2450). It's the perfect place to take a swim on a hot summer day. You can play in the shallows of the Black River and navigate the little pools and "water slides" at the shut-ins. Camping, hiking, biking and even horseback riding are just a few of the opportunities available at the park.
Elephant Rocks State Park (7406 Hwy. 21, Belleview, 573-546-3454) is another great outdoor
option that's just a short drive from many of the destinations in Arcadia Valley. This state park is home to impressive granite boulders. Explore them from the trail that circles around the park, or climb right up onto them. Even kids can scramble around on the rocks without trouble. History enthusiasts can find scratchings of 19th century miners who carved their names into the granite. 

The giant boulders at Elephant Rocks State Park are a popular must-see.
The Hughes Mountain Natural Area (5 miles east on route M; parking is just 200 yards east of Cedar Creek Rd.) is home to incredible volcanic rock formations that make it a perfect location to hike. (Be sure to take the Devil's Honeycomb Trail.) The formations and glades are more than 1.5 billion years old and are harsh places for plant life, but you can see some lovely wildflowers and prickly pear cactus. You might even get a glimpse of a collared lizard, commonly called mountain boomers. 
To reach the highest point in the state, head to Taum Sauk Mountain State Park (148 Taum Sauk Trail, Middlebrook,
573-546-2450). Located in the St. Francois Mountains, the park is filled with hickory forests and rocky glades. Don't miss the scenic look-out at the top of Taum Sauk Mountain, where you can see a sprawling vista of Arcadia Valley. The Mina Sauk Falls loop trail takes you past the state's tallest waterfall, a 132-foot-tall sight that's best viewed after wet weather.

If you miss the reenactments at Fort Davidson, you can still get your history lesson at the visitor's center and Civil War museum that is open year round.
Where to Learn
Soak in a history lesson by visiting Fort Davidson State Historic Site (118 E. Maple, Pilot Knob, 573-546-3454). The site has a visitor's center and Civil War museum open year round, so it's a great opportunity to get a bit of education while on your trip. This September, Fort Davidson is celebrating the 150th anniversary of the Battle of Pilot Knob with a reenactment of the battle that happened in the fall of 1864. When Confederate General Price passed through on his way to St. Louis, he attacked the fort at Pilot Knob. The site encompasses about 80 acres of the battlefield where troops fought for three days.