Style
Layering Patterns
Be bold! The hottest look right now takes some guts and style know-how to pull off, so we get tips from experts at 417-land boutiques on how to successfully layer patterns.
By Ettie Berneking | Photo by Kevin O'Riley
Jun 2014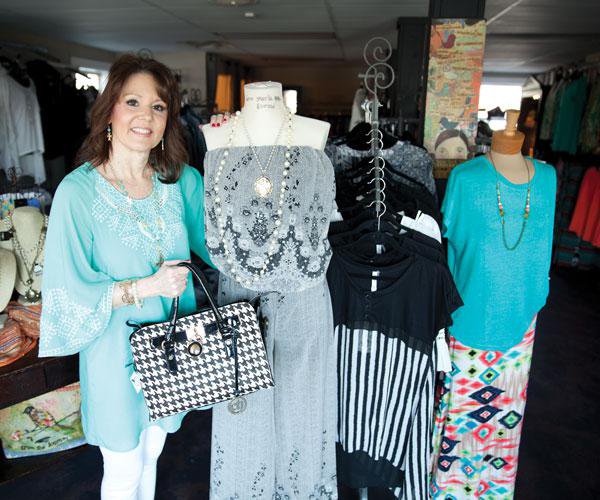 It's time to up the style ante. Ditch those two-dimensional ensembles and monochromatic wears, and spring into summer with a show-stopping, eye-catching array of patterns, textures and colors: stripes, florals, lacy duds and a smattering of Aztec prints. 
But before you wrap yourself in a head-to-toe patterned get-up, there are a few tips you should know. In order to help you hit the street with as much style prowess as possible, we asked a few 417-land style mavens for words of wisdom.
Keep it in the Family
"One of the keys to layering patterns is to stick with the same color palette."—Carissa Greenlee, owner of Torn Boutique (206 E. Brick St., Ozark, 417-551-4847)
Stay Cool
"When layering pattern, I love to add lace or crotchet vests and tops. This is a great way to layer up during the summer while staying cool." —C.G.
Start with Stripes
"If you're worried about going too crazy with pattern, the general rule is that stripes look great with nearly any other pattern."—Lisa O'Dell, owner of Blue Raven Emporium (1601 E. Republic Rd., Springfield, 417-860-1859, blueravenemporium.com)
Don't Bulk Up
"If you're going to layer garments, keep it sleek. You don't want to look bulky." —C.G.
Ease Into It
"If you're new to layering pattern, start simple. Throw on a scarf that has a fun pattern or animal print shoes." —Jessica Noble, manager at Rodi Boutique (111 E. Republic Rd., Springfield, 417-886-1211, rodiboutique.com)
Opposites Attract
"To keep different patterns from competing, pick one that is bold and one that is subtle. So if you're wearing pants with a large floral pattern, pair them with small stripes that are in a similar color family." —L.O. 
work in layers
"Wear an awesome anchor piece then layer on accessories that have contrasting patterns. This way you can experiment with patterns with confidence."— Susan Beach, owner of Hip Chick Boutique
Set a Foundation
"Find one statement piece that you love, and build off of that. For instance, maybe start with a floral kimono and add something sheer underneath to add texture." —C.G.
Less is More
"When you have a lot going on with patterns and textures, keep the accessories to a minimum" —L.O