Spaces
Makeover Gone Magical
With no set rules or guidelines, Interior Designer Joan Summers of James Décor transformed a dated lake house into a dreamy lakeside retreat for Marshall and Dawn Mihlfeld.
BY SAVANNAH WASZCZUK PHOTOS BY JEREMY MASON MCGRAW
Jun 2014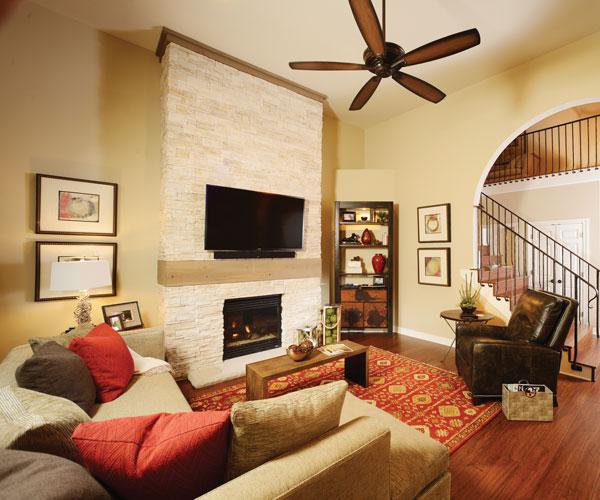 While remodeling Marshall and Dawn Mihlfeld's newly purchased lake property, Interior Designer Joan Summers strived to create a space unlike any other property the couple has ever owned.
In November 2012, Marshall and Dawn Mihlfeld offered Interior Designer Joan Summers the project of a lifetime. The Mihlfelds contacted Summers, a James Décor designer who they had worked with on previous projects, and asked her to check out a lake property with them. After Summers toured the home and agreed that it had potential, the Mihlfelds bought it and handed the keys over to Summers. "I had breast cancer a few years ago," Dawn says. "Everyone tries to keep stress out of my life, and my husband didn't want me to have to mess with this. We hired Joan, and we said, 'Joan, you don't have any restrictions. This is your baby.'"  
Summers took on the project with open arms and an open mind. "The other two residences I designed for the Mihlfelds were very English Country and Old World–European," Summers says. "I wanted this to be completely different." With the help of Stan Webb, the Mihlfelds' assistant, and Chris Crider of Chris Crider Construction, Summers worked to transform the outdated lake house into a dreamy lakeside retreat. "My only choice was to redesign it as if I were designing it for myself," Summers says. "I was going to take them to a style that they had never had before." 
They started with the big things, like removing a wall between the kitchen and living room to create a free-flowing space. As the remodel progressed, they added new beams, replaced every cabinet and added new countertops, among many other things. "We changed everything in that house," Summers says. They installed bamboo flooring, which was a necessity for the Mihlfelds' four dogs, Bunker, Hogan, Buck and Ruby, and they dressed all the windows with white linen Roman shades, careful not to obstruct any views. Summers worked to complete the space by choosing every piece of furniture, every single linen, every piece of bedding and even all the glasses, plates and flatware. "The place was basically turn-key ready," Summers says. 
The result is an urban rustic retreat on Table Rock Lake. Dawn Mihlfeld, who didn't see anything until the space was completely finished, says it couldn't look any better. "It was like one of those reality shows when I walked in," Dawn says. "I was blown away. I said, 'Oh my God, I can't believe she did this!' I had a vision, but it was above and beyond what I thought they could do. I was amazed." 
 KITCHEN AND BREAKFAST ROOM
One of the biggest changes in the home was removing part of a wall between the kitchen (right) and living room to create a free-flowing space. "Both rooms were very small, so I asked Chris if there was any way to open it up," Summers says. "He hired an engineer to go in and take a look, and they cut a big space between the room that changed the entire space." All the cabinetry was replaced, and a custom-designed light fixture was hung above the island. Next to the kitchen is the breakfast room, where Summers covered the ceiling in cedar that she treated to look like barnwood. She chose to bring the room to life with a weathered wood and iron light fixture.
 MEDIA ROOM
Dawn loves watching football, and the 80-inch television in the media room (below) is her favorite place to do so. "I'll drive down to the lake just to watch the Chiefs' game," Dawn says. Located in the home's lower level, the room's ceiling was raised during the remodel, and they transformed the fireplace with
locally sourced limestone and rock. They knocked out a wall to enlarge the space, and they added timber beams to help the room flow with the upstairs.
 POWDER ROOM
The powder bath (below) received a full upgrade, which included removing old wallpaper and adding a free-standing sink cabinet, an Oceana glass sink and new travertine tile with metal detailing. "We also added lots of tall mirroring in the space to get as much reflection as we could," Summers says.
 MASTER BEDROOM
A major change in the master bedroom (below) was adding a two-way fireplace that connects with the living room. The seating area near the windows provides a great view of both Table Rock Lake and the fountain.
RESOURCE  LISTING
Furniture, Artwork, Accessories and Window Treatments
James Décor
1324 E. Republic Rd., Springfield, 417-883-2616, jameshomedecor.com
General Contractor
Chris Crider Construction
Eureka Springs, AR, 479-981-9723
Bamboo Flooring and Tile 
Southern Floors
1319 E. Republic Rd., Springfield, 417-890-2626, mysouthernfloors.com
Cabinets 
C&C Cabinets, Inc.
Seligman
417-662-3733
Kitchen and Bath Fixtures
Southern Materials
3358 E. Division St., Springfield, 417-865-2822, southernmaterials.com
Custom Limestone/Masonry
Eureka Stone Company
1476 Hwy 187, Eureka Springs, AR, 479-253-7313, eurekastonecompany.com