Dishes
Loretta Lynn Sandwich
These seven dishes or drinks have passed our taste buds and made us rave. They are ranked by level of yumminess.
Photo by Brandon Alms
Jun 2014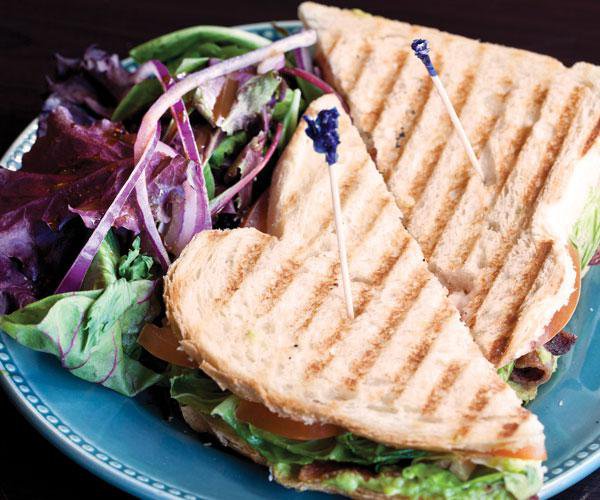 â–²1. If you love a BLT, you'll drool over the Loretta Lynn sandwich from MaMa Jean's Natural Market (multiple locations, mamajeansmarket.com). Perfectly toasted bread surrounds plenty of crisp bacon, lettuce and tomato, and it is topped with horseradish mayo.
2. A former barista on staff raves about the macchiato from European Café (207 Park Central East, Springfield, 417-942-5055, 417europeancafe.com). The espresso they use is top-notch, smooth and not too bitter.
3.We are loving the Enchilada de Cangrejo at Cantina Laredo (4109 S. National Ave., Springfield, 417-881-7200; 1001 Branson Landing, Branson, 417-334-6062). The tortilla is filled with lump crab and topped with a barely spicy chili de arbol cream sauce. It's a next-level enchilada, for sure.
4. Lately, one of our favorite soups is the posole at Springfield Gourmet Taco Company (3120 E. Sunshine St., Springfield, 417-315-8745, gourmettacocompany.com). It's full of tender pork, hominy and the zip of Hatch green chili peppers.
5. Change up your pizza routine, and try the Creamy Spinach pizza at The Big Slice (1450 E. Sunshine St., Springfield, 417-720-1928). It has white sauce, tons of spinach, diced tomatoes and a killer crust.
6. A not-to-be-missed classic is the always awesome fish and chips from Farmers Gastropub (2620 S. Glenstone Ave., Springfield, 417-864-6994, farmersgastropub.com). It's perfection in the form of crunchy fish, crispy fries and lots of malt vinegar.
7. If you find yourself at Sunday brunch at The Keeter Center (1 Opportunity Ave., Point Lookout, 417-239-1900, keetercenter.com), make sure you try the awesome Belgian waffle bar. Perfectly crispy waffles can be topped with berries, candied nuts, whipped cream and more.