Reviews
BYO Pizza
At BYOPizza, you take the lead in creating tasty topping combinations on pizzas that are cooked to order.
By Katie Pollock Estes
Jun 2014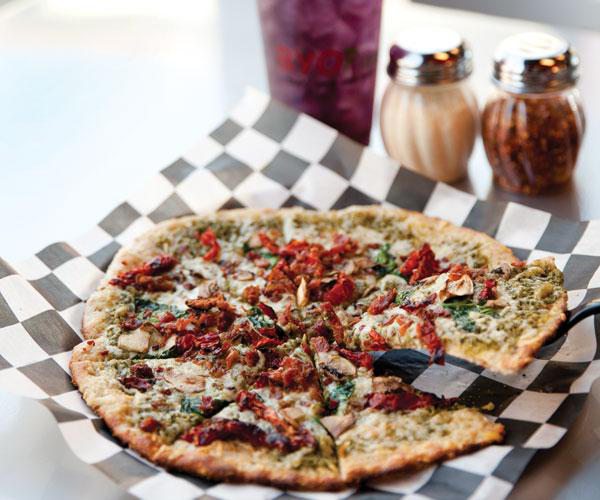 Photo by Kevin O'Riley

On my first visit to BYOPizza in downtown Springfield, I was on a little Mommy-and-Oliver dinner date with my madman of a toddler. One other table was occupied by a few guys who were deep in quiet conversation. (About pizza?) The eatery features a long bar full of toppings (think Subway, but pizza-themed). You start your order by picking which of the five crusts you prefer, then you head down the line rattling off which sauce, toppings and seasonings you want on your pie. From there, the pizza is popped into the oven and cooked until the crust is nice and bubbly. 
Photo by Kevin O'Riley

There are an almost crazy number of sauce options that go way beyond the typical tomato or alfredo; you can find teriyaki, tzatziki, jalapeño-pineapple, buffalo, General Tso's and lots more. The cheese and toppings selection is pretty good, too, and you can even get vegan cheese and gluten-free crust.
I ordered a little 6-inch pizza for the two of us to share. Since wheat crust isn't a staple at most pizza joints, I had to give it a try, so I opted for a wheat crust pizza topped with basil pesto, Parmesan and asiago cheeses, spinach, sundried tomatoes, mushrooms and bacon. I was surprised by how quickly my pizza came out of the oven. It was done before I was even finished paying for our meal. 
Pesto is one of my all-time favorite tastes, and they laid it on pretty thick here. If you are a pesto fan, take solace in knowing that BYOPizza does not skimp. I was pretty proud of this little pizza topping combo that I chose (it was pretty tasty!), and all of the veggie toppings were fresh and delicious. The crust had a nice crispy edge, but my only complaint would be that the bottom was a little more limp and kind of soggy, and it didn't quite hold up. I ate every bite of it anyway. Well, except for the parts Oliver shared. This pizza was toddler-approved.
A week or so later, my pizza-fiend husband, Eli, wanted to give the place a shot. We swung by for lunch on a Sunday, and the place was a bit more packed. I noticed on this visit that in addition to building your own pizzas, you can build your own salads. I got one with spinach, mushrooms, Kalamata olives, bleu cheese and a tasty balsamic dressing. 
Eli opted not to build a pie and instead chose one of the many pizzas that are pre-built on the menu: the taco pizza. He got it on the original white crust, and it came with refried beans instead of sauce, and a sprinkling of taco-themed toppings like ground beef, black olives, salsa and sour cream. It was a tasty combo, and we especially loved the crunchy little corn chips sprinkled on top for extra texture.
Photo by Kevin O'Riley

For anyone with a sweet tooth, there's a little locally made bonus in the form of a pretty little Benissimo! Gelato and Sorbet counter. Colorful flavors of creamy goodness are on display, and if you order a scoop, it's served in a waffle cone bowl to up the yummy factor. You might not be building your own gelato, but it's still a perfect final taste to your quick meal at this small eatery, which has plans to open up four more 417-land
locations soon.