Summer Menu facelifts
By Savannah Waszczuk | Photos by Kevin O'Riley
Jun 2014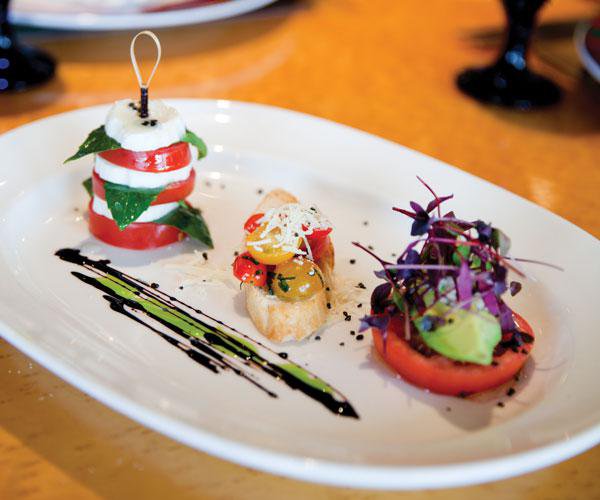 The heirloom tomato appetizer at Chateau Grill in Branson features three small salads, each highlighting the bright flavor of the tomatoes.
As summer quickly approaches, a handful of local restaurants are changing up their menus to showcase seasonal produce. We called the top 417-land chefs and asked for upcoming dishes and previews, so you'll know exactly what to order at your next dinner out.
Chateau Grille
415 N. State Hwy. 265, Branson, 417-334-1161, chateauonthelake.com
Heirloom tomatoes are expected to be all the rage again this season, and the pros at Chateau Grille are capitalizing on the favorite with a delicious new appetizer. Executive Chef Doug Knopp added an heirloom tomato tasting appetizer that features three sample salads: sliced heirlooms with homemade mozzarella, basil and balsamic foam; a garlic crostini with heirloom concasse and asiago and an heirloom wedge with fresh avocado and microgreens. Each of the flavorful tomatoes comes from a local grower.
Metropolitan Farmer
2144 E. Republic Rd., Ste. B 101, Springfield, 417-720-1665
Chef Wesley Johnson is keeping things fresh this season with a new tomato watermelon salad served with sweet rosemary vinaigrette. If you want something rich and savory to go with this light fare, order the duck-fat fried chicken served with mashed potatoes and pickled watermelon. It's also new to the menu, and it's sure to fill your belly.
Metropolitan Grill
2931 E. Battlefield, Springfield, 417-889-4951, metropolitan-grill.com
Innovation and creativity are two of Chef Pat Duran's strong points. Proof of this can be found in many of his new summer menu dishes, including the blood orange bruleed sea bass that's served with a baby cilantro flan and a choice of smoked gouda mash, seasonal vegetables or butternut squash and prosciutto risotto. Order up!
Aviary Café & Creperie, Aviary Creperie and Patisserie
400 E. Walnut St. Ste. 100, Springfield, 417-866-6378; 
2144 E. Republic Rd., Ste. E-120, Springfield, 417-881-9736; aviarycafe.com
Shortly after rolling out its new menu, the culinary geniuses at both Aviary locations are going to be rolling up a tasty new creation: the strawberry rhubarb crepe. The sweet, Breton-style crepe dish features a strawberry-rhubarb compote, fried pie crust strips, crème anglaise, Chantilly whipped cream and powdered sugar. 
Touch Restaurant
1620 E. Republic Rd., Springfield, 417-823-8383, touch-restaurant.com
The new additions at Touch are all about seafood. Drop in to try out the fried oysters with remoulade, a crispy fish taco with calamari and sriracha aioli or smoked scallops. 
The Tower Club
901 E. Saint Louis St., Springfield, 417-866-4466, towerclubspringfield.com
Chef Brad Lyons lightened up The Tower Club's lunch menu with more salads and sandwiches, and he has added several tasty creations to both the lunch and dinner menus. One decadent dish is the eggplant, smoked mozzarella and tomato tarte that's made with veggies including grilled eggplant and fresh tomatoes and paired with light custard before it's baked.