5 Best Thrills
Adrenaline junkies and thrill-seekers will love these summer rides and attractions. Bring out your adventurous side, and check these five fun places off your bucket list.
by Kaleigh Jurgensmeyer | Photo courtesy The Track Family Fun Parks, Wendy Hayes
Jun 2015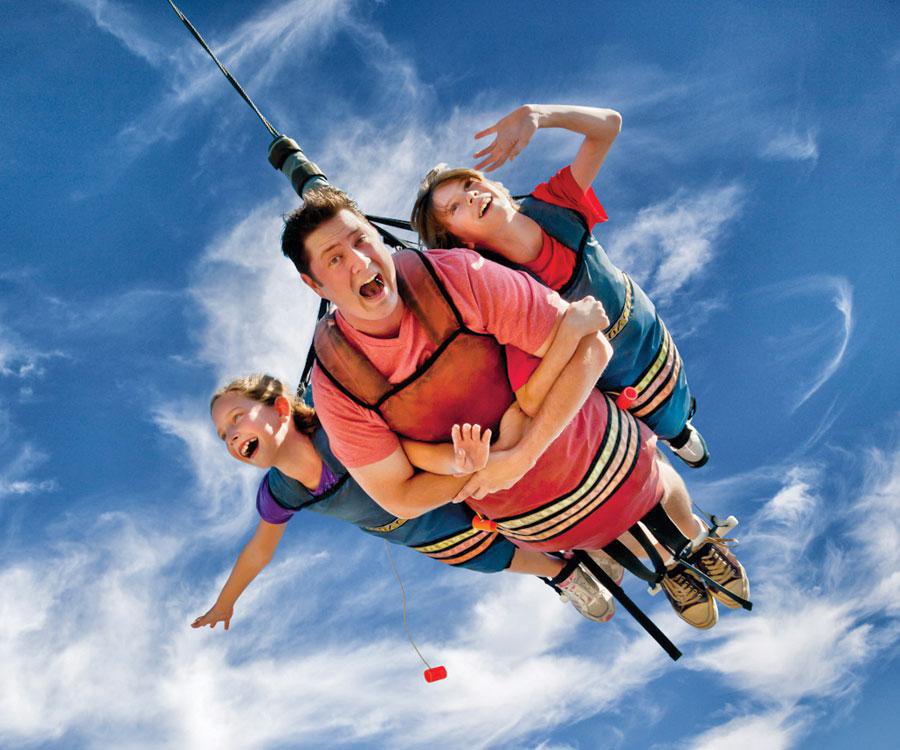 Flyboarding is one of the newest ways to enjoy the water next time you're at Table Rock Lake.
1. Flyboarding
Flyboard Branson, Table Rock Lake, 380 State Park Marina Rd., Branson, 417-242-1359, flyboardbranson.com
Why you'll love it: Flyboarding is a relatively new water recreation sport where water jet packs are strapped to your feet, allowing you to hover, ascend and descend over the water. Although it seems complicated, it's fairly easy and most people get the hang of it after a few minutes of being on the water. The flyboard has a 60-foot hose that attaches to the jet ski and a flyboarding instructor is on board to control the propulsion. You, however, steer where the board and jet ski go, so get ready to fly!
2. Outlaw Run  
Silver Dollar City, 399 Silver Dollar City Pkwy., Branson, 800-831-4386, silverdollarcity.com
Why you'll love it: This ride is not for the faint of heart. Outlaw Run is one of the world's steepest wooden roller coasters. You drop more than 16 stories, reach a top speed of 68 miles per hour and get to enjoy a total of three inversions. (This is the only wooden coaster to feature double barrel rolls.) For even more of a thrill, try this ride in the dark. Check it out during the opening of Star Spangled Summer on June 6, when the park is open until midnight. 
3. Sky Coaster
Track Family Fun Parks Track 4, 3345 West 76 Country Blvd., Branson, 417-334-1612, bransontracks.com
Why you'll love it: This skydiving and hang-gliding crossover attraction lets you swing at 70 miles per hour as you're suspended Superman-style, 100 feet up in the air. You can enjoy the rush solo, or grab up to two friends to experience this exciting swinging adventure. 
4. KaPau Plummet
White Water, 3505 W. Hwy. 76, Branson, 800-831-4386, bransonwhitewater.com
Why you'll love it: Grab your bathing suit and race down this 40-foot tall, dueling water slide attraction. Speed down the 70-degree plunge, which sends you free-falling at 26 feet per second. You end with a splash after 245 feet of this adrenaline-pumping ride. 
5. Branson Ballknocker 
Branson Ballknockers, 3330 W. Harvey Dr., Branson, 417-335-3958, ballknocker.com
Why you'll love it: One to two adults or up to three children can join in on this unique rolling ride. A 12-foot diameter, clear ball holds you inside a 6-foot interior chamber that is padded by a 3-foot cushion of air. After you're harnessed in, you're launched down a 550-foot long hill as you roll and laugh your way to the bottom. Get ready for this fun and definitely dizzying tumble.