Style
Amelia Madden
Amelia Madden, a new specialty bra and intimates shop in Springfield, specializes in making customers feel comfortable and confident.
By Savannah Waszczuk | Photos by Kevin O'Riley
Jun 2015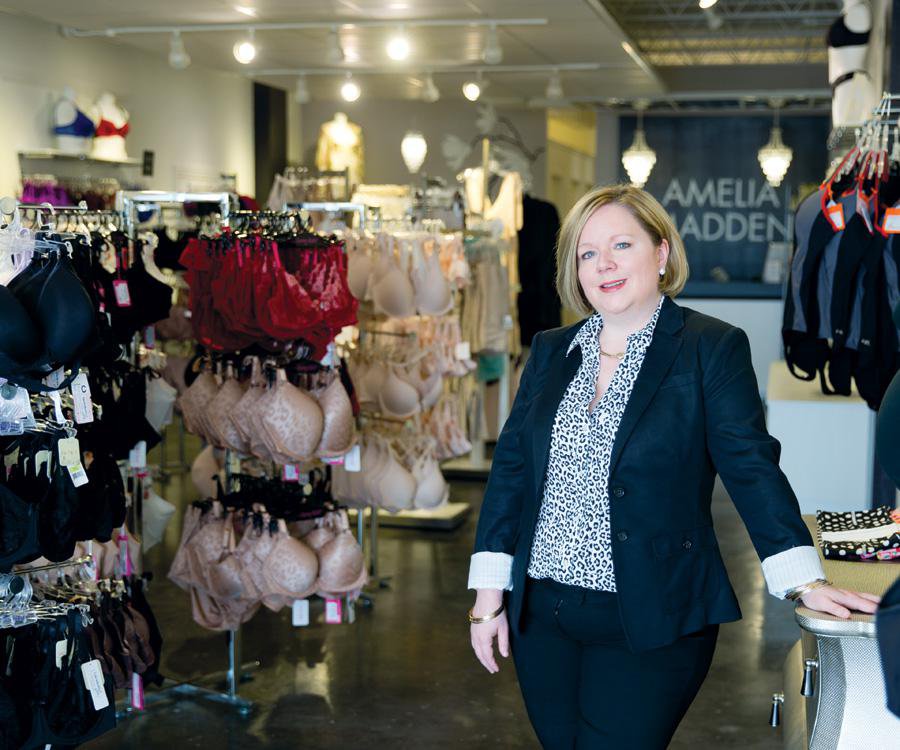 Amelia Madden
2646 S. Glenstone Ave., Springfield; 417-720-4003; ameliamadden.com
Open Mon.–Fri., 10 a.m.–6 p.m. and 10 a.m.–5 p.m. on Sat.
Ladies know that confidence starts with your base layer. If you're not wearing a comfortable, well-fitting bra, it will likely show throughout your day. Emily Crites opened Amelia Madden, a specialty bra and intimates store, to help the women of 417-land deal with this issue. "I worked as a chemical engineer for eight years, then I worked as a business consultant for a couple more years," Crites says. "After I helped others with their own businesses, I realized I wanted to be an entrepreneur. I wanted a business of my own." But more than that, Crites wanted to help women. Her goal was to open an intimates store where women felt comfortable and welcome, and where they would find the perfect bra to get the confidence they need in everyday life. 
A first-time visit to Amelia Madden typically starts with a free professional bra sizing. But this doesn't mean you have to stand in front of an associate with your shirt off and your ladies hanging out. "Sometimes girls are shy," Crites says. "If they want to wear a thin T-shirt during the fitting, they can." An associate will walk you around the store, which has hundreds of beautiful bras, panties and other intimates on display, and help you choose pieces to try on. Next you can have an associate help you figure out the perfect fit, or (if you're not comfortable with being seen in a bra), you can even have the associate talk you through the process on the other side of the fitting room door. "We try to keep everything relaxed and fun, and not get too serious about it," Crites says. "Women are truly so, so hard on their bodies. I hear everything. But I try to make them feel comfortable and accepted here. Everyone is beautiful." 
In addition to great service, the store sells bras from sizes 28A to 58N for anywhere from $22 to $120. "We have the largest range of bra sizes in southern Missouri," Crites says. You will also find sleepwear, shapewear and swimwear for sale, as well as lingerie. But whether you're out to buy a new bra and panties or a new pair of pajamas, the main goal is finding something that makes you feel comfortable and confident. "I was talking with the girls here the other day, and we were joking that we no longer immediately take off our bras when we get home anymore," Crites says. "Everyone is always surprised at how comfortable their bras are after we get them in the right fit." 
Q&A with Amelia Madden owner Emily Crites
417 Magazine: What is the most important thing about a woman's bra?
Emily Crites: Comfort. Comfort is the absolute most important thing.
417: What is the No. 1 thing you want your shoppers to feel?  
E.C.: I want them to feel complete acceptance and respect. I want them to know that their bodies aren't weird. They are beautiful just the way they are. 
417: What do you look for when ordering merchandise?
E.C.: I look for vendors who make quality products, and I look for brand uniqueness. I want brands that offer something different. Some lines we carry are aloe-infused. Some are really soft. I want brands that are offering something different then everyone else.
417: What are three words that describe your merchandise? 
E.C.: It has to have fit, function and beauty.