Reviews
Back to Kai
We revisit an old Springfield favorite, Kai, for steak and sushi.
By Savannah Waszczuk | Photos by Kevin O'Riley
Jun 2015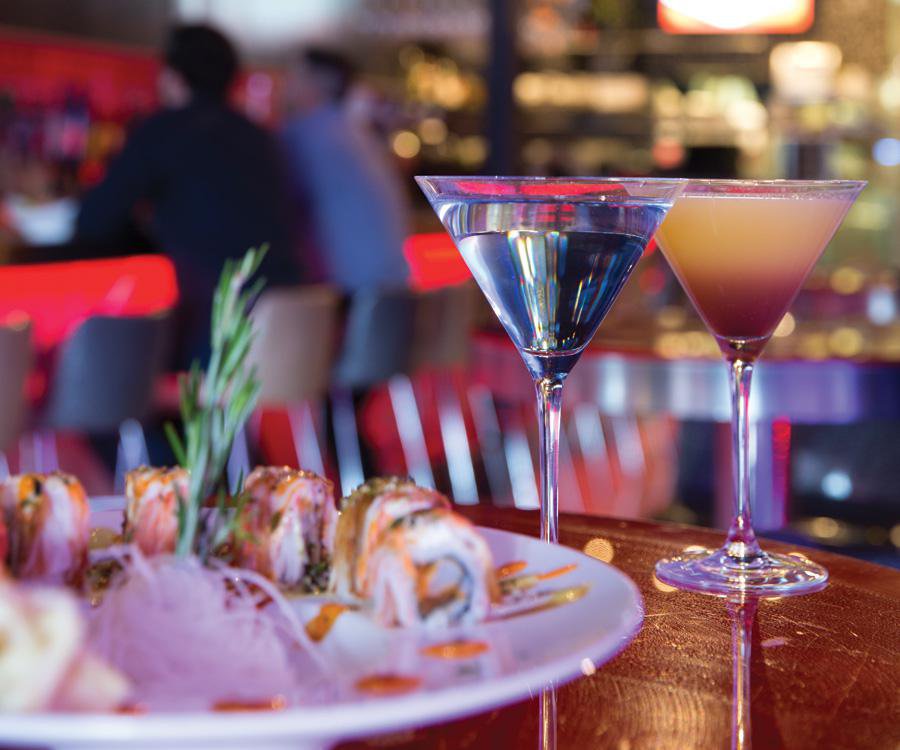 I recently spent a Friday night out in downtown Springfield with one of my best girlfriends, Mrs. Kayla Jones. Kayla and I have been friends since second grade when our days were filled with spelling tests, recess and Quaker Chewy Granola Bars. I still think of Kayla any time I see a chewy bar, mainly because her mom never let her leave the house without at least three of them. On days when the cafeteria lunch was filled with peas and meatloaf twinkies, those chewy bars were pure gold.
Fast forward 20 years, and now Kayla works in account service for an ad agency that specializes in food service. She appreciates a quality meal as much as I do, so I thought she'd be the perfect date to take on my Kai food review. 
We slid into the restaurant just after 9 p.m. and snagged a high-top table downstairs. Kai is a low-lit spot that has accent lighting and décor that would easily rival any posh big-city restaurant, which made our girls' night out feel all the more fabulous. 
We lingered over many of the long-time favorite app choices before we decided on the Crystal Lobster. A few minutes later, a lobster tail loaded with tempura-battered lobster and candied walnuts arrived. If you haven't tried this appetizer, you must. The light tempura batter adds texture and body to the tender chunks of lobster and those sweet candied walnuts add in a satisfying crunch every few bites. Both of the goodies are drizzled with a sweet and creamy lemon-walnut sauce, making it all perfect for anyone who loves all things indulgent. (And who doesn't?)

The Crystal Lobster appetizer comes with tempura-battered lobster and candied walnuts.
It took a few minutes of drooling over the gourmet seafood and steak entrees before I finally decided I was in the mood for sushi. You can never go wrong with sushi at Kai, right? I went with the American Beauty and Veggie Lover's Dream rolls. The American Beauty roll is filled with a bit of everything, so it's perfect for those of us who have a hard time ordering. Shrimp tempura, spicy tuna, cream cheese and crab make up this masterpiece, which comes topped with spicy seafood and avocado sauces. I liked this roll because, although it featured some heft from the shrimp tempura and some creaminess from the cheese, it was still light and fresh. Be warned, though: The heat packed a surprising punch. The veggie roll was also refreshing thanks to the cucumber, pickled radish, budduk root, bell pepper and marinated zucchini, which all unite to make this the crunchiest roll I've ever had. It comes wrapped in soy paper, which is a nice change of pace from most rolls, and a creamy avocado sauce ties it all together. And the best part? It's (basically) guilt-free in the world of sushi. Mama would be proud you ate all of those vegetables. 

We eat with our eyes first, and the pros at Kai know it. From the appetizers to the sushi and entrees, all food here is presented beautifully. We loved the bright colors in the veggie roll.
Kayla decided to order the 7-ounce filet that's served with a seared sea scallop, wok-fired vegetables and Yukon gold frites. She ordered the steak medium, and it seemed to come out just a tad overcooked, but this didn't compromise any of the flavor or tenderness—you could cut the meat with a fork. It was served with a balsamic teriyaki and sweet cherry cabernet demi-glace, which provided a rich, sweet finish we both enjoyed. The wok-fired vegetables were simply asparagus on our visit (which is no surprise since it was early spring), but the Yukon gold frites were incredible. Cut into discs, the potatoes were alive with rich, decadent flavors you typically find in mashed potatoes, but without any butter or cream. There was also a rooty earthiness about them. They were my favorite part of the meal. The single scallop provided a perfect last-minute touch to the lavish feast, almost like a mint on a pillow in a penthouse suite. 

Kai's 7-ounce filet comes with a seared scallop, wok-fired vegetables and Yukon gold frites.
Kayla and I left Kai feeling full and content. While the sushi proved to be as delicious as always, I was glad to learn the restaurant's steak is also top-notch. Our palates have grown up since the days of chewy bars, but we still see eye to eye on first-class fare, and we agreed that the food at Kai was pure gold.