Cool Off Water Chute
For 40 Years, Pat Rose and her family have been operating the Cool Off Water Chute—a giant waterslide that has become a Branson summer-fun staple.
By Vivian Wheeler | Photo courtesy Jeff Rose
Jun 2015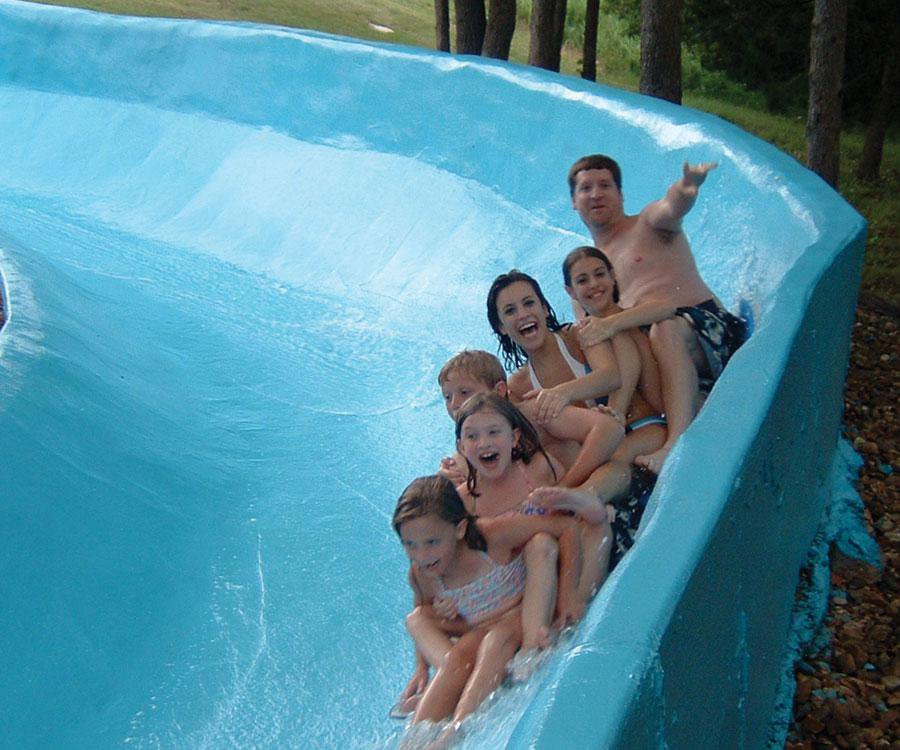 Cool Off Water Chute
2115 W. Hwy. 76, Branson
Open 11 a.m.–7 p.m.
Tickets are $15 per hour or $10 per half hour
This summer marks 40 years that 417-landers have been splashing down the Cool Off Water Chute in Branson. Established by Pat Rose in 1976, this giant blue waterslide harkens back to a simpler time—a time before cable, before kids had smartphones—a time when parents were desperate to fill the hot Missouri summer days with affordable fun. These days, despite the invention of the Internet, parents and grandparents and even great grandparents still gather their clan to enjoy the innocent pleasure of the Cool Off Water Chute. Last summer, on multiple occasions, there were four generations riding the slide together.
Rose, who hails from Memphis, started the business as a way to instill a strong work ethic in her kids, Anne Rose Waddell and Joe Rose, and to also provide them an opportunity to earn their college tuition money during the summers. Now her kids are adults with lives and families of their own. But every summer Joe travels from Charlotte, North Carolina, where he and his family reside, to help run the chute, which is open from Memorial Day until Labor Day. Rose's grandkids get in on the action, too. All of them have helped run the slide at one point or another during its 40-year history. 
Every aspect of the Cool Off Water Chute is family oriented and people of all ages ride the slide. For the folks who are more inclined to take it easy, there are also rocking chairs and plenty of shade trees to relax under. And if you just want to watch, and not ride, there's no fee.