Style
Green Gallery
At Green Gallery in Ozark, a plethora of plants meet a wide world of quirky antiques, making it a fun spot to explore.
Written by Ettie Berneking | Photos by Abby Gust
Jun 2016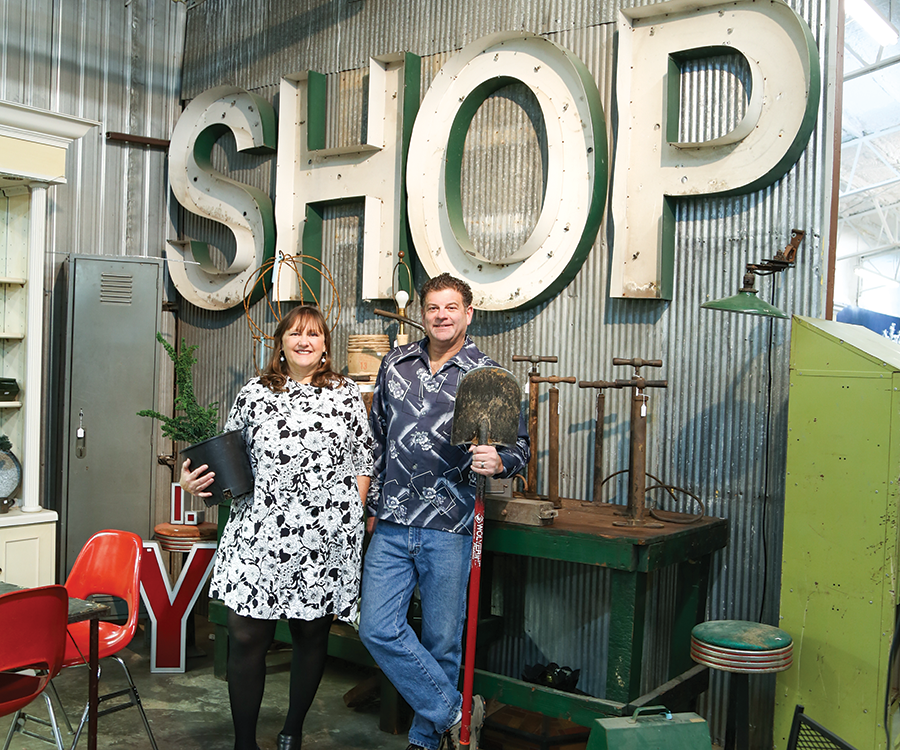 Green Gallery
6545 N. 21st St., Ozark
417-581-0393, greengallery417.net
Open: Mon.–Sat. 9 a.m.–6p.m.; Sun. 1–4 p.m.
For those who have driven south on U.S. 65 and had their attention snagged by a regularly changing but always peculiar display along the road near Ozark, you have Green Gallery to thank for the momentary distraction. Located in a cavernous warehouse on the outskirts of the city, Green Gallery is where antiques and plant life collide, and it usually happens in a delightfully obscure way. With a greenhouse in the back and ample warehouse space up front, Green Gallery houses a curated collection of plant life and home decor from the '40s and '50s. 
But instead of booths brimming with dusted-over collectibles and family heirlooms, the store is crowded with vignettes showcasing arranged living spaces. On a recent visit, one display featured an enormous antique butcher block held up on rusty wheels. The bone saw and a cleaver it was found with had been swapped for bottles of bourbon and crystal decanters, turning it into a bar cart. Across the way, a velvet couch snatched straight out of the '60s tempts shoppers to rest their feet and admire the knobby finials that adorn each arm. It's a regular time warp inside, which is exactly what owners Karen and Kevin Chapman are going for.
"We're a weird morph," Karen says. "We're definitely a strange animal." So strange, the couple had to come up with a catchphrase to explain to shoppers exactly what Green Gallery is, which, simply put, is where nature and retro collide. Since opening in November of 2013, Kevin and Karen have been blending their respective loves of plant life and antiques, much to the amusement of shoppers. 
For years, Kevin and his family have owned Willow Green Gardens in Rogersville while Karen owned Funtiques, a Springfield antique shop dedicated to the decades between 1940 and 1970. In 2013, the couple moved into the 10,000-square-foot building along 65 and merged their two businesses. Just like that, Green Gallery was born.
For the Chapmans, quality is key. "We're picky; we're really picky," Karen says. Attention to the condition and rareness of the items is part of what makes strolling through Green Gallery enjoyable. You never know what you're going to find, whether it's oversized lamps or mid-century modern furniture. And the truth is, neither do Karen and Kevin.
Whether you're in the market for a fabulous vintage couch, in the process of upgrading your landscaping or even just in the mood to take a stroll through time, Green Gallery doesn't disappoint. From the wide year-round selection of air plants and succulents to the absurd Creeptiques room where all things creepy come to repose, the Chapmans' highway retro garden center has it all.
Q&A 

with Green Gallery Owners 

Kevin and Karen Chapman

 

417 Magazine: What's your favorite plant at the greenhouse?
Kevin Chapman: We have what's called tiny treasures. They look like tiny trees, and we have a railroad hobby group that uses them in railroad models. 
Karen Chapman: I like rainbow leucothoe. It's a shade-loving plant that turns burgundy and hot pink in the winter and pink and green in the summer. 
417: What's the most bizarre plant you've grown?
Kevin: It's called Ketchup and Fries. It's a tomato plant that is grafted onto a potato root, so the same plant produces tomatoes and potatoes. It works! 
417: What's a current vintage trend you're excited about?
Karen: People love midcentury modern and Danish modern furnishing right now. You even see it in commercials and talk-show sets. That style works well with everything.
417: What shows come to mind that have a lot of this style?
Kevin: Ellen's Furniture Challenge. It's amazing how much of their furniture is midcentury-inspired.
Karen: And definitely on the Talking Dead set.