Dishes
Become a Grill Master: Inventive Ways to Tackle the Flames
Change up your usual cooking routine, and make something a bit unexpected on your grill tonight. A local farmer and foodie spill some of their favorites.
By Savannah Waszczuk | Photo by Brandon Alms
Jun 2017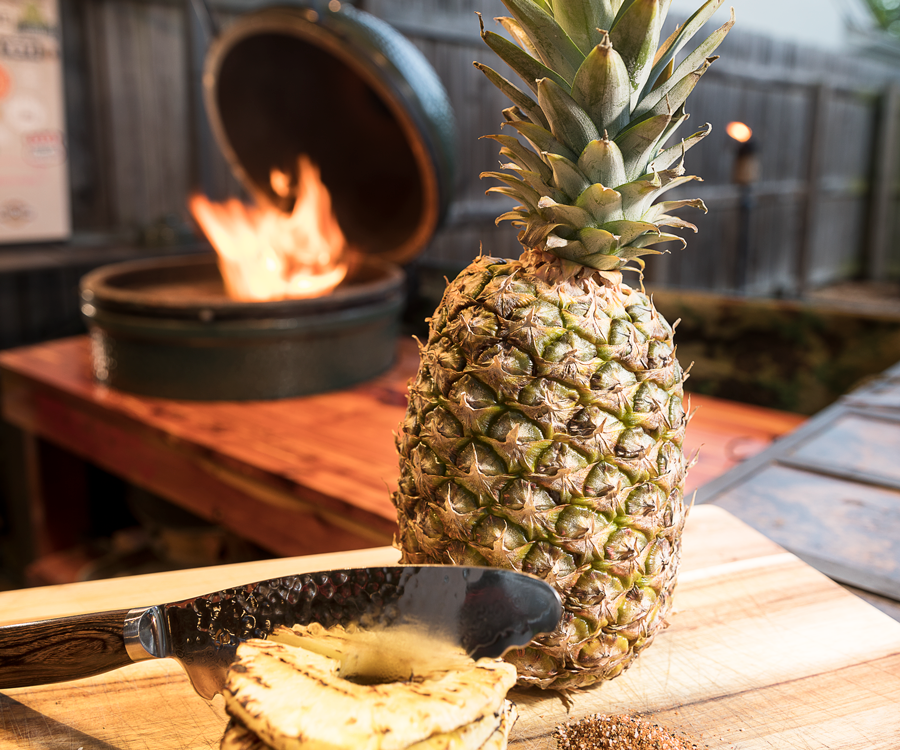 What's on the dinner menu at your house tonight? If you're anything like most of us, you probably have plans to head home, mosey into the kitchen and cook up a tried-and-true recipe you've made dozens of times before. You're probably going to saute your chicken in the same saute pan, and you're going to boil your pasta water in the same oversized pot. Right?

Now that the days are longer and temps are warmer, it's an ideal time to change things up. Let your oven hibernate for a few months, and take advantage of all outdoor cooking has to offer. And by that we're not just talking about your typical burgers and hot dogs. We're talking about your entire meal. We met with a couple of local grilling pros for outdoor cooking suggestions, and they shared tips and how-tos for making unexpected home-grown veggies and dishes like octopus and ribs over an open fire.

Beef short ribs
Tim Shelburn is a local web developer who has a major passion for cooking outdoors, and nearly every meal he grills will make you drool. (Don't believe us? Check out his Instagram, @tshelburn.) One item he suggests if you're up for grilling something a bit different is beef short ribs. "A lot of times if you go out to a restaurant, they'll have short ribs, but they'll be braised," Shelburn says. "I like to cook them low and slow on a smoker." Shelburn often purchases his short ribs at Hörrmann Meats. Shelburn seasons the ribs with Meat Church's Holy Cow rub (available at CountrySide BBQ Pro Shop) then cooks them on a grill that's roughly 275 degrees until the internal temperature reaches 202 degrees. Once you remove the ribs, wrap them in foil and let them rest for at least 30 minutes before enjoying.

Whole pineapple
If you're looking to add a little sweetness to your grilling game, pick up a whole pineapple for tonight's dinner. Shelburn simply cuts the sides and outer husk off, removes the core, puts it on a beer can chicken stand and lets the grill do its magic. Place the pineapple and the stand in a pan to catch the juices as they sweat off to create a sauce with the drippings.
Brussels sprouts
If you're into the foodie scene at all, you know that Brussels sprouts are everywhere these days—you can roast them with honey, you can saute them with garlic, you can toss them with fresh pasta. But did you know you can also grill them? In fact, that's the way Melissa Stine of Nixa's Stine Family Farm likes them the most. After washing them, slicing them in half vertically and tossing them with olive oil, Stine says to give them a simple salt and pepper seasoning, place them directly on a grill and cook them to your desired doneness. "We like to take ours off before they get too soft," says Stine, who sells Brussels sprouts and a plethora of other veggies at the Greater Springfield Farmers Market. "We like everything we cook to still taste like a fresh vegetable." Heat the grill to roughly 375 degrees for good sear marks, and if you're worried about the sprouts falling through the grill grates, simply put them on foil or a cookie tray.

Cabbage
If you're a fan of grilled Brussels sprouts, consider searing up its much larger, older sister: the cabbage head. Stine's brother, Jesse Howald, has a simple way to prepare it—cut the cabbage in half and remove the heart, then cut each half into roughly one-inch "steaks." Coat each steak with olive oil, salt and pepper, sear them quickly on an open grate at roughly 375 degrees and then move them to foil to finish cooking to your desired doneness.

Octopus
Ribs aren't out-of-the-box enough for you? Head to Seoul Oriental Market on South Campbell Avenue and pick up some octopus. Shelburn likes to do a quick marinade on the octopus—a mixture of soy sauce and mirin, a Japanese rice wine, works fabulously. After letting the octopus rest in the juices for 20 minutes or so, cook it on direct heat somewhere between 350 and 450 degrees for about 15 to 20 minutes until it starts to char a bit. You can cook squid similarly, Shelburn says, but he recommends putting the squid on skewers so it doesn't curl up as it warms.
Cauliflower
Cauliflower steaks are another great option for the grill, Stine says. Steaks are typically made using the center portion of the cauliflower head—simply cut completely across the stem and through the head of cauliflower to get a good sized whole piece. Season the steak with olive oil, salt and pepper, then sear directly on the grates. Expect about two steaks per head of cauliflower, plus florets from each side. "We like to make foil packets with the florets and cook those on the grill as well," Stine says.