Spaces
Explore Rountree's Harry Potter House
Bill Viles and Debbie Murphy wanted a home perfect for entertaining. Their custom English Tudor, known as the Harry Potter house, is a feat of craftsmanship that provides a one-of-a-kind center-city escape.
By Adrienne Donica
Jun 2018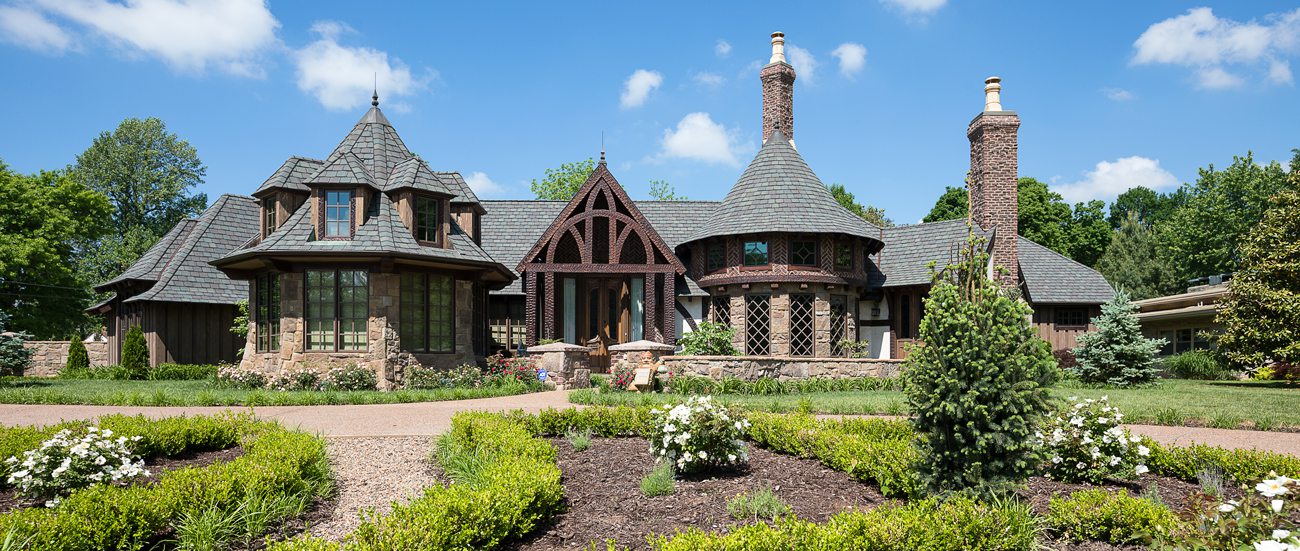 For 35 years, Bill J. Viles lived near Delaware Elementary School in central Springfield just south of Rountree. It's where he raised his four children, and it was a quick trip from home to his company, BJ's Trophy Shop, on Sunshine Street. Now retired and with seven grandchildren, most of whom live locally, he and fiancee Debbie Murphy dreamed of a home that could host family gatherings and fundraisers for area nonprofits. So in 2014, they purchased two lots in Viles' old neighborhood from Mike Dobbs. Dobbs is owner of Dobbs & Stuhlstaz Custom Homes and is the mastermind behind homes such as the African Queen in southeast Springfield.

The partnership was meant to be. Dobbs, who used to live in Rountree, always dreamed of building where Viles and Murphy's new home now sits. He also had the vision and creativity Viles and Murphy were looking for. "He is an incredible builder," Viles says.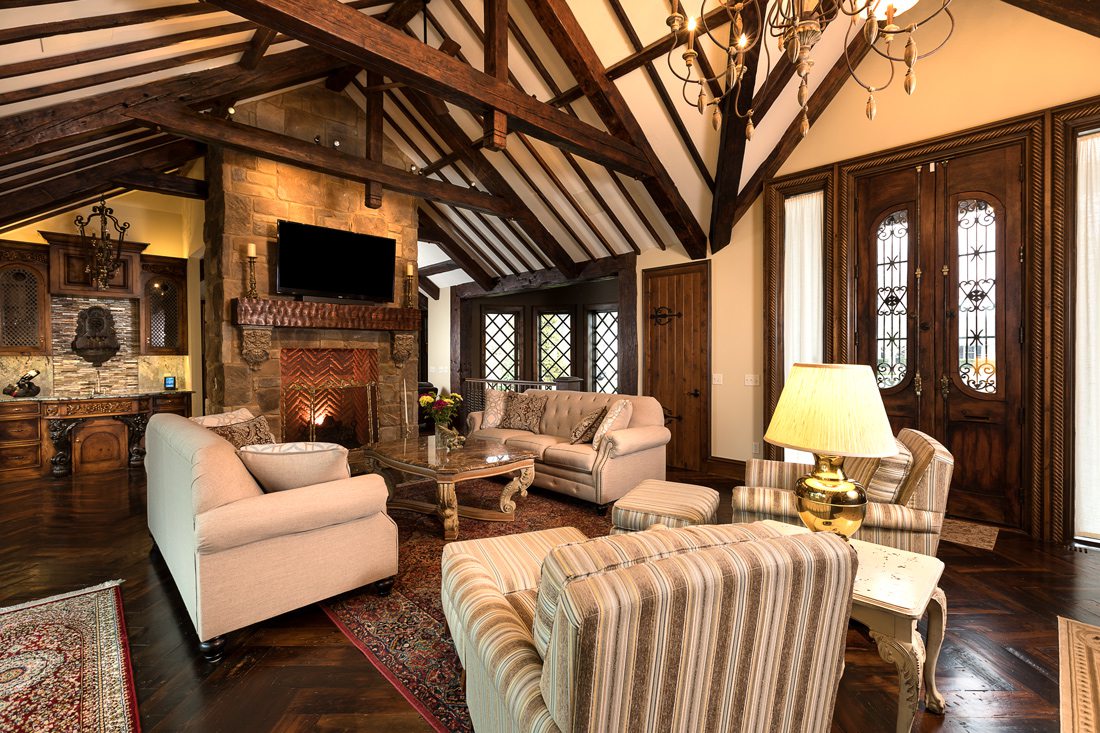 Early on, the couple told Dobbs they wanted a home with lots of angles, an unusual floor plan and ornate details such as towers and different kinds of siding. They wanted a place to entertain guests, something that would feel grand but also intimate. During the brainstorming phase, Dobbs and two of his nephews were watching one of the Harry Potter movies when inspiration struck: He would build a classic English Tudor and nickname the project the Harry Potter house. "Once we kind of got the Tudor idea going, I wanted to keep it authentic," Dobbs says. "I wanted to make it feel like this house had been here since the beginning." Dobbs and his team researched everything about Tudor style down to light fixtures, wooden trims and what kind of landscaping was popular at the time. They developed a modern, open-concept floor plan for the 6,880 square-foot home and incorporated Tudor design elements inside and out. "We wanted it to feel very comfortable and cozy and intimate," Dobbs says.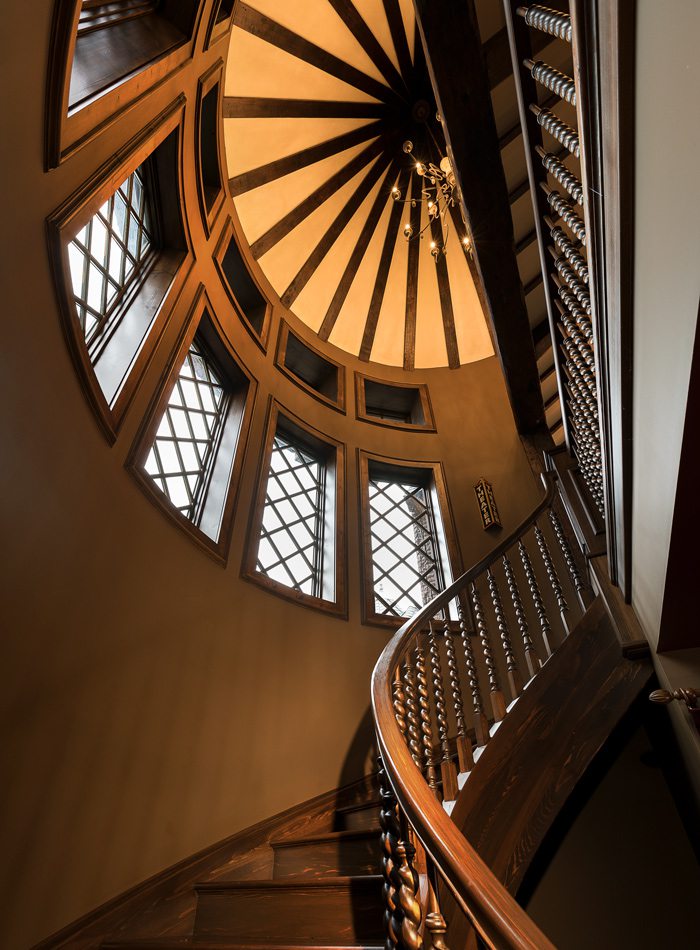 Photo by Brandon Alms
A free-form floating staircase, which sits inside one of the home's two towers, leads to the basement. "There's 17 layers of thin wood that all had to get hand put on, layer by layer, to bend the staircase," Dobbs says.
Purchase Photo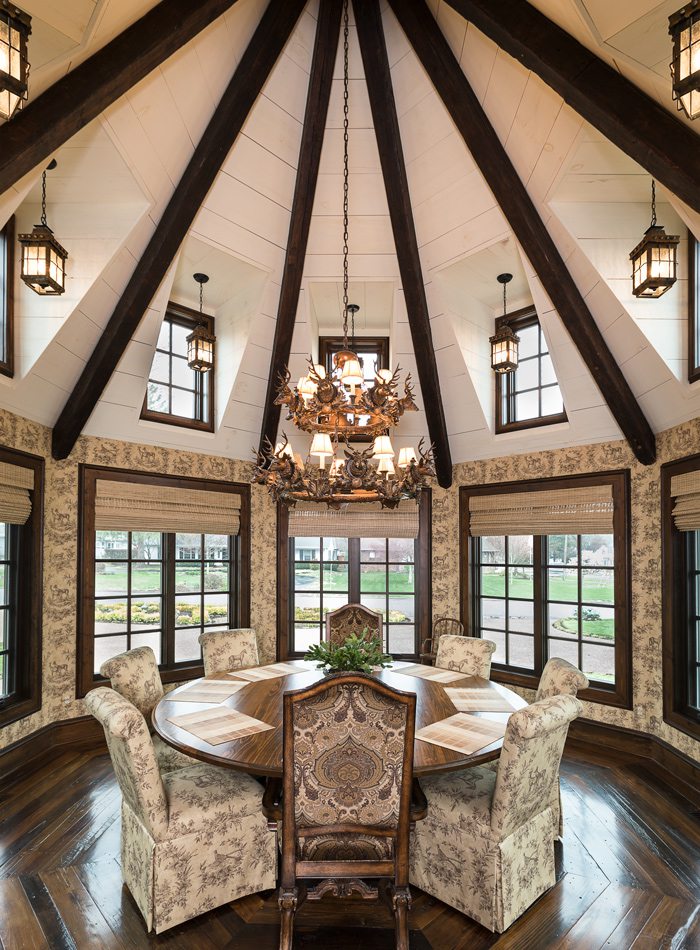 Photo by Brandon Alms
The home's second tower houses the dining room, the prime location for family gatherings. The table was custom built to seat 12, and the upholstery perfectly matches the toile wallpaper. At first, Murphy wasn't sure about the wooden chandelier, made by an Oklahoma firm, but now it is one of her favorite features in the home.
Purchase Photo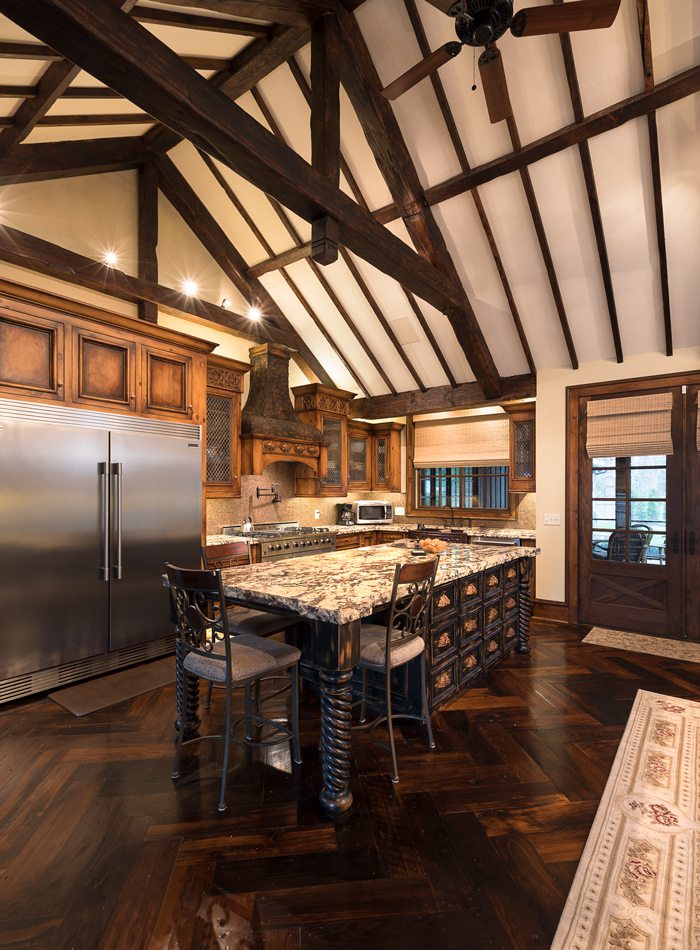 Photo by Brandon Alms
The kitchen faces the living room and features a large island, perfect for the couple's entertaining needs. This space replicates an early 19th century kitchen design and includes Tudor elements such as leaded cabinet windows and ornate woodwork.
Purchase Photo
Photos by Brandon Alms
After two years of research and planning, construction began on the three-bedroom, four-and-a-half-bath house. Refurbished antiques and salvaged architectural elements mingle with custom made furniture and decor. Another priority? "We really wanted to showcase incredible woods at this house," Dobbs says. "That's what the Tudor is all about." The house incorporates antique Cyprus, fir, pine, walnut and pecan, all stained by hand using various kinds of wax or, in the case of the sinking Cyprus floors on the main floor, a mixture of vinegar and steel wool. Dobbs estimates more than 50 people had a hand in creating the home, including the craftsperson who used a chainsaw tool to create notches on the wood beams featured throughout. 

Since completing the home earlier this year, Viles and Murphy have been adding the finishing touches and moving in. Already, the Harry Potter house has hosted fundraisers for the Junior League of Springfield, the Boys and Girls Clubs of Springfield, the Muscular Dystrophy Association and others. Their storybook home is ready for the next chapter.