417-Land Moms
Real stories, recipes, tips and tricks. Plus style advice for real moms!
Mar 2014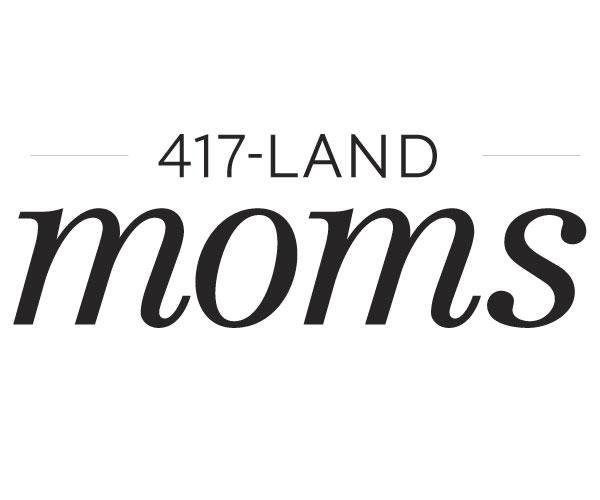 This we know is true: Moms do everything. Moms put food on the table, whether they are figuratively bringing home the bacon or not. Moms kiss boo-boos and wipe away tears. Moms flip flashcards and help sound out words. Moms are the glue that holds families together. And here in 417-land, there are numerous moms who do it all while also being completely and totally fabulous. This feature is a toast to those moms who are doing it all and doing it well. 
Read on to meet a few local moms who inspire us with their heartwarming stories, their ability to juggle careers and kids and their devotion to their community. Plus, find handy stories filled with tips and advice that can help the rest of us live up to those super-moms and make the most of being a mother in 417-land. Moms of 417-land, this issue is for you: from travel tips and must-have products to spring fashions that are perfect for packing up your mighty mom purse and doing your thing in style.
By Logan Aguirre, Ettie Berneking, Katie Pollock Estes, Savannah Waszczuk and Joan Whitaker
Photos by Kevin O'Riley with additional photos by Jessica Kennon Spencer
Maria Neider
You probably recognize Maria Neider from her job anchoring on KY3. What you might not know is that this sleep-deprived mother of two is the Energizer Bunny of parenting.
It might sound crazy, but Maria Neider took her job working the morning news shift at KY3 to be closer to her family. Even though she arrives at work at 4 a.m. or earlier and spends much of her free time working with about 19 local charities and emceeing fundraisers, her early-bird schedule has allowed her to pursue a demanding career and still balance life at home. 
Starting a family was no easy task for Neider and her husband, Scott, who works the evening news slot at KY3. In fact, during the week, Neider and Scott don't get more than an hour together. The weekends are the only time all four members of the family are in the same room. "The sacrifice we make for our family is pretty much not seeing each other for a whole week," Neider says. "We leave notes for each other by the coffee pot." The two decided to work opposite shifts in order to cut back on child care expenses, and also so they could get as much time with their kids as possible. "One of us is always there to help them get up in the morning and help them with homework at night," Neider says.
After several years of fine-tuning their system, Neider and Scott have finally found balance between work and home. But it wasn't easy. Neider was so sleep deprived after she had her son, Luke, that she developed vertigo. When she learned of the Cox South Learning Center's daycare, she quickly got her son's name on the list. "I was paying for five hours of sleep," she says laughing. Those five hours turned out to be Neider's lifeline. "I used to try to do it all because I thought my mom did," she says. "But now I realize you have to pick your priorities. Sometimes laundry just sits on my couch. And if I order a pizza for dinner, I don't think twice about it, because that's going to give me a little break when I can stop and enjoy my kids." —Ettie Berneking
On Maria: BCBG Max Azria Kinda mint top, $158 at Harem & Company; Chan Luu beaded necklace, $216 at Ashby's Boutique • Denim Lab; Garden Home Jeans, $46 at Rodi;  Jeffrey Campbell Charvet Nude Python shoes, $140 at Harem & Company. Hair styled by Jennifer Christian at ViVo Salon, makeup by Andie Reynolds at Lavaré Spa
Every mom wants to find new and fun ways to engage with her kids. If you're fitness-minded (or just wish you were) and you have a child who's game, try running together. The benefits extend beyond physical health.
"I was surprised on my 40th birthday by a positive pregnancy test," says Vicky Hood of Springfield. She says she had always felt like an older mother compared to the other moms when her now 23-year-old son was in school. "So when I found out I was pregnant with my daughter, I thought, 'I really have to step it up now,'" she says. She and her sister, Paula Thompson, engaged in a health kick together. Vicky stopped smoking and drinking, and the pair started running. When her daughter, Jessie Hood, was old enough, Vicky decided to share her running passion. Now 11 years old, Jessie is active in Girls on the Run of Southwest Missouri, a nonprofit after-school program that aims to inspire confidence through running for girls in third through eighth grade. She has run more than 20 5Ks with her mom, who joins in Girls on the Run races and even helps coach.
"The No. 1 thing for us is mommy-daughter time," Vicky says. "It's girl time. It's our time. I'm trying to teach her that we don't have to have perfect bodies, but everybody needs to do something—some form of exercise—on a regular basis. And it can be fun. There are times when it's all we can do to run, we're laughing so hard." For more information on how to get your daughter involved in Girls on the Run of Southwest Missouri, visit gotrswmo.org.— Katie Pollock Estes
Parents' Night Out
When me-time really needs to be us-time, local businesses have you covered with parents' night out programs that combine fun activities with a safe place for your kids to hang out.
Kids Night Out at Pat Jones YMCA
Second Friday of every month. Must pre-register. $12–17. 417-881-1599, or ymca.org/joneskids.html
Kids Night Out at Springfield Gymnastics
One Friday per month. $10–12. More info: 417-864-6869, springfieldgymnastics-aquatics.com
Kids Night Out at Noah's Art
One Friday per month. $35 per child, $30 per sibling. More info: 417-889-2779, noahs-art.com/springfield
Kids Night Out at Joplin Athletic Complex
Second Friday of the month. $15 per child. must pre-register. More info: 417-625-4750, joplinparks.org.
Parents Night Out at Dynamics Gymnastics
First Friday of the month at Pythian Street location, second Friday of the month at Republic Road location. $15. More info: 417-890-0946, dynamics-gymnastics.com.
Miniature Me-Time
Any busy mama can tell you, me-time is a luxury once you have kids in the picture. Even a trip to the bathroom is a party half the time. That's why we searched for some teeny tiny opportunities for a little time to yourself. You don't have to reserve a whole day to get away—sometimes an hour is just the refresher you need.—Katie Pollock Estes
• Get a Quick Workout
There are numerous 417-land gyms and fitness studios that also offer childcare to their members. That means you can sweat your heart out without worrying about what the kiddos are up to. Find workout daycare at Pure Hot Yoga, Balance Fitness, local YMCAs, CrossFit Springfield, CoxHealth fitness centers, Mercy Fitness Center, Chesterfield Family Center and more.
• Join a Book Discussion
Visit thelibrary.org to see all of the local book discussions happening at branches of the Springfield–Greene County Library System. Once you've found time to sneak in a chapter here and there of a good book (you know, while also toting your kids around, being awesome at your job, and planning meals), you owe it to yourself to engage in a little adult chit-chat to top it off.
• Take a Cooking Class
You help everyone else with their homework, so why not give yourself an hour every now and then to do a little learning yourself? Price Cutter's Taste Culinary Classroom, Hy-Vee's Club Room, Ozarks Technical Community College and more local spots offer options for expanding your cooking know-how. If you can make it down to Fordland, you can even learn from bona fide French chef Roland Parney. See p. TK for details.
Gloria Hereford
Gloria Hereford turned a family tragedy into her inspiration to give. This 34-year-old mother of two is the definition of a philanthropic go-getter.
Gloria Hereford has two overwhelming passions in life: her family and her volunteer work. And they both can be traced back to Hereford's mom, Evelyn.
Growing up, Hereford and her mom were inseparable. "We were best friends," Hereford says. "Dad was always there, but we depended on Mom for everything." When Hereford became a mom herself, Evelyn was there to teach her how to take on her new role. "She taught me to put my kids first and take care of them," Hereford says. "She told me, 'You're a mom now, and your family comes first.'" 
Then suddenly in 2011, her mom had a stroke. After doctors couldn't find the cause, she was moved to Barnes Hospital in St. Louis where doctors discovered she had cancer. A month later, Evelyn passed away at 57 years old. "It has been a rough two years for me," Hereford says. "Everything reminds me of her." Two months after her mom's death, Hereford dove headfirst into volunteer work, picking up where her mom left off. 
For years, her mom had volunteered at Victory Mission and led fundraisers for the Springfield chapter of the American Cancer Society and the Springfield chapter of the Muscular Dystrophy Association, and now Hereford devotes her time to these same charities. She takes her daughters, Gloria and DeAyra, to serve meals at Victory Mission during Thanksgiving and Christmas. And a year ago, Hereford started The Legacy of Mothers Luncheon. All proceeds go to the American Cancer Society. She's even toying with the idea of starting a charity ball to help raise funds for Victory Mission. 
As the salad bar manager at Dillons and a bartender at Hammons Field, Hereford doesn't have much free time, but the time she does have is devoted to coming up with new ways to give back. She's had to grow up a lot these last two years, and her volunteer work has helped her cope with the loss of her mom. Luckily, she has her husband and her two girls to help her keep her head up. "I don't want them to forget what she did," Hereford says. "Her life was giving back, so we have to let that live on."— Ettie Berneking
The Legacy of Mothers Luncheon is May 18, and tickets go on sale at the end of April. Email mrs.hereford@att.net for more info or to reserve tickets. 
We spoke to a professional and a couple of local moms who shared tips for keeping the chaos of life in check.
Before meeting Betsy Miller of 2B Organized (417-880-2325, 2b-organized.com), Brandy Hickman says she didn't know which way was up. "I was overwhelmed by being a caretaker, getting over my own illness and taking care of my kids," says the mother of two. At the time, she had recently battled colon cancer, her mother was battling breast cancer, she was taking care of her aging in-laws, she recently left a full-time job and she was teaching Jazzercize classes. She also had 3- and 1-year-old daughters, and the 3-year-old had recently been diagnosed with Asperger syndrome. "I knew I had to ask for help, or I was going to go off the edge," Hickman says. 
That was six years ago. Today, Hickman has completely changed her life. Her home is clean and organized, and so is her mind. She even recently started 2B Well, a company in which she works with nutritionists, fitness gurus and other experts to help her clients live healthy and fulfilled lives. And it all started with her call to Miller. 
Miller opened 2B Organized in 1997. In her role as a professional organizer, she works with stay-at-home moms, working moms, such as Hickman, plus men and even children. She shared a few tips to help individuals organize their lives.
Miller's Tips for Moms
1. Start a one-in, one-out rule. 
"Make a rule that when something comes in, something must go out," Miller says. This works with everything—clothing, toys, home décor, items in your kitchen pantry.
2. Steal away 10 minutes a day. 
One of the biggest excuses of people who live jumbled lives is that they don't have time to organize. "Everyone has 5 to 10 minutes a day," Miller says. "Set a timer, and spend even 5 or 10 minutes organizing in a specific room." Make piles of things to pitch or donate, and carefully select things to hang onto. 
3. Learn to say no. 
Miller says moms need to learn to say no more often. "Two extra activities per week is plenty for your kids," she says. Also, you don't have to volunteer for every function your child's school hosts, and you don't have to bake cookies for every bake sale. 
4. Establish organization systems.
 While working with Hickman, Miller helped her develop several organization systems. One of the things they did was simple, but very effective: She had Hickman choose one color hanger for each daughter. Now the girls know that they are each responsible for going to the laundry room and picking up their own clothes. 
5. Learn to let go. 
You know how your kid brings home a new art project from school every day? Well, this is your permission to pitch them. "It doesn't make you a bad mom if you don't keep everything your child has ever colored, glued, glittered or cut out," Miller says. Miller suggested that Hickman create one box for each of her daughters, and Hickman chose which special projects to save. They then laminated the seasonal pieces and made garlands for each holiday, and Hickman hangs them on her mantle throughout the year.— Savannah Waszczuk 
Extra Tip
Turn Kid Art Into Real Art
Stacy Jurado-Miller, a mother of three, created a special place for her children's art to be displayed in the playroom area of their home. "Carla Stine painted the frames on the walls," Jurado-Miller says. "The kids pick out a few of their favorite pieces to have displayed."
Ditch the diaper bag, and trade up for a bag that's as stylish as you are. Then fill it with these mom-friendly accessories from local shops.
Styled by Jessica Kennon Spencer

THE WHOLE PACKAGE: We love this Delux gold bag, $102 at STAXX, because it's just the right size—a little bigger than a purse, but small enough to carry every day.  

Lilly Bit Uptown diaper clutch, $36 at Jellybeans

Sweet T Designs wrist keychain, $8.99 at Social

You Smell hand soap wipes, $4 each at The Market

Royal Standard chevron canvas cosmetic bag, $9 at Torn Boutique; Mainstreet Collection fold-over clutch, $24 at Social
Traveling with Kids: The Rowdiest Carry-Ons
417 Magazine Associate Publisher Logan Aguirre and her husband, Dave, have traveled with their kids since they were babies. Logan shares tips for how to make it work and have fun along the way.



Lucy and Cruz Aguirre, ages 5 and 2, share a happy moment on a 

recent trip to Disney World. 
1. Have a Prep Talk
Mental preparation is key. About 24 hours before go-time, Dave and I have a prep talk where I explain our strategy for maneuvering security checkpoints, how many times we will have to fold up the stroller and how we will probably decide "never again" before we ever get to the gate. But we will get through it, and on the other end is an adult beverage of your choice. 
2. Rent On Location
To cut down on schlepping, look into rental companies at your destination. Resorts usually have pack and plays and high chairs you can request. You can rent car seats from rental car companies at the airport. On a recent trip, we rented a double stroller that was delivered to and picked up from our hotel. There are even companies that bring you beach toys. 
3. Bring Back-Ups
When Lucy was an infant, she had to be swaddled or she wouldn't sleep. When she was 5 months old, we went to Puerto Vallarta and only took one swaddle blanket. After one major blow out on that trip, her swaddle was ruined, and we were panicked. I will never forget my husband saying, "Really, to save space on packing, we only packed one swaddle blanket? One?!" Never again. This goes for anything that makes your life easier. Pack the back-ups.
4. Soak It All In
On a recent trip to Disney, it poured All. Day. Long. We were draped in ponchos and had a poncho/umbrella system rigged up over the stroller. Things were getting a little tense, and then Dave looked at me, smiled and said, "We're good?" And I thought, "Yes, we're good. We are at the happiest place on earth with the best kids on earth, and a little rain isn't going to stop our happy parade." Take time to be thankful for the experience. 
Get It: Travel Gear
| | | |
| --- | --- | --- |
| | | |
| Stephen Joseph kids duffle and rolling luggage, $29.95–44 at Baglady Boutique | The Usborne Little Children's Activity Book, $9.99 at Jellybeans | AM PM Kids travel chalkboard, $15 at Kid's Court |
Megan White
After struggling to conceive, Megan White and her husband, Nik, made the big decision to try and adopt. Just three months later, after some fortuitous timing, Megan met her beautiful newborn—Elijah Thomas White. 
After two miscarriages, I had trouble getting pregnant. I had a variety of tests that kept coming back normal, but I still wasn't getting pregnant after about a year of trying. I tried acupuncture and things like that, but I started thinking, "Why are we working so hard on this when it's just not happening? There's some reason it's not happening. We're probably supposed to be doing something else." Well, we had always talked about adopting early in our marriage, but we always kind of thought we'd have biological children and then we'd adopt later on. But then, at the end of August last year, I said to my husband, Nik, "Can we just adopt a baby? I think that's what we should do instead. I think we should adopt a baby." And he was like "Okay. Let's do it."
From there, we started researching, and we contacted an adoption consultant. Our agent helped us find someone to do our home study, and our friends from Prixel Creative created our family profile. Our home study was complete on November 5, which was a Tuesday. I sent it to our consultant, and on Thursday, she sent us an email about Elijah. 
He had already been born that Sunday. He was in Arizona. His birth mom didn't have an adoption plan, but because we had the consultant, we found out about him. Then we waited all weekend long—it was a really, really long weekend—and on Monday we found out that he was ours. 
It was just wild. By 2 o'clock on Tuesday we were going to get him in Arizona. On Wednesday morning we met him. He had to be in the hospital because he had been exposed to some drugs, and he was really little. He wasn't gaining weight because he wasn't sleeping well. He was wired, and he needed constant attention. He really just needed parents, and that was really the only way he was going to start progressing. And that's partially why the adoption agency picked us. In our profile, Nik had written that I was the baby whisperer. They pulled that line out, and they were like, "That's what he needs. He needs someone who is going to love him and hold him and help him along." So we got there, and that's exactly what we did. One of us would hold him and one of us would do paper work, for 10 to 12 hours, every day for a week and a half. 
He was released way sooner than they thought. Miraculously, all of our paperwork to adopt him went through, and all of our financials went through, from Arizona, in a week's time. And thanks to our lawyer here, Melissa Bade, we were able to take him out of Arizona and bring him to Missouri by that Friday. On Saturday we brought him home... I just feel like the last two years have pointed directly to him, like that's what it was all for, and it all feels worth it.
—Megan White as told to Savannah Waszczuk
Jennifer Smith, owner of The Traveling Chef and Muse by the Traveling Chef, creates meals that are kid-friendly and tasty enough for grown-ups.
Getting the kids to eat their veggies without having to cook a separate meal just for them can be a struggle. But don't worry. Jennifer Smith, owner of The Traveling Chef and Muse by The Traveling Chef, is here to help. As a mom and a terrific cook, Smith has spent years crafting meals that both she and her son enjoy. She shares tips and her favorite family-friendly recipes that won't have your kids shrieking in fear at the sight of their vegetables.—Ettie Berneking
Tips for Feeding Kids
1. Introduce new foods to kids during the course of a week, and then they'll get more comfortable eating it. 
2. Have them help cook. Kids aren't as scared of food if they help make it. My son loved tacos, so we would make them together. 
3. Have fun with the food. Don't be afraid to get your hands dirty. Set out bowls with all the ingredients so your kids can see what exactly is going inside of the dish.
4. Pick a theme. We cater a lot of kids' birthday parties, and we have found that fun shapes work great. Use cookie cutters to cut finger sandwiches into shapes that match your theme. 
5. Cook what they like. I know there are some kids out there who will eat anything, but my son was not one of those kids. He liked really simple foods, so I worked around that to make dishes we would both enjoy.
Recipes
Fish Tacos topped with 

Broccoli Salad and Avocado

Makes 4–6 servings
Ingredients:
4 to 6 pieces of flounder, cut into 2-inch pieces
Fish fry corn bread mix
½ teaspoon vegetable oil
Corn tortillas
Broccoli salad (You can purchase this in the salad section of the grocery store.)
1 to 2 avocados, sliced
Directions:
Preheat oven to 375°F. Dredge the flounder pieces in the breading mixture, and place on a baking sheet. Bake for 7 minutes or until done. While the flounder is baking, heat the vegetable oil in a skillet, and begin toasting the corn tortillas until light brown. In a large bowl, assemble the broccoli salad, and toss in the provided dressing. Reserve some of the dressing for the top of the tacos. Place the heated tortillas on a flat surface, and top with the baked flounder, broccoli salad and avocado slices. Drizzle with the remaining dressing, and serve. 
Meatloaf Cakes with Sweet Potato Mashed
Makes 8–12 meatloaf cakes 
Ingredients for the meatloaf:
1 tablespoon Vegetable Oil
½ tsp garlic, chopped
½ cup celery, chopped
½ cup yellow onion, chopped
¼ cup carrots, shredded
1 pound ground chuck
3 eggs, lightly beaten
2 tablespoons Ketchup
¼ cup frozen peas
1 cup panko bread crumbs
1 teaspoon Kosher salt
½ teaspoon white pepper
½ cup ketchup
1 teaspoon Worcester sauce
2 teaspoons honey
½ teaspoon Dijon mustard
Blanched asparagus tips or broccoli crowns for garnish
Directions:
Preheat oven to 375°F. Heat the vegetable oil in a large pan, and lightly sauté garlic, celery, onion and carrot until tender. Allow to cool for about 5 minutes. In a medium bowl combine the sautéed ingredients with ground chuck, eggs, ketchup, peas, bread crumbs, salt and pepper. Line a regular size cupcake pan (12 count) with cupcake liners, and scoop the mixture into the cupcake pan. In a small bowl, whisk together the ketchup, Worcester sauce, honey and mustard to make the glaze. Top each meatloaf cake with the glaze. Bake for 15 to 20 minutes (or until the internal temperature is 160 degrees).
Ingredients for the mashed sweet potatoes:
4 medium-sized sweet potatoes, peeled and cut into 1-inch cubes
3 tablespoons Butter
1/2 teaspoon kosher salt
1/2 teaspoon white pepper
2 tablespoons sour cream
2 tablespoons milk
1/2 teaspoon chopped parsley (fresh)
Directions:
Cook the potatoes in salted water until they are tender. Drain, and place in a large mixing bowl. Mix in the butter, salt, pepper, sour cream, milk and parsley until smooth. Cover, and keep warm until the meatloaf cakes are slightly cooled and removed from the pan. Place the meatloaf cakes on a flat surface. Using a ice cream scoop or piping bag, top each cake with sweet potato mash garnish with blanched broccoli or asparagus tips.
Pork Sandwiches with Chipotle Chopped Salad
Makes 4 servings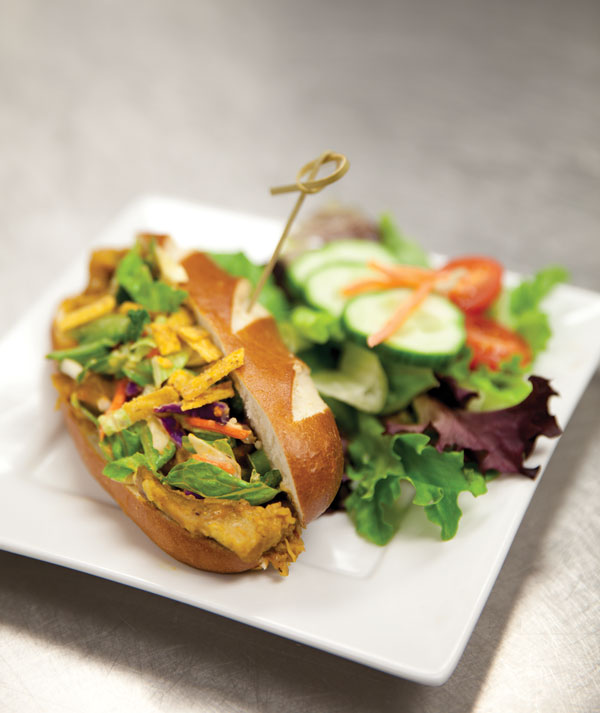 Ingredients:
1 pound pulled pork
1 teaspoon vegetable oil
½ cup mustard-based barbecue sauce
1 tablespoon apple cider vinegar
Chipotle Cheddar chopped salad kit
4 to 6 pretzel buns or hoagies
Directions:
Heat Pulled Pork in a sauté pan with the vegetable oil. Slowly stir in the barbecue sauce and the apple cider vinegar. While the pulled pork is heating, toss the Chipotle Chopped Salad kit together, and set aside. Slice the pretzel buns or hoagies, and stuff them with the pork mixture. Top with the dressed chopped salad.
Homemade First Foods
Making baby food is less time-consuming than you might expect. 417 Magazine Editor Katie Pollock Estes took the homemade baby food plunge last year, and she shares tips for how to do it yourself. Bonus: The stuff actually tastes good!
• Make several batches at once. 
If you're already firing up the stove, you might as well multi-task. Making baby food was easiest for me when I had three batches going at once. It only took an hour or two to get dozens of servings of purees. I had plenty of food for my son, and I spent anywhere from zero to two hours a week working on it.
• Don't buy fancy equipment. 
There are a handful of baby-specific food processors on the market, and some have handy features (like the ability to steam and puree in one bowl). But you don't need them. I don't even own a real blender. I just used my immersion blender, and it worked perfectly. My supply list: immersion blender, baking pans, pots, a steamer basket, mixing bowls, a silicon spatula, ice cube trays, Ziplock bags. That's it.
• Ice cube trays are your friend. 
I will admit I actually invested in special baby-food-specific freezer trays because I liked that they came with lids. But they were essentially just ice cube trays. Some people recommend the silicon trays that make those perfect square cubes. They're a just-right serving or half-serving size.
• Use common sense. 
There are lots of baby food recipe books on the market. I bought one, and I found it pretty handy at first. But really, making purees is so easy that you can probably skip the books if you already know how to, you know, cook a vegetable. Most recipes that I used simply called for gently steaming (but not too much) the veggies, pureeing them, and then adding a little liquid if it's too thick. That's really all there is to it.
• Experiment with flavors.
I was (and still am) always surprised by what my son, Oliver, will eat. After the first few batches of finely pureed veggies, I started to leave in chunks or add spices like cinnamon or cumin. You can even add things like quinoa for a little protein burst.
• Don't waste your leftovers. 
My son was over purees a long time ago because he prefers to feed himself. But I still used his frozen fruit and veggie purees. I added the fruit to plain Greek yogurt. You can even use some of the veggie cubes in soup bases. Really!
• Don't give in to mommy guilt. Once you dive into making baby food, you might feel some self-induced pressure to be really awesome at it. Don't do that to yourself. If you're having a hectic day, go to the store and buy a pouch or a jar, and don't beat yourself up over it.—Katie Pollock Estes
Not up for making your own baby food, but want to give your tots fresh purees made from local ingredients? Visit the Tiny Harvest booth at Farmers Market of the Ozarks to find handcrafted purees, toddler meals and more.
Camille Lockhart
A mom of three and a partner at BKD in Springfield, Camille Lockhart has a lot on her plate. She has three kids (14-year-old Olivia, 11-year-old Kent and 6-year-old Charlie) and a demanding job that requires her to travel regularly, but Camille manages to keep it all in balance—even despite her guinea pig nemesis at home.
417 Magazine: Have you always wanted a big family?
Camille Lockhart: I hadn't planned on it. However, if I had started a little younger, I would have welcomed a larger family.  But three feels perfect!
417: Between your husband's job as owner of Marketing Financial Services and your schedule at BKD, how much traveling do you both end up doing?
C.L.: Between the two of us, we average about five trips a month. But they can be day trips, overnight trips or, on occasion, four-day trips.
417: Does your husband help carry the torch at home?
C.L.: I could never have done this without my husband. He changed diapers and rocked crying babies at night, and now he fixes lunches and breakfast. In the 22 years I've been at BKD, he has never once complained about my career. He's my biggest supporter.
417: How do you balance such a demanding career and your family life?
C.L.: I think people are looking for a specific answer, but I don't think there is one. I say it's like standing on the middle of a seesaw trying to balance, and as it moves, you have to shift. That's what every day is like. You have to shift. 
417: Are you a planner?
C.L.: Everyone who knows me knows I'm a planner, but planning doesn't mean things are going to be smooth. It's just eliminating as many upsets as possible. 
417: What three words describe your approach as a mom?
C.L.: Fair, attentive and compassionate. I even checked with my kids to make sure I wasn't off track with those descriptors. 
417: Before having kids, how did you imagine yourself as a mom?
C.L.: I never thought about what I would be like as a mom, but when I became a mom, there were aspects about myself that appeared that I had no idea existed. I had so much patience; that did not exist before children. And I had a new-found attitude that anything is possible.
417: What would surprise your coworkers to learn about you as a mom?
C.L.: I don't think people at work know I can spend a whole weekend in my pajamas, or that I can build forts and love to get in the dirt and plant flowers. 
417: What traits do you see in your kids that you see in yourself and your husband?
C.L.: Olivia is very diligent in her work and very organized. I'd say she got that from me. Kent has a huge heart, but he can argue until you just want to jump out a window. His dad would say that comes from me, but I won't own it. And Charlie is such a creative and inventive kid. I think he gets that from his dad.
417: How do you and Alan manage your two schedules?
C.L.: We sit down on Sunday and look at our schedules to make sure they both jive. Then we take it one day at a time. And we have a house manager who works 40 to 45 hours a week managing the house, running errands and shopping for the groceries.
417: How long have you had a house manager?
C.L.: Eleven years. I had to sell the idea to Alan, but neither of us would do it any differently now. The additional expense of having help pales in comparison to the value of time with your children…much less your sanity! My goal is that when we are home, we are spending time together and not trying to mark off a to-do list. 
417: As a mom, who is your nemesis? 
C.L.: Buddy the guinea pig. He was a Christmas gift for my son, but after a year, we were all tired of him. I thought he would have a short shelf life, but he pushed on. 
417: What are three tips you give another mom in your shoes?
C.L.: Be flexible, make your time with your kids count and always be listening. —Ettie Berneking
Filling an Empty Nest
When should you start prepping for the day your children leave the nest? Joan Whitaker started getting her heart ready for the big day years before her kids had grown—and she did it by adding a very loved new member to the family.
Perhaps the greatest proof you've done a good parenting job is having your children grow up, leave home and stop asking for money. But, that period in between them showing independence and you having a new-found independence can be a little dicey.
The road to my children's emancipation started long before they even became teenagers. My niece Jessica is three years older than our oldest, so I watched her go through all the phases of growing up and was able to get a road map of what my future held. I could see that in the wink of an eye, it would be my time to send my baby birds out into the world. I felt confident I had prepared them well. They were well-traveled, resilient and independent. It was for myself I feared. 
So I did what millions of mothers do. I got a dog. Theoretically, Pepper was the kids' dog. "Please, oh please. We promise to feed her and walk her and pick up things she leaves behind." Yeah, right. Pepper quickly became my constant companion. Logan wanted to spend hours with her friends instead of me? No worries. Pepper was there. Dylan wanted to go to baseball camp for two weeks? More time for me to teach Pepper tricks. 
Pepper was like a stick-tight. She would look at me with those adorable, big brown eyes and my heart would melt. As the kids began to pull away, I pulled Pepper closer. When Logan, and then Dylan, left for college, I had Pepper to come home to. Pepper still needed me and was in ecstasy to see me even if I only walked into the next room for a few minutes. Dogs are like that.
Pepper left me just as Logan and Dylan returned. They had been off to see the world while we patiently waited at home. I firmly believe Pepper was put on this earth to get me through my children's exit to seek their fortune. And, when they were ready to settle down and chose Springfield as their location, Pepper sensed her work here was done. —Joan Whitaker
Help Your Kids
Soar
Terri Johnson and Sherry Cook, developers of The Quirkles, a science curriculum for young kids, offer a few tips and resources for preparing your children for different stages of their education, from pre-school on up to college. 
Pre-School
Must-Do Tips:
1. Read!: This is the key to preparing your kids for school, and you can never start reading too early.
2. Read to their level of interest: Kids love rhyming books and books with pictures. You want to engage their imaginations, and giving them an image to associate a word with will help them learn to read and write.
3. Read together: We are big proponents of shared reading. It helps build relationships and can become a great way to discuss the books.
Must-Buy Book: Anything by Dr. Seuss.
Must-Try Resource: Starfall.com is a great reading resource.
Kindergarten Through Middle School
Must-Do Tips
1. Become a critical thinker: Come up with exercises where your kid fills in the blank. 
2. Be creative: Sticking to structured curriculum is a good thing, but it's also important to schedule in unstructured creative time when kids can flex their imaginations.
3. Learning to learn: Help your kids learn to problem solve. Don't solve things for them. 
Must-Buy Book: Captain Underpants. This is a book kids and adults can both get a laugh from.
Must-Try Resource: Eduplace.com suggests books based on grade and interests.
High School
Must-Do Tips
1. Stay current: It's important for kids this age to stay in touch with world events. This will help them when interviewing for college.
2. Start early: Take the ACT as early as junior high. This will help your kid get used to the test and learn what they need to work on.
3. Get organized: Make a timeline of when all the applications are due for college. 
Must-Buy Book: Any ACT prep book
Must-Try Resource: Kevin Baker at Club Z (clubz417.com) offers ACT prep courses. — Ettie Berneking
Logan Aguirre and Cassie Darst, two 417-land moms, offer up a few dos and don'ts for hosting the perfect birthday bash without all the stress.
Cassie Darst, a stay-at-home mom to 3-year-old Everett, started hosting elaborate birthday parties after she and her sister began staging themed photo shoots of their kids. Logan Aguirre is associate publisher at 417 Magazine and is mom to 5-year-old Lucy and 2-year-old Cruz. When it comes to hosting birthday parties, Logan thinks big but keeps things simple. They share some handy tips for throwing a great party without going crazy in the process. 
Don't: Get started too late. Logan Aguirre normally starts brainstorming party ideas six weeks out, so she doesn't feel rushed. 
DO: Pick a party theme based on what your kid is interested in. Cassie Darst's nephew Luke was really into Indiana Jones, so they threw a party with a treasure hunt.
Do: Ask for help. Logan's friend Megan Johnson designed invitations for a recent pony party for Logan's daughter, Lucy. 
Do: Come up with original games. For the Indiana Jones party, the boys had to make it across the monkey bars. If they fell, it was into a snake pit, and they had to drink a bottle of antidote.
Do: Hire a photographer. You've put in all this time, and the photos will be the only thing you'll have to remember it by, and you're always way too busy to take the photos yourself.
Do: Pare down the menu. Kids never want to eat sitting down, and you might as well just give them cupcakes. We plan the parties in between meal times, so you don't have to host a full supper for the kids and guests. 
Don't: Schedule it too late in the day. Logan likes to have the party in the morning around 10 a.m.  Avoiding mealtimes can help you save, and you don't cut into nap time. 
Do: Say thank you. Logan always has Lucy write her own thank-you notes. When she was still learning to write, she signed her name. And before she could sign her name, she drew on the thank you note with some crayons. 
Do: Get your child involved. Logan had Lucy help her pick stuff up for the party and do the prep work. 
Don't: Try to be too clever. You'll stress yourself out. Remember, these are kids, and the details are lost on them. They like everything. —Ettie Berneking
Teresa Brierly 
Teresa Brierly shares tips for transforming from a stay-at-home mom to a mom who started a full-time career and went back to school. Read on to see how she made it all work.
a stay-at-home mom for more than 10 years, Teresa Brierly slowly eased back into the work force a few years ago. And because having a job simply wasn't satisfactory enough for the mother of two, she also went back to school. "Allison was 12 when I went back, and Christopher was 9," she says. Her kids are now 14 and 11. 
While working on achieving her Masters of Arts in Teaching at Missouri State University, Brierly became a student teacher at Cherokee Middle School. Then, in June 2013, she began her role as a vocal music teacher at Carver Middle School. This means she's balancing a full-time teaching job on top of her course load, all while being the mom of two busy kiddos who need to be schlepped to everything from competitive swim practice to traveling team basketball games. Oh, and she also takes care of her aging mother. Check out her tips if you're considering adding work or school to your schedule.
1. Find an organization system that works for you. 
"I make a schedule for everyone in the family every night," Brierly says. "The white board even includes details, like who will pick the kids up at school." 
2. Give the kids more responsibilities. 
When she went from a stay-at-home mom to a mom who works and goes to school, Brierly looked to her children for more assistance. The kids are both responsible for keeping their own rooms and bathroom clean, but they also help out with other house-cleaning duties once a week. "Allison is responsible for vacuuming the upstairs, and Chris vacuums the downstairs," Brierly says. 
3. Let them have choices. 
Brierly admits she felt a bit guilty when she first went back to school, and she felt even more guilty when she learned she had to take a summer course. "I didn't want to feel like I was taking away from their summer vacation, too," Brierly says. But rather than keeping the kids cooped up in the house, Brierly found local camps happening during her summer course time and asked the kids if they would like to attend. She also considered hiring a sitter to take them to the pool a couple of days a week, and she had their grandma, who they call Nana, come over and stay with them sometimes. And who doesn't love time with Nana?—Savannah Waszczuk
A handful of local businesses are models for mom- and family-friendly workplaces, offering everything from on-site daycares to flexible schedules that allow for plenty of time with the kids.
The Anti-Agency: 2balance
If you've ever been to 2balance—a public relations, human resources and marketing communications boutique in Springfield—you've probably already met most of Sheri Hawkins' and Jackie Langdon's families. Hawkins and Langdon met in the '80s while working at Noble. Hawkins started 2balance in 2006, and Langdon joined the team a year later. After leaving the corporate setting behind, the two moms enlisted the help of their daughters and  granddaughters. While their granddaughters are too young to work at the office, the little girls, ages 6 and 5, serve cups of tea (warm water) and often greet clients when they arrive. 
Making 2balance as family friendly as possible was one of its main building-blocks. "In the '80s, you couldn't talk about your kids," Langdon says. "So we wanted to create an environment that was supportive and truly balanced family and work." Employees are welcome to bring their children into the office whenever they need. There's even a craft area and yoga room where the kids can play.
The Mini-Suburb: Prime Inc.
You might not expect one of the nation's largest trucking companies to also be one of 417-land's most forward-thinking businesses, but Prime Inc. has long been family-focused. Our ears first perked up when we heard it offers an on-site preschool that is licensed and accredited by the state of Missouri. "We have kids as young as a few weeks old up to school age," says Barbara Gaskill of Prime Inc. "The main mission at the learning center is to get kids ready for school." The center offers creative curriculum for the kids, and their parents often stop in for a quick lunch break of quality reading time.
But that isn't all Prime offers. There's also an on-site gym, a doctor's office, a cafeteria that sells groceries and even a full-service salon and spa where you and your kids can get your hair cut. 
The Playroom: Fox Grape Dental
It's not every day that your trip to the dentist includes an impromptu visit from the dentist's tiny tyke who happened to crawl down the hall, but for many of the patients at Fox Grape Family Dentistry, that's exactly what they loved most about this Springfield-based dentist. Back when Dr. Howard Shayne and Dr. Mary Lynn Shayne opened Fox Grape, they were new to town and didn't know anyone. Instead of dropping off their 6-month-old baby girl at the nearest daycare, they decided to bring her to work with them. They designated one room as the playroom, hired a full-time babysitter and started welcoming in patients. It worked so well that they did the same thing for their son when he was born. "It was great to have our kids here while we were working," says Dr. Mary Lynn Shayne. "It was nice to be able to see their first steps, and some of those firsts you don't get to see when you're not home." 
Today, the playroom is still in use, even though the Shayne children aren't so little anymore. Now it's the patients' children who are palling around the office. "Having our kids here made for a nice family atmosphere," Shayne says. "It really reflects the nature of our practice."­—Ettie Berneking
Dressing like a mom doesn't have to be boring. Blend traditional business wear with spring's brightest hues and prints to give your office look an instant promotion.
⬅ B&K black jacket, $425 at Harem & Company; Inspired Style Limoncello dress, $124 at Red Poppy Boutique; black and gold necklace, $24 at Red Poppy Boutique; Vince Camuto Black Resina boots, $275 at Harem & Company
GC Tribeca grey oxfords, $51 at The Uptown Boutique

Geneva Watches, all styles $19.99 at
Countryside Cottage
Kate Spade 2 Park Avenue Beau purse, $998 at Harem & Company
You and your hubby probably don't get nights out alone too often, so when you do, make it count. This romantic look is complete with soft tones, sweet pleats and just a little shine.  
âž¡BCBG Generation persimmon pleated dress, $128 at STAXX; silver and gold rhinestone belt, $16 at Rodi Boutique; gold and rhinestone stretch bracelet, $21 at The Uptown Boutique; Stuart Weitzman Daisy Specchio shoes, $330 at Harem & Company
Xirena lace lingerie, $48–62 at Ashby's Boutique • Denim Lab
| | |
| --- | --- |
| | |
| JNB clutch, $49.95 at Baglady Boutique | Ballerine Shelly Kyle perfume, $74.95 at The Market |
You may not have much time between leaving the gym and picking up the kids, but that doesn't mean you can't look great. Pull a quick look together with a trendy head wrap and oversized top.
Orange Snake Stella sports head wrap, $15 at The Uptown Boutique; Grey flowy top, $52 at Rodi Boutique; Lole Stephanie 2 Skirt, $100 at Dynamic Earth; Lululemon Wunder Under Pant, $82 at Dynamic Earth; Kavu Singapore Satchel sport bag, $45 at Dynamic Earth
Ikat duffel, $50 at Blue Raven
Elastic beaded headband, $32 at Social
Yosi Samra bendable flats, $20 at STAXX