5 Best Cuban Sandwiches
There's something magical about biting into crunchy bread and getting a mouthful of juicy meat and tangy pickles. Drooling yet? There are several top-notch Cuban sandwiches at restaurants around 417-land, and we rounded up our five favorites.
by Katie Pollock Estes | Photo by Kevin O'Riley
Mar 2014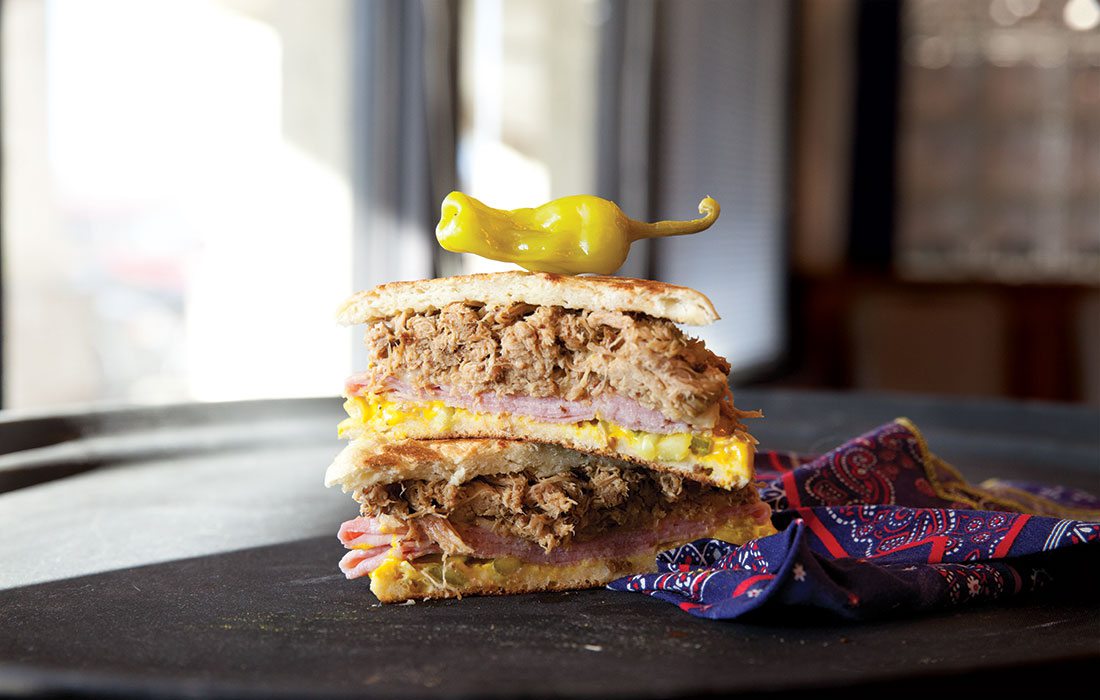 1. Cubano from Nearly Famous Deli & Pasta House 
2708 S. Glenstone Ave., Springfield, 417-883-3403
Why it's great: Our favorite menu items at Nearly Famous are the daily sandwich specials. Snag the Cubano on Tuesdays. Ciabatta bread is packed with a thick layer of tender carnitas pork on top of thinly sliced ham, dill pickle and mustard relish all held together with Swiss cheese that gets good and melty when the sandwich is pressed. It makes us really love Tuesday.  
On the side: Buy a 99-cent pecan bar for dessert. 
2. Cuban from The Dugout 
1218 E. Trafficway St., Springfield, 417-866-2255
Why it's great: Grilled and pressed, just like it should be, this delicious sandwich is packed with ham, smoked pulled pork, Swiss cheese, tangy mustard and crunchy dill pickles. It's all the classic Cuban goodies plus a side of hand-cut French fries, which are the perfect complement. 
On the side: Order some Mother's Beer-Batter Fried Pickles as an app with this sandwich. 
3. Cubana from Scotch & Soda 
301 South Ave., Springfield, 417-719-4224
Why it's great: The pork is roasted in-house, and it's packed with flavor. It's one of the stars of this Cuban sandwich, along with Black Forest ham, provolone cheese (instead of the typical Swiss) and dill pickles on a baguette. This isn't your typical Cuban, though, because Scotch & Soda also accents the traditional Cuban flavors with roasted bell peppers and chipotle mayo.  
On the side:  Get this with an adult beverage, because you shouldn't pass up the cocktails here.
4. Hot Pressed Cuban from Dagwood's Sandwich Shoppe 
1111 E. Republic Rd., Springfield, 417-886-5155
Why it's great: You can order this monstrously huge sandwich as a half or a whole. Cuban bread is topped with ham, Genoa salami, pork loin, pickles, mayo, mustard and Swiss cheese, then it's pressed super-thin, to create a hearty crunch on the outside and layers of meaty goodness inside. 
On the side:  Grab a bag of Zapp's Voodoo chips. They're sweet and spicy and oh-so-delish.
5. Cuban Sandwich from Country Girls Espresso 
2671 E. Sunshine St., Springfield, 417-887-7777
Why it's great: You can order this cold or hot pressed. Do yourself a favor and order it pressed; it's phenomenal. This authentic Cuban features roasted pork, Swiss cheese, ham, pickles and mustard. The textural combo of tender pork mixed with chewy-crispy bread makes this sammie a star. 
On the side:  Get a bag of plaintain chips. That's not a common menu item in 417-land!