Reviews
City Butcher and Barbecue
City Butcher and Barbecue is simple in the very best way, churning out top-notch meat with no frills.
By Dylan Whitaker | Photos by Kevin O'Riley
Mar 2015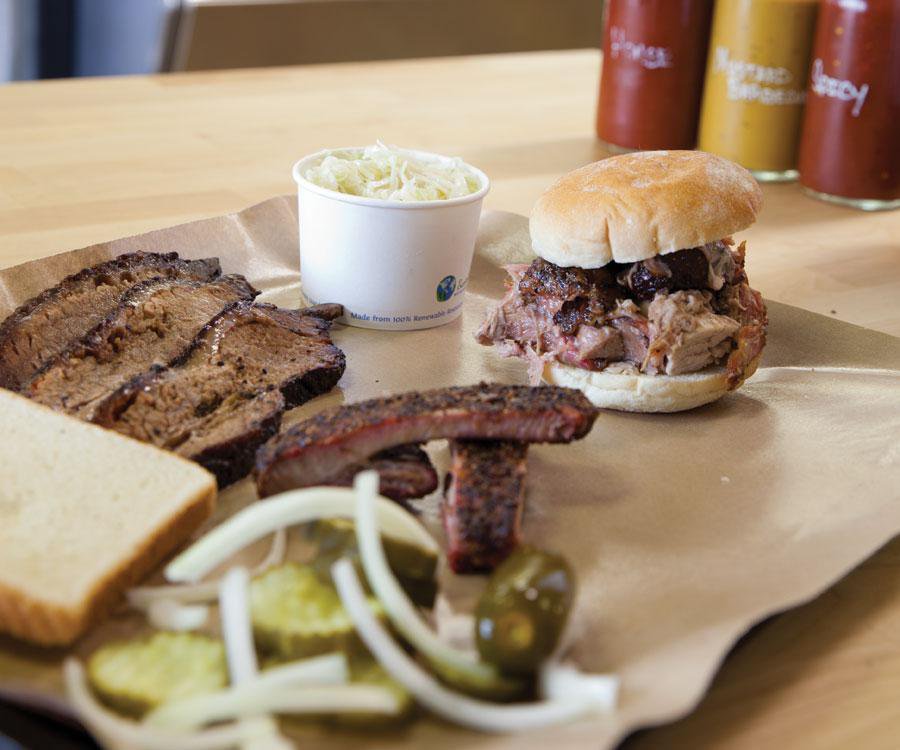 City Butcher is a Texas-style barbecue restaurant that absolutely kills it when it comes to brisket. The new eatery also serves pulled pork, sausage, ribs and a lot more, and it seemed like almost every day, it was posting that it was "sold out folks!" on its Facebook page. We had to try it. 
I recently went to lunch there with 417 Magazine's assistant editor, Ettie Berneking. When we opened the door, every table was full, and as we made our way to the back of the line, we started scouting diners who looked like they were finishing up. But as we shuffled through the line, it became very apparent that it's totally okay to just grab an open seat at a table with random people. We love that!
The décor is very minimal, and it's a perfect fit for the restaurant. That's because the food is simple, the ordering process is simple, and the presentation is simple. Now, don't take the food being simple as a negative. It's simple because these guys know what they are doing. The food they are producing is absolutely amazing, and all the extra flair is not needed. You step up to the counter and place your order, and the meat is cut right in front of you.
I ordered the pulled pork, and Ettie jumped on the brisket wagon. Before I could get my side order out of my mouth, the guy behind the counter tossed out a couple of bites of brisket for us to try. I can't say what my exact words were, but they rhymed with holy fit! It was that good. Juicy, insanely flavorful and very light on the smoke. It was beautiful. He asked me if I still wanted pulled pork (which was a valid question since I am sure I had a stupid-looking smile on my face from how happy the bite of brisket made me), but I stuck with my choice and had him throw in two ribs and a side of coleslaw. 
All the food is placed on a tray that is lined with brown paper. No plates, no fuss, just delicious food. You will need to make a stop and snag lots of paper towels on the way to your seat. I doused my pulled pork sandwich with City's mustard barbecue sauce and dug in. I don't think I talked to Ettie for like the first couple of minutes because I was so infatuated with how good this barbecue was. Do yourself a favor, and make your way to City Butcher for some grub. But don't wait too long, because they might be all sold out, folks!