Reviews
Lucky J Steakhouse & Arena
When it comes to dinner and a show, few do it better than Lucky J Steakhouse & Arena in Carthage.
By Ettie Berneking | Photo by Brandon Alms
Mar 2015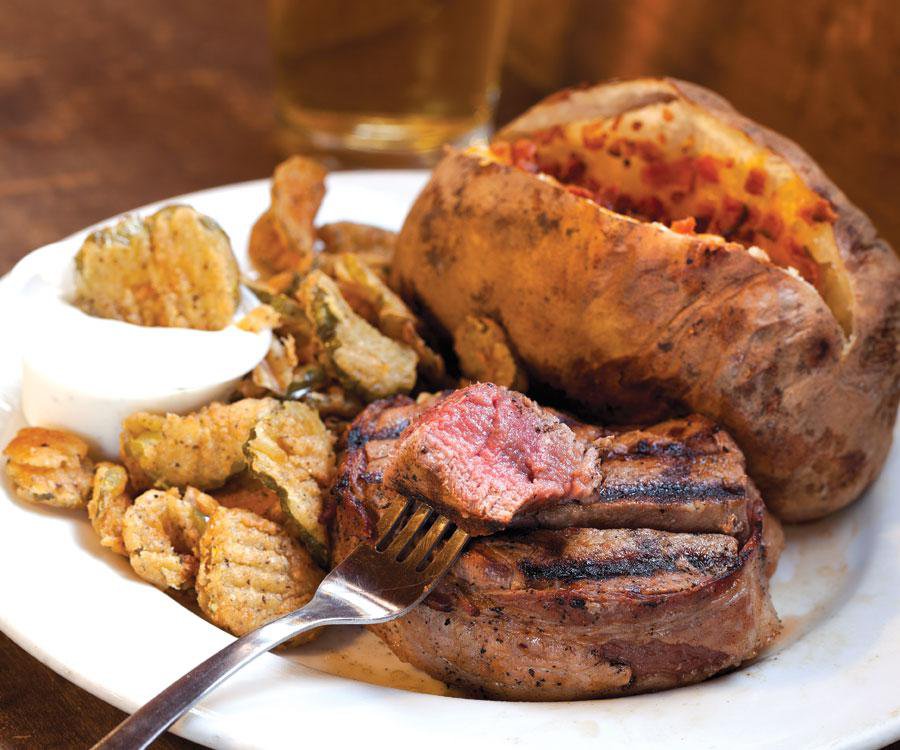 When someone invites you to enjoy an evening of steak and rodeo, you don't say no. And that's exactly how I ended up headed to Carthage with my brother, Ethan, to enjoy dinner and a show at Lucky J Steakhouse & Arena in Carthage.
 I have heard so many words of praise about this cowboy haven that I have lost count of all the fried, loaded, buttered and grilled items happy reviewers have lobbed my way. I finally decided it was time to haul my steak-loving brother over to Carthage to try this place for myself, and I'm happy to say, it was truly a blast.
When we finally pulled into the dusty parking lot at about 7 p.m. on a lazy Saturday night, we were greeted by rows of huge trucks, and a sea of oversized Stetsons bobbed up and down inside as hungry diners cut into juicy steaks, hamburgers and loaded baked potatoes. Looking around, Ethan and I had to do a double take before we broke out into wide smiles. Even with about a year's worth of recommendations leading us to this steakhouse, we weren't prepared for the abundance of cowboy décor that coated the place from floor to ceiling.
This is what I've always imagined John Wayne's summer cabin to look like. Smoothed logs make up the stair railings, and the upstairs loft is crowded with stuffed black bears, goats and other fierce creatures that now lord over the dining hall. Leather saddles drape over railings, and antlers are mounted proudly. This place drips of masculinity, and Ethan and I were sold instantly.
The restaurant is broken up into two distinct dining areas. The front area is packed with massive tables and comfy booths while the back area houses the popular bar and rows of high-tops made from felled trees that have been sliced smoothly down the middle. It's here that diners can crowd around a long glass window and enjoy a seriously huge steak and all the rodeo rowdiness they crave.
Most nights here include some sort of rodeo, whether it's barrel racing, team roping or, if you dare, open ride nights on Thursdays. I was all ready to raise a beer and a yelp as chap-clad riders raced around barrels and lassoed young calves, but sadly, the rodeo was empty when Ethan and I visited. 
As far as the food goes, it wasn't the best steak I've ever had, but it was a ton of food and totally worth the trip. We started with an enormous basket of fried pickles and cool ranch dressing. To get the true Lucky J experience, I ordered a cold beer and the filet mignon. I'm not a huge steak person, but the family sitting next to us recommended this cut along with the loaded baked potato, which sounded delicious. When our food arrived, I had to laugh at the portions. They were huge! I think my potato must have weighed at least 3 pounds, and that was before it was covered in melted butter, extra-crispy bacon, stringy cheddar cheese and sour cream. 
Ethan ordered a 14-ounce KC strip that covered his entire plate and a side of mac and cheese. As I ate forkfuls of juicy filet, Ethan made mini mac and cheese sandwiches with the buttery roll that came with his meal. It was like our childhood re-created. Back in his teen years, Ethan could easily finish off two steaks. But on this night, he couldn't even make it through half of his strip. I think he was disappointed with himself. 
As we loaded up our to-go boxes and gulped down the last of our beers, we took one more long look at the never-ending line of diners who kept pulling up seats around us. Ethan had already texted his best buds about a future steak and rodeo night while I was making plans for how to best devour the rest of my baked potato the next morning. The final decision: an over-easy egg and more crispy bacon. Delicious!
Q&A with owner Matt Freeman
417 Magazine: When your wife's father opened the restaurant in 2001, did he have any idea how popular the place would become?
Matt Freeman: No! Even that first winter when it opened, he had to add on to the restaurant and double the size.
417: Did he have a background in the restaurant scene?
M.F.: He's just crazy. No, I'm kidding. He had always catered, but he had never owned a restaurant. He decided to open a restaurant and bar and opened the arena with some barrel racing and roping, and it's just grown from there.
417: How has the menu changed over the years?
M.F.: My wife and I bought the restaurant in 2002 and expanded the menu. It started with a few burgers and a few steaks and a little barbecue.
417: What is the most popular steak on the menu today?
M.F.: The most popular is the house steak. It's a petit shoulder tender, very lean and tender cut of meat. Next to that would be the ribeye. All of our steaks are hand-cut and fresh. We buy whole ribeyes and whole loins and hand-cut it all ourselves.
417: How much meat do you go through each week?
M.F.: We usually go through 800 to 1,000 pounds of meat each week.