Travel
A Two-Week Tour of India
Our writer shares where to stay, what to eat, and how to get around this deliciously dizzying country. Read on, and find inspiration to plan your own trip to India.
By Anne Roderique-Jones
Mar 2015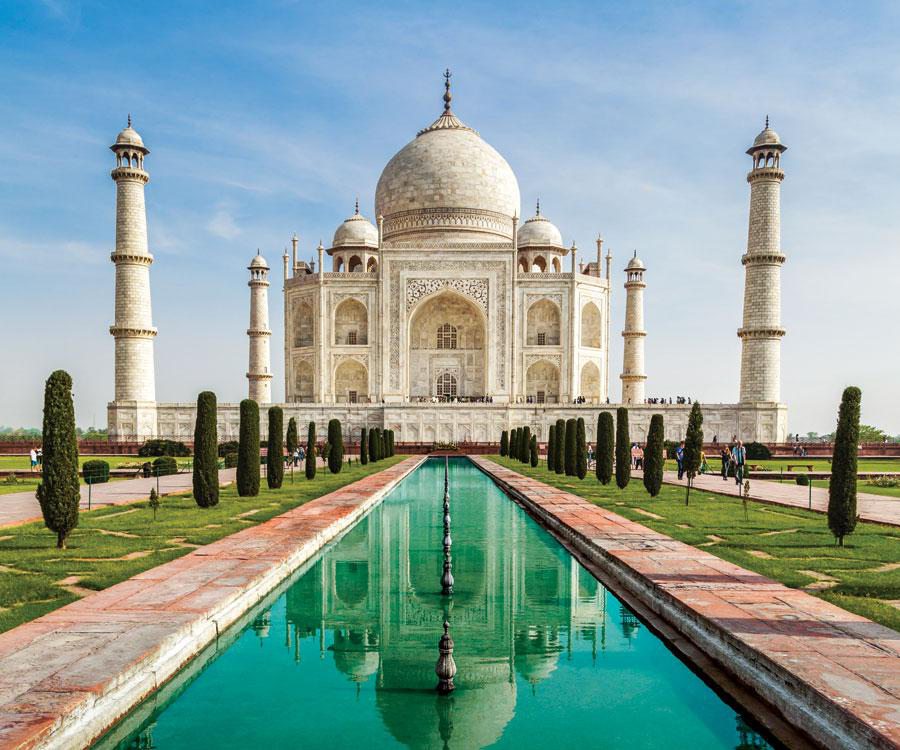 For the wanderlust traveler, India is one of those bucket-lister countries. The vibrant colors just begging to be photographed, the mass of humanity living together in organized chaos, and the food—each meal peppered with fragrant sauces and glorious scents permeating the streets upon each turn. It is glorious. 
But India is not for the faint of heart, and for that reason, I took this journey with my trusted travel partner who doubles as my husband, Nate. If you're flying solo, tour groups are a dandy option as well. The goal is to explore India with someone who shares a similar tourist style as you: For us, this meant a simple carry-on, ferocious appetites and a laid-back attitude. 
First-timers to India most often tour the so-called Golden Triangle: the three cities Delhi, Agra and Jaipur. You'd be remiss not to follow this route that's so rich in history, but it's also worth veering off and tackling a few side trips recommended below. 
Once we arrived in India, we hired a driver for the duration of the trip. It's a surprisingly inexpensive mode of touring the country and worth skipping the hassle of train travel. Here's how we spent two weeks in this dazzling, yet dizzying country. 
Delhi
We had only two days in Delhi, and this was our biggest regret. As it turns out, it was our favorite among the handful of cities we visited, with its fascinating juxtaposition of old and new—quite literally with both Old Delhi and New Delhi to be seen. Our home base was The Lodhi hotel near the 90-acre Lodhi Gardens, and upon landing, we made it our first stop. Here, we allowed the staff to plan us a spin around town in one of their own tuk-tuks. These modes of transportation are an incredibly fun way to see the sizzling streets of New Delhi, a soft breeze blowing though your hair as you peek out to catch an eyes-wide-open view of what will be your debut to the Indian world. Near the hotel is Humayun's Tomb (whc.unesco.org/en/list/232), an impressive introduction to Indian history. The UNESCO World Heritage Site is particularly lovely at sunset, where you can spend a couple of hours meandering the lush lawns and near-empty grounds of India's first garden tomb. Additional worthwhile sites include a stroll though the Rashtrapati Bhavan, now the presidential residence; the National Museum; and Connaught Place for upscale shopping, cocktails and dining.  
As veteran travelers, Nate and I have learned that bustling, Asian countries are a favorite to be toured, but it's best to reward yourself with upscale hotel accommodations to end the day. In India, that alluring hustle of daily life is taken to the extreme. To say the country is buzzing with activity would be an understatement. India can be likened to New York City on steroids as it hums noise, traffic and chaos. We often saw brightly colored trucks with the words "horn please" scrawled along the back—encouraging other drivers to honk. But it works. It's safe, the people are lovely, and the city is eye-opening—which is why we travel. 
At The Lodhi, we were rewarded with a posh place to luxuriate come day's end. After touring the bustling streets, we were treated to a palatial guest room. Just before melting into the sheets, a dip in your very own private pool is a must. Yes, a private pool—on the balcony.
The next day can be spent in Old Delhi, visiting the Red Fort. But if missed, plenty of forts can be seen in the future. India is a country that lacks for many things, but forts are certainly not one of them. A must-do in this area is the Old Delhi Bazaar Walk & Haveli Visit food tour—a highlight of our trip. I realize this sounds a scosh uncultured, here with all of the centuries-old monuments and heritage architecture, but this walking tour set the tone for our entire visit. Our guide and owner Dhruv is New Delhi's toast of the town. On this tour, he'll guide you toward the most amazing (and incredibly safe) Indian street foods and show you where to have a proper ear-cleaning from the city's most well-regarded cleaner. We zigzagged the alleys of Old Delhi and were invited into Dhruv's home to share a meal made by his wife. It was an extraordinarily special afternoon that we'll never forget.  
Agra
Agra's not going to win any beauty pageants, but there's a reason it's on every India itinerary, and that's the great Taj Mahal. The Islamic tomb is something that's seen in loads of photos and history books, but nothing could have prepared us for such great splendor. What's so fantastic about this massive tourist treasure is the setup to enter the building: starting in a line though a park-like path, maneuvering though hawkers selling snow globes (ignore, ignore, ignore—unless you're a collector of snow globes, of course), purchasing your ticket that includes a pair of necessary holy site shoe covers and a gratis bottle of water, then navigating another line, a security check point and a gate. All of this razzmatazz feels like an airport cattle call, but it serves to make the majestic Wonder of the World a surprise. You don't casually meander up to the Taj, nor does it appear into sight getting larger and larger. The Taj Mahal hits you all at once—boom! Here, a magnificent beast, in all of its grand glory, in front of your eyes, and it's breathtaking. 
If time allows, visit the Agra Fort (whc.unesco.org/en/list/251), known as the Red Fort of Agra, for the fascinating historical context. Shah Jahan built the fort in 1565 and expanded the impressive complex to become a palace. The building once served as a prison for the emperor, who built the Taj Mahal, after his son forcibly took control of the throne. 
One night is plenty in this city, and you can justify spending a chunk of change on a hotel with a view of the Taj Mahal or—like we did—reason that with less than 24 hours, it's best to use this city for more budget-like accommodations where you'll barely unpack your bag. 
Jaipur
Known as the Pink City, Jaipur's buildings and homes are washed in a salmon-colored hue. It's another bustling metropolis and the third stop on the Golden Triangle. Here, a few sites are certainly worth visiting, and among our favorites were the 16th-century Amber Fort (amberfort.org), constructed of red sandstone and white marble where the Kachwaha clan once ruled. Many tourists choose to reach the top by elephants, each festively decorated and adorned. We chose to walk and give the beautiful creatures a rest while torching off the terrific amounts of buttery naan we'd been consuming over the past week. Either way, you're rewarded with a fantastic architectural wonder. 
Also in Jaipur is the City Palace, the ancestral home of the Maharajas of Jaipur. And for those looking to scope out a bit of sparkle, there's Gem Palace: the family-owned jewelry emporium brimming with cases of silver and jewels. In fact, Jaipur is a hotbed for shopping, so grab your jewelry and textiles here. I purchased a marvelous pashmina from our hotel at the Samode Haveli and later regretted not buying an armload. It was here that we stayed in our first traditional heritage hotel, a must while visiting the country. Think: Best Exotic Marigold Hotel with major upgrades and even more Brits. As a hotel enthusiast, it's entrancing to experience a property that honors the deep history of a country yet provides modern elegance with sparkling swimming pools, twinkling courtyards, beautifully restored furniture and superb service. 
Nagaur 
Locals consider this a blip on the map, but Nagaur was one of our favorite stops. In fact, we loved it so much that we stayed an extra night at the Ranvas at Nagaur. The 18th-century residence of Maharaja Bakht Singh of Jodhpur has been meticulously restored to hold 10 havelis, each with two or three bedrooms, all with opulent courtyards. There's a sprawling swimming pool, a breezy open-air restaurant, and what appears to be a three-to-one staff-to-guest ratio for on-site ground tours that are incredibly fascinating for the history buff. By this time, we'd visited so many forts, but actually sleeping in one was about as grand as it gets. 
Udaipur
The drive to a side trip in Udaipur is long, but worth the effort. I'd suggest re-familiarizing yourself with a few old-school games played on road trips before we all had iPhones and iPads and iEverything. Nate and I whittled away the hours with 20 Questions, Would You Rather and I Never. And of course we napped and stopped for what would become our favorite snack: Masala Munch potato chips and tiny cups of steaming chai. 
Once you reach Udaipur, it's easy to see why it's referred to as the City of Lakes. The whitewashed palaces, resting against the background of the pristine Lake Pichola, and the hills, winding with havelis, temples and palaces, are of unparallel beauty. It's here that we stayed in the most luxurious of all hotels, The Oberoi Udaivilas—accessible only by boat. A rose petal shower greets guests on the way to their beautiful rooms—ours had a semi-private pool that glistened along the private courtyard. We found it hard to leave. We ordered room service and sipped cocktails after a dip. We had lunch al fresco before watching those brilliant, orange-pink Indian sunsets. Finally, we left the hotel and found that a visit to the City Palace—the largest in Rajasthan—is perfectly lovely. But if you've splurged on something as jazzy as The Oberoi, it's perfectly okay to give yourself permission to stay put and palace-free.
Plan a Trip
Hotel Hot List
• Splurge-Worthy
The Oberoi Udalvillas 
Located in Udaipur 
oberoihotels.com/hotels-in-udaipur
The Lodhi 
Located in New Delhi 
thelodhi.com
• Above-Average 
Haveli Samode 
Located in Jaipur
samode.com 
Ranvas at Nagaur 
Located in Nagaur
ranvasnagaur.com
• Best Budget
The Gateway 
Located in Agra
thegatewayhotels.com/fatehabad-road-agra
Tour companies and drivers
Old Delhi Bazaar Walk & Haveli Visit
Offers food-focused tours.
masterjikeehaveli.com
Indian Moments 
Offers unique tours throughout the country.
indianmoments.com
Ashok Taxi Tours 
Offers custom drives around India.
i-love-my-india.co.in/Roundtrips-Day-Tours-Sightseeing.html
Must-Try Eats
Dosa: A rolled and stuffed Indian crepe
Biryani: A fragrant rice dish, often served with a protein 
Pani puri: Light and crispy hollow rounds of bread filled with cool, spiced water and Indian spices 
Chaat: A crunchy, savory street snack
Samosa: A triangular snack food, made of potato stuffing and served with a chutney
Badam kulfi: Indian ice cream
Gulab jamun: A ball of dessert that's best eaten with vanilla ice 
Lassi: A cooling yogurt drink that's served sweet, salty, fruit-flavored, or (my favorite) rose-scented