Style
Trending: Chokers
Channel your inner Alanis Morissette with these fashion-forward choker necklaces.
Written by Adrienne Donica | Styled by Dylan Lyle | Photos by Brandon Alms
Mar 2017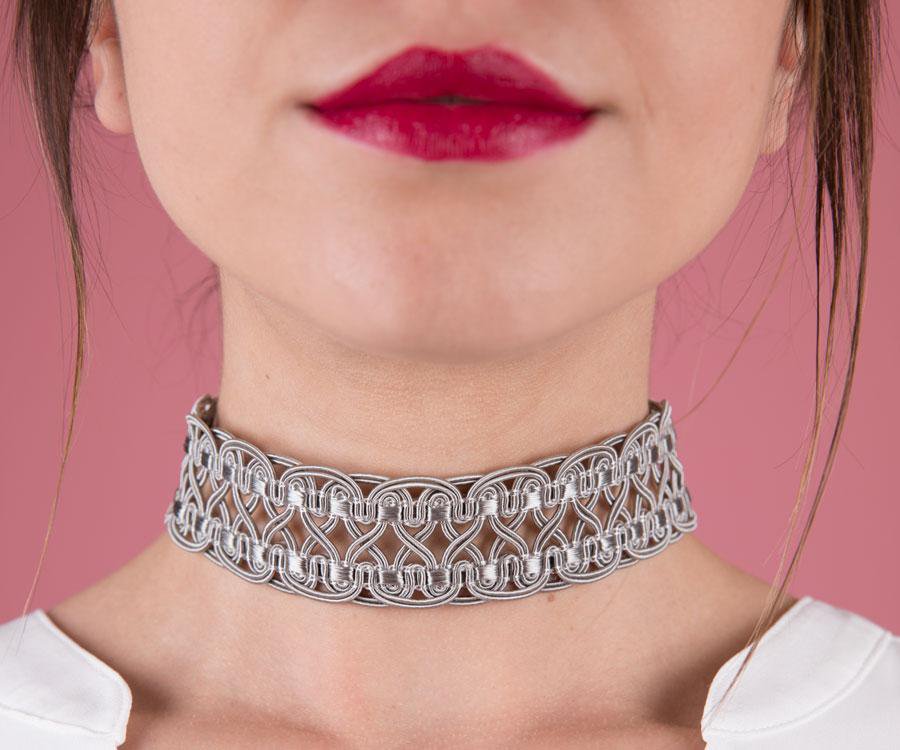 Natalie B. Tatjana choker in gray lace, $33
There's a particular nostalgia about the '90s that's unlike other long-gone decades. People aren't longing for the fanny packs and big hair of the '80s, and I think we can all agree that the Juicy Couture velour track suits popularized by Britney Spears in the aughts were a mistake. But the '90s are different, perhaps because the world felt a little simpler. Beyoncé was just a singer in Destiny's Child, Google was in its infancy, and Nokia was the phone brand of choice. 

Natalie B. Heidi hand-dyed velvet choker in blue sage, $31 
It was a golden era of fashion and culture that people can't help but revisit, and the latest reiteration comes in the form of choker necklaces. Lucky for us, the stretchy plastic accessories once emblematic of '90s grunge have gotten an upgrade. They now come in a variety of materials and styles that allow for greater flexibility and even a touch of class.
Natalie B. Brooke choker in cream lace, $22 
"It's definitely something that I noticed a little while back starting to come into style," says Andrea Pena, owner of MODERN Society. "I have always loved the trend, and so I was excited to jump on the bandwagon." Since early fall 2016, MODERN Society has sold 15 different chokers from Natalie B. Jewelry, including chunkier, bohemian bands; statement chokers and delicate fashions, which Pena says are almost Victorian-inspired.
Natalie B. Candice choker in navy, $33
The range of options is good news for everyone, especially for people who might be hesitant to try the new trend. "I would just say to start small and go with a color that incorporates into your wardrobe," Pena says. She also encourages people to ease into chokers by wearing necklaces that sit a little lower on the neck than a choker does. 
Once you've mastered the feel, Pena recommends pairing one of the Natalie B. statement chokers that has a large pendant with an off-the-shoulder or strapless top. Smaller, more delicate styles such as a chain choker are even appropriate for work or other formal occasions. "I think it's a nice way to add accessories," Pena says of the trend. "If you're willing to try one, then there's a style that would fit your style."