Profiles
Catching Up with Mary Kromrey, the New Executive Director of Ozark Greenways
Mary Kromrey has raised $935,000 and counting since joining Ozark Greenways. We caught up with her as she embarks on her first full year as executive director of the nonprofit that has helped develop some of our favorite 417-land trails and bike routes.
By Adrienne Donica
Mar 2018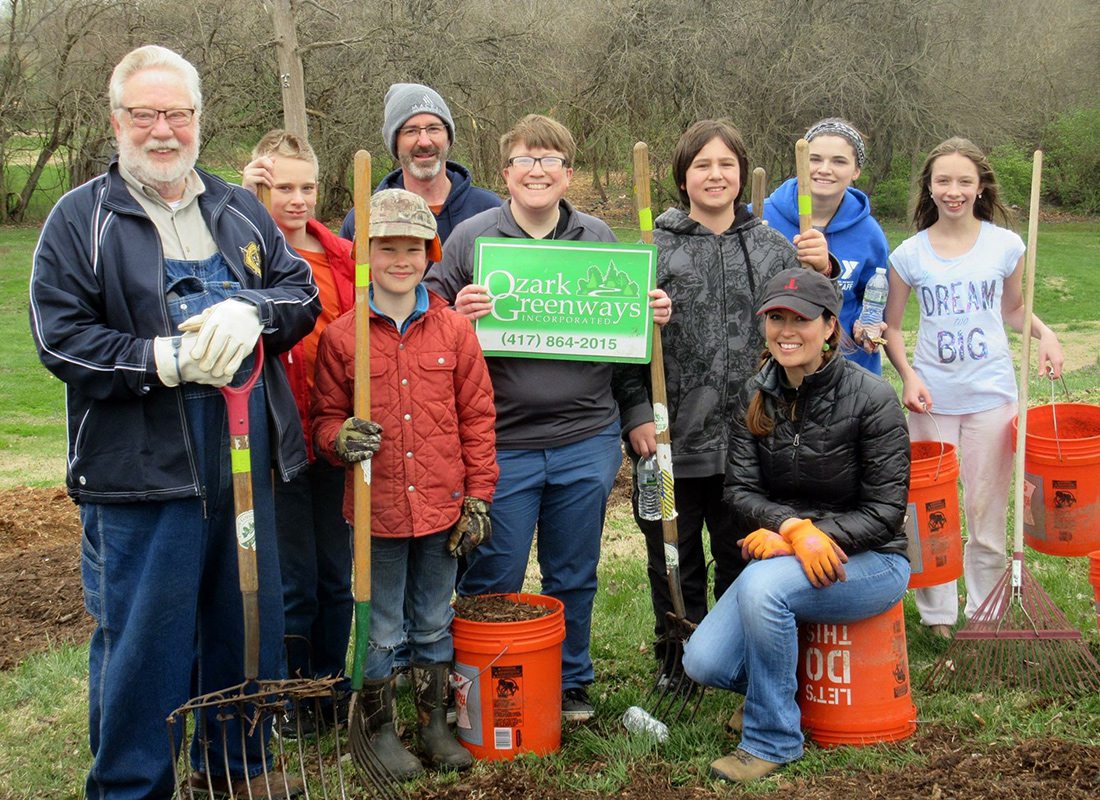 417 Magazine: You worked in health and wellness for 12-plus years prior to joining Ozark Greenways. Why did you make the switch?
Mary Kromrey: I do have a background in health and wellness promotion and management, which had been very focused on programs. Over the years, I was able to realize and see that people need places in which they can be healthy. Programs are great, and they have their place, but if we want folks to move more and to walk more and to bicycle and to get outside and play, then we need safe places for them to do that. I feel that trails and parks are an integral part of the community and a necessity to help keep our residents healthy and happy.

417: So what's your favorite greenway trail?
M.K.: You know, I'm one of those people that every time I hear a song come on the radio, I'm like, "Oh my gosh that's my favorite song." And when I'm on the trail, I'm like, "Oh my gosh, this is my favorite trail." But right now I'm pretty jazzed about our Fulbright Spring Greenway that's up on the north side of town. It used to be called the South Dry Sac Greenway because we are in that stream corridor. There has been this pesky little gap that we're getting to fill [in 2018]. So that will be just over seven miles of continuous hard-surface greenway that will run from Ritter Springs all the way over to Truman Elementary. That's probably my favorite one today. Ask me tomorrow, and it'll be different.

417: What are you looking forward to now that you're executive director?
M.K.: I do feel that there is a buzz in the air right now. I feel that 2018, 2019 might be the time in which our community as a whole says, "You know what? This trail network is more [than] a nice jogging path through the woods." And so with that I'm hoping to see some of our key trail gaps filled and us saying, "You know what? Nashville, [Tennessee]; Boise, [Idaho]; Lincoln, [Nebraska]; Omaha, [Nebraska]; northwest Arkansas—all these cities around us are starting to pull ahead because they recognized that a connected trail network is more than a cute jogging path through the woods." And I want to see us surpass them. You know these cities have 20, 30, 40 miles of greenway trails. We're already sitting at over 73 miles. Imagine the possibilities if we had some really good connected loops.

417: Are there any concrete plans for that kind of connected loop?
M.K.: There is not a funded plan. We are currently operating off our city's current comprehensive plan, which is Vision 20/20, and within that there's a chapter for parks, greenways and open spaces. I believe our city leadership and city council realize that our comprehensive plan needs to be updated. So right now is one of those moments where at the board level, we're talking strategy. We have to be sure that we're in those conversations to say, "Hey, let's take this parks, greenways and open spaces plan to the next level and let's look at some connected loops. Let's look at an urban core loop. Let's see how we can get that Galloway Creek Greenway, which is one of our most popular ones, connected over to Wilson's Creek Greenway." If you look at Atlanta and you look at Boise, they're working on various forms of green belts where then you have that outer loop. Things are getting together, but I think it's going to be crucial that within the city's new comprehensive plan that those are called out and that a funding stream that is greater than what Ozark Greenways can raise can be dedicated to go towards that. And I feel that there is good synergy and momentum towards that right now, but technically speaking there's not an official plan for that, and it's not funded. I don't know anybody that would be opposed to that, but there's so many competing interests and needs. We've just got to be sure that we constantly talk about the benefits that trail networks bring for conservation, for healthy communities and that economic vitality piece.

417: Tell us about the conservation work that Ozark Greenways does.
M.K.: We're working by 2020 to place 45 acres around Wilson's Creek into conservation easements. Ozark Greenways owns some land, and then there's some public landowners we'll be working with and some private landowners—it's all voluntary—to help preserve Wilson's Creek, because if we don't have water, we're kind of up a creek without a paddle. We've also helped do different types of native plant species plantings [and] native tree plantings, which is good for stabilizing creeks, but then it also provides habitat for wildlife.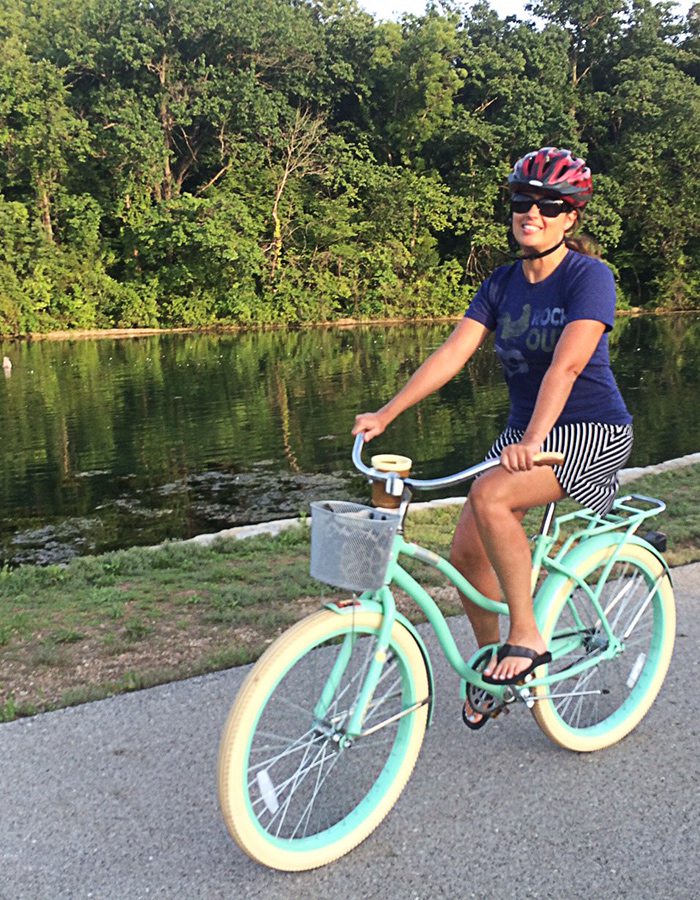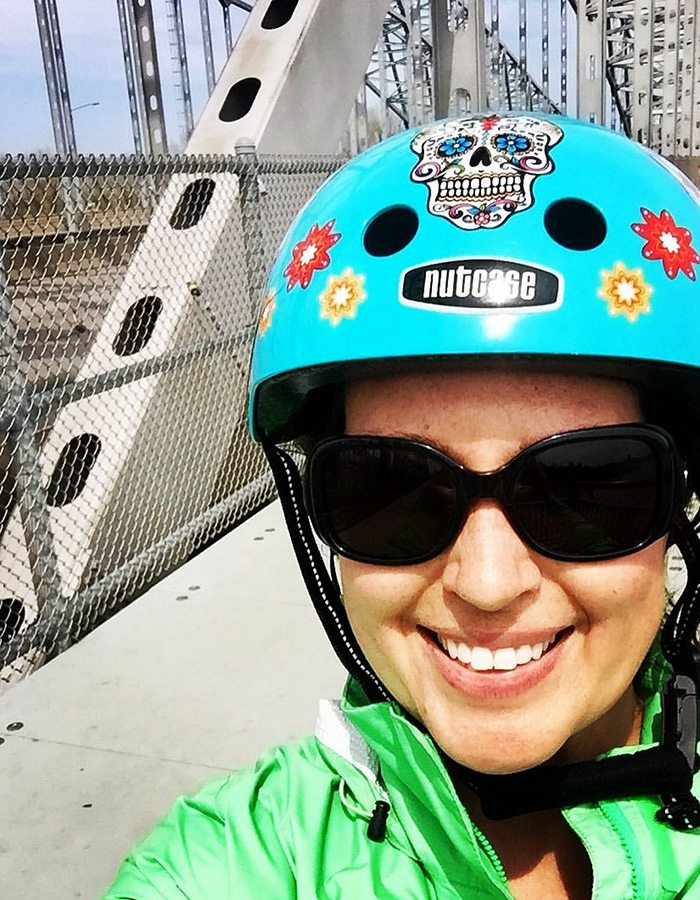 Photos courtesy Mary Kromrey Mary Kromrey bikes on the Galloway Creek Greenway and the Missouri River Bike/Ped Bridge in Jefferson City.
417: Many community leaders feel that the natural beauty of the Ozarks is one of our region's greatest opportunities. What role does Ozark Greenways play in that future?
M.K.: I feel that Ozark Greenways' time is about to arrive. We have played a huge role in that since our inception back in 1991 because what we do is connect people to the natural beauty of our Ozarks every single day. I feel that we're a hidden gem or one of the best-kept secrets that our community has because getting people outdoors that aren't outdoorsy people, that can be intimidating. But it's a greenway trail, and it's friendly, it's hard-surfaced, it's easy to utilize. You don't have to worry about getting lost, and then when people are out on that trail, they start to notice other things. Maybe they notice the creek that it runs alongside or maybe they notice the birds or the other components of the park and their behaviors and their attitudes start to shift. I would say if folks value their outdoors, support it. Stand up for your outdoors. Fund your outdoors and then get out there and enjoy them.

417: What makes a good greenway?
M.K.: I think a good greenway, from a practical standpoint, is easy to access for people who are both getting there by car or who are choosing to walk and bicycle to it. I really think they need to be hard-surfaced and have minimal grades, that way they are accessible for all ages and all users. And then it needs to—you know, our tag line has been "Connecting people and places"—well it needs to do that. So how do we get residential areas so they can access those greenways easier? What do those connectors look like? Some folks do just want to use [trails] for their exercise or to meet a friend and talk, but then wouldn't it be really cool if you could utilize that trail to go to your favorite restaurant or your favorite coffee shop or pickup just a couple of groceries that you could easily carry?

417: Is there a hidden gem of the trail system?
M.K.: So we've got the Ward Branch Greenway, and we just had another pesky gap filled in that. I don't think folks realize that you can leave from Cox [Medical Center] South, you can go under [Highway] 60, under Republic [Road], under Campbell all on a continuous greenway and pop out there at the base of where The Library Center is and then take that low–traffic volume road up to The Library Center. And I don't think folks realize that we have that great resource to move people under those major roadway systems, which is so much safer for everybody involved. It may not be the most scenic route, but, man, it's super functional.

417: Later this year, the Ozarks Transportation Organization will release the Regional Bicycle & Pedestrian Trail Investment Study, which Ozarks Greenways participated in. Why was that important?
M.K.: When you're going after some of these larger transportation dollars, you have to have the plans in place and approved by various entities, and so this is a step to get some projects funded. Every community has needs—maybe Willard needs so many feet of sidewalks or maybe Strafford needs a new bridge. Money [from the federal government] gets divided to help that community meet its needs, but there has been talk—and it's been a popular idea—to some years do a regional project. So you can say, "Wow, we did this, and it connected the Wilson's Creek Greenway that is in Springfield to the Wilson's Creek National Battlefield, which is in Republic." That's another part of that buzz and that energy that's happening. And so that's super exciting.
Get Involved with Ozark Greenways
Make a Donation: 
Spend the day beautifying greenway trails as a volunteer or join one of the organization's planning committees. Visit facebook.com/ogtrailcrew for details.
Hit the Trail: 
Enjoy all 73-plus miles of greenway trails and 81 miles of on-street bike routes in 417-land. Find trail maps and more at ozarkgreenways.org/explore.