Reviews
5 Best: Onion Rings
Crunchy hoops of crisp onion, a messy coating and just-right seasonings.
By Katie Pollock Estes and Dylan Whitaker Photo by Kevin O'Riley
May 2012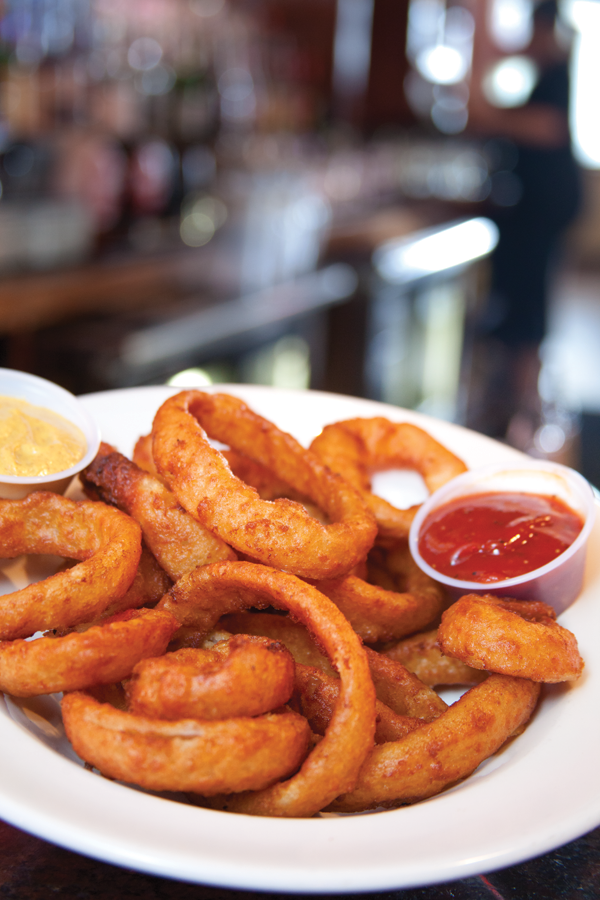 1. Boomers Campus Sports Bar & Restaurant
631 S. Kimbrough Ave., Springfield, 417-866-2700
Boomers doesn't serve crispy onion rings; it serves extra-crunchy onion rings. These giant beer-battered onion rings are served piping hot with spicy mustard and a bloody mary ketchup. When you bite into Boomers onion rings, you hear the super-loud crunch like you were eating corn nuts. The batter is fairly thick but not in a way that you lose out on the onion flavor. You can tell the beer helps add lightness and body to the batter, and it has a hint of sweetness that pairs nicely with the spicy mustard.—D.W.
2. Patton Alley Pub
313 S. Patton Alley Springfield, 417-865-1188
These big hand-breaded onion rings win the prize for spiciest batter. After close inspection, you can actually see black and cayenne pepper specks in the batter. The strong black pepper flavor is what stood out most to me. These are served with a side of ranch dressing to help cool off the spiciness of the pepper. The onion rings are coated very lightly and fried to a golden blonde. Since the fried batter is so light, the onion becomes the main flavor profile. The batter is just the vessel the onions are delivered in.—D.W.

3. Rosie Jo's Café
915 W. Jackson St. Ozark, 417-581-6047
To call this a side of onion rings seems preposterous to us since you could easily split them between two people, and they take up most of the plate. Rosie Jo's slices its onion rings fairly thin, about a quarter-inch wide. The mound of onion rings is lightly battered, fried expertly and served crunchy. Simply seasoned with salt and pepper, the fried batter packs a whopping crunch, bite after bite.—D.W.

4. Level 2 Steakhouse
200 E. Main St., Branson, 417-243-3433 (At press time, Level 2 had temporarily moved across the street to the Hilton Promenade at 3 Branson Landing Blvd., while the Hilton Branson Convention Center undergoes tornado damage repair.)
The Sweet Maui onion rings at Level 2 are perfect for people who aren't fans of beer-battered rings. These are breaded in a coating that's simultaneously plentiful and light. It's seasoned just right, too. You don't just taste breading: You taste spices. Inside, the super-sweet onions are thick-cut into fat slices that cook up to perfect tenderness when they are fried. These are onion rings with bite, and they are an ideal complement to something like a hearty ham sandwich.—K.E.

5. The Grotto
3046 S. Kimbrough Ave., Springfield,
417-886-9600
The onion rings at The Grotto are served with a side of ranch dressing for dipping. It's a tasty complement, but we hardly need it. These puppies are delicious on their own. They are coated in a super-crunchy beer batter that fries up to golden perfection while the onion inside becomes just tender enough. (You know, so you can bite them in two rather than lose the batter when you take a bite. No one likes a naked onion.) Plus, there's that perfect contrast of the sweet onion with the salty batter. It makes our taste buds happy every time.—K.E.