Dishes
Chicken Salad Sandwich at Beth's Bake Shoppe
Plus six other dishes that have passed our taste buds this month and made us rave. They are ranked by level of yumminess.
By The Editors
May 2012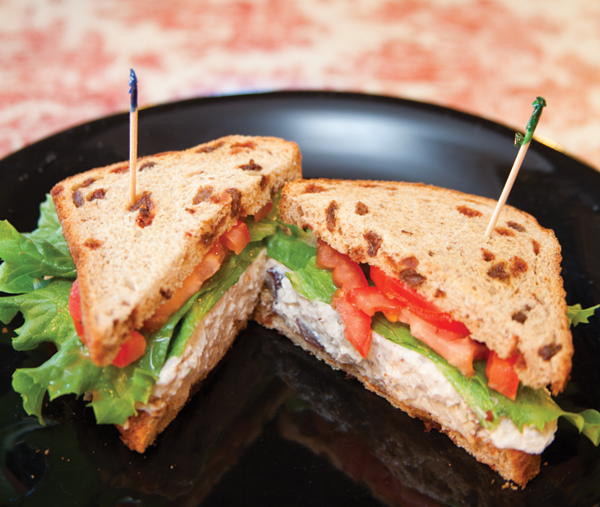 1. We love that the chicken salad sandwich at Beth's Bake Shoppe is served on fresh toasted cinnamon raisin bread. It's a perfectly sweet change of pace.
2. The plain croissant at Elle's Patisserie is one of the best we've had in 417-land. It's everything a croissant should be: buttery, flaky, indulgent.
3. For a messy meal, we love the piled high open-face corned beef sandwich at Dublin's Pass. Tons of corned beef and braised cabbage are served over a bed of soft mashed potatoes and a piece of thick toast. It's all topped with a decadent mustard cream sauce.
4. One of our favorite steak indulgences is the bistecca rosmarino from Avanzare Italian Dining. The ribeye is topped with the perfect amount of white wine and gorgonzola cream sauce.
5. Nonna's ITALIAN CAFE (417-831-1222, 306 S. Avenue; 417-890-8300,  3512 S. National Ave.) is cooking up yummy polenta. It had a dyed-in-the-wool potato fanatic on staff thinking potato schlmato.
6. One of our staffers is raving about the Susan's Favorite pizza at Wannagetta Pizza. The super-thin wheat crust is topped with beef, ham, mushrooms, spicy tomatoes and lots of mozzarella.
7. To indulge our inner kid, we love ordering the egg noodles and cheese sauce at Level 2 Steakhouse. The rich and creamy take on mac and cheese is so decadent, we always want more even after we've cleaned the plate!