Dishes
Onion Rings at Rosie Jo's
Plus six other things that passed the test of our taste buds.
By The Editors
May 2013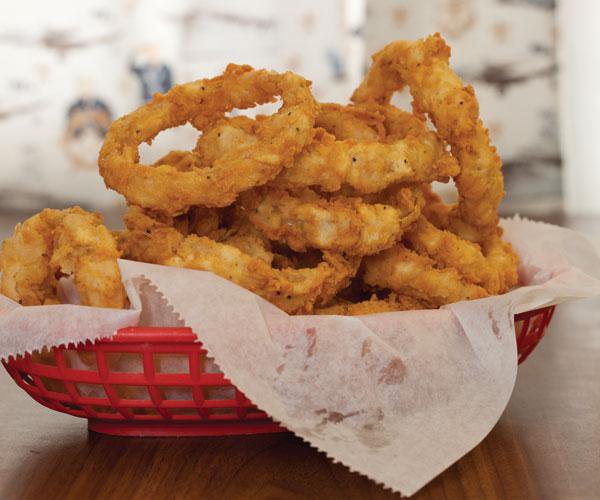 1. The made-to-order onion rings at Rosie Jo's (915 W. Jackson St., Ozark, 417-581-6047) are among the tastiest onion rings we've ever tried. The onions are cut nice and thick, allowing their sweet flavor to shine and perfectly accompany the crunchy-crisp breading. The appetizer is huge and comes with a tasty homemade ranch dressing.
2. A trip to Mijuri Sushi & Grill (2710 S. Campbell Ave., Springfield, 417-887-9593) usually involves a Hurricane roll for one of our staffers. The roll has scallops, spicy crab and masago with plenty of crispy crunchies. It's spicy, but just barely. Just a hint of tasty heat. 
3. We can't get enough of the simply delicious Insalata alla Tony at Avanzare Italian Dining (1908 S. Glenstone Ave., Springfield, 417-567-3463). Spinach and field greens and topped with earthy beets, creamy gorgonzola cheese, sweet caramelized pecans and a tasty balsamic vinaigrette. 
4. The crab cakes at Nonna's Italian Café (306 South Ave., Springfield, 417-831-1222) are one of a kind, with big chunks of crab in every bite. Bonus: They are baked, not fried. 
5. According to several staffers, the calamari at Level 2 Steakhouse (200 E. Main St., Branson, 417-243-3433) is some of the very best they've ever had. Don't take their word for it; go try it. 
6. We're loving the grilled Italian sausage with polenta at Ristorante Gilardi's (820 E. Walnut St., Springfield, 417-862-6400). They call it an appetizer, but if you eat it on your own it's quite a tasty meal! 
7. The Fire & Rice Bowl at Fire & Ice (2546 N. Glenstone Ave., Springfield, 417-522-7711) is loaded with fresh veggies like carrots, broccoli, sprouts and snow peas. Add chicken, shrimp or beef and top it with Szechwan sauce for a delicious, sinus-clearing lunch.