Health
Girls'-Night-Out Workouts
We've rounded up a variety of workouts you and your best girl friends can enjoy together. Book a spot for your group, and get ready to dance, stretch, shimmy and shake.
May 2014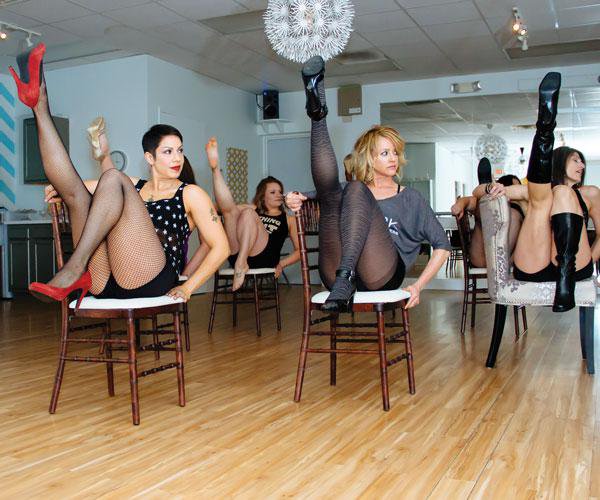 Pull up a Chair 
Spark Fitness 
1420 S. Enterprise Ln., Ste. H, Springfield, 417-929-1351, sparkforfitness.com
Not only will you need a group of your best girlfriends for a private party at Spark Fitness, you'll also need to bring some serious attitude. You can sign up for a private BUTI class or one of the chair classes where gals let loose while sporting a pair of fishnet tights and high heels. You can request your favorite slow jams, and your instructor will design a routine that special someone at home will undoubtedly enjoy. As you might imagine, these sessions are particularly popular with bachelorette parties. 
Just Dance 
Take the Lead 
1740 S. Glenstone Ave., Springfield, 417-234-7511, ttldancespringfieldmo.com
It's time to shake those hips, ladies! The dance instructors at Take the Lead are here to help you shimmy and shake whether you and your gal pals are into Latin, swing, country or even Zumba. There are two studios available for private parties and plenty of dance-worthy fixtures that help set the mood including sound-activated lights that sync to the rhythm of the song. You're even more than welcome to bring along some yummy snacks and a little bubbly to really get things going. Just pick a theme, reserve a studio and get ready for an hour-long dance party.
Shake it Like You Mean It 
StudioZ Nixa 
1320 W. Schatz Ln., Nixa, 417-379-0093, studioznixa.com
Zumba has turned your average cardio workout into a full-blown dance-a-thon, and at StudioZ Nixa you can reserve a private Zumba session for you and your girlfriends. Even though the usual Zumba class is choreographed to Latin jams, you can make your own playlist for these private sessions and even have StudioZ cater in food. These booty-shaking sessions can accommodate as many as 30 ladies, but the smaller the group, the better. 
Get Ready to Sweat 
Sumits Hot Yoga 
2680 S. Glenstone Ave., Springfield, 417-881-9642, sumitshotyogasgf.com
If you're in the market for something slightly more toned-down than a raging dance party, meet your girlfriends for some hot yoga at Sumits Hot Yoga. Each Friday, Sumits offers an Hour Flow by Candle Light session. With temperatures reaching 102°F and nothing but soft candlelight as a guide, yogis of all levels slowly stretch and bend their way through a series of fluid movements. Once you've sweated out the stress of the week, cool down with a glass of wine a few doors down at Wine Styles' Friday night wine tastings. 
Work Your Inner Woman 
Aerosha
Springfield, 417-848-0482, aerosha.com
The number of girls'-night-out style classes at Aerosha is impressive. There are private parties that can be customized to fit birthday parties and bachelorette parties, then there are private Intro to Aerosha sessions where you and your girlfriends can get an introductory look into the fluid, feminine motions that have made Aerosha a popular workout. Then there are the fabulous Ladies' Retreats hosted by Aerosha where ladies enjoy a full-length custom class, catered lunch, mimosas and a list of tempting add-ons including photography and manicures. All of these sessions, from baby showers to wedding showers, are designed to strengthen your spirit, pamper your soul and work those muscles.