Style
The Boyfriend Jean
Never doubt your style prowess again when it comes to the fashionable and edgy boyfriend jeans. Just use these tips for how to rock this runway must-have.
by Ettie Berneking | Photo by Kevin O'Riley
May 2014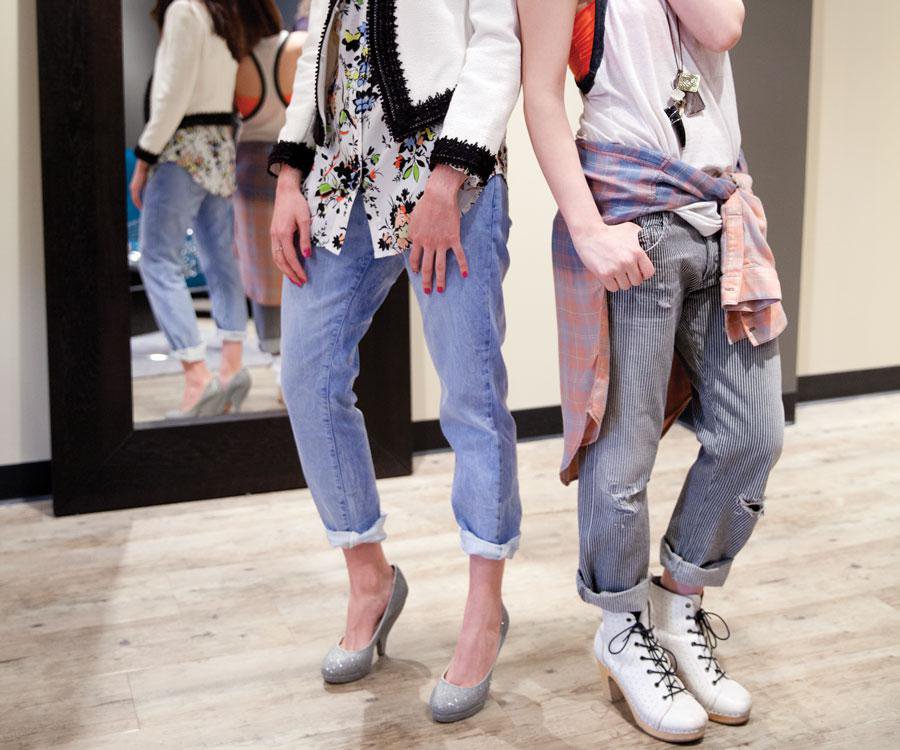 They're back! Those boyfriend jeans everyone loves so much and that Jennifer Aniston rocks so effortlessly have returned for another stylish season. We stopped in at Ashby's Boutique•Denim Lab (2652 S. Glenstone Ave., Springfield, 417-887-1127) to get the style low-down from buyer, manager and stylist Chelsea Bassham on how to best wear this trend and about the new features these jeans bring to the runway. 
"This look hit big four years ago," says Bassham. "But these jeans were a lot baggier back then. Now this look is back, and it's more streamlined and in every wash and level of distress imaginable." A more modern and fitted pair of baby blues, this look can go from weekend casual to stylish night out.
Here are a few tips from Bassham on how to truly rock the boyfriend jeans.
Avoid baggy tops. 
When you're wearing baggier boyfriend jeans, you want to throw on a fitted top. 
Accessorize.
Belts are an easy way to tie together this ensemble. Also consider adding on more masculine or grunge accessories like a knit beanie or some leather bracelets.
Go femme. 
To give this look some feminine charm, slip on a pair of pointy stilettos, or turn this casual, effortless look into a stylish night-out ensemble with the help of a blazer and some oversized pearl jewelry.
Find your size.
It's a good idea to go down a size when picking out the perfect pair of boyfriend jeans. This way the jeans are a bit fitted in the hips and legs without losing the relaxed style.
Don't forget your kicks. 
You can really wear any shoe with this style of jeans. A pair of stilettos adds a dressier vibe while wedge sneakers create a more masculine, athletic look. You can also wear chunky booties for more of an edgy style or oxfords and short trouser socks for a nerdy-chic look. 
Roll with it. 
Finish the look by unrolling the hem of the jeans and then rerolling it to get that messy look. It sounds nuts, but it works.