Reviews
The Tower Club Review
We revisited the Tower Club, one of Springfield's most exclusive fine dining restaurants, for an elegant evening complete with delectable food.
May 2014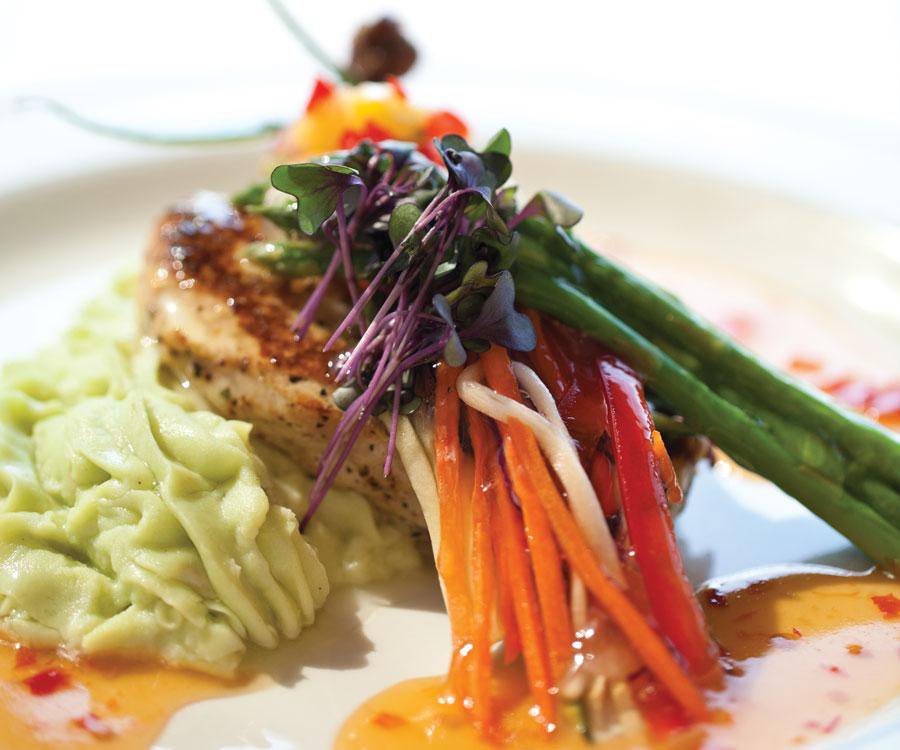 The Tower Club's Airline Chicken entree comes wrapped in bacon and stuffed with Boursin cheese, dried dates and spinach and is served with cheddar cauliflower puree.
The Tower Club
901 E. Saint Louis St.,
Springfield
417-866-4466
Atmosphere
Swanky and low-lit 
Best seat in the house
It's on the 21st floor of The Hammons Tower, so no matter where you sit you get a great view of downtown Springfield. 
Order this now
Try a seasonal item, such as the Asian tuna salad.
How to eat here
Not a member? No worries: Call Regan O'Rourke at 417-866-4466 for a guest pass. 
Up until recently, I've only visited The Tower Club restaurant for charity events and fundraisers. I've always thoroughly enjoyed all of the food, but I never actually had the chance to sit down, peruse the menu and order whatever I wanted. This changed on a recent Friday night when Joan and Gary Whitaker invited me to eat at the restaurant as their guest.
When my dinner date, Dylan Gideon, and I arrived at 6:30 p.m., only a handful of tables were occupied. The dining room sits on the 21st floor of Hammons Tower, so it boasts great views of downtown Springfield from every table. We were quickly seated at a window with an expansive view of Hammons Field, and dozens of surrounding streetlights and buildings lit up the night sky. I was impressed. And the restaurant's low lighting, white linens, buttoned-up wait staff and a live pianist created an atmosphere that was equally impressive. I felt special and important, like I was a part of some secret club.
We decided on the Black & Bleu Bruschetta for an appetizer. Disclaimer: Bruschetta is truly my favorite food in the world, and I've had all kinds. That's why I feel it's even more impressive to note that the Tower Club's take on the appetizer is one of the best I've ever eaten. It features thinly sliced French bread with blackened beef tenderloin, spinach, Roma tomatoes and buttermilk bleu cheese. The veggies were fresh, the beef added a robust depth to the delicate little appetizer, and the bleu cheese tied it all together with a pungent zip. If I ate nothing but this bruschetta for the rest of my life, I would die a happy woman. 
Next up for me was a house salad, which had a standard collection of mixed greens with a few not-so-common house salad toppings, including olives and feta cheese. It was all drizzled with an apple cider vinaigrette, which was the perfect slightly sweet accompaniment to the tangy feta. Dylan started with the French onion soup, and we both agreed that the rich beef broth provided the perfect one-of-a-kind flavor. He slurped up every drip. 

The Tower Club's Black & Bleu Bruschetta created by Chef Brad Lyons (below) features beef tenderloin, spinach, Roma tomatoes and buttermilk bleu cheese.
For my entree, I ordered the Airline Chicken Breast stuffed with Boursin cheese, dried dates and spinach. It's all wrapped in bacon and finished with a Marsala wine sauce and served with a generous helping of cheddar-cauliflower puree. The chicken had so many complex flavors that I could probably write a book about it. First, there was the juicy chicken breast, which was a nice subtle base layer for the creation. Next came the mixture of the Boursin cheese and dates, which was a sweet and creamy combo that made every bite indulgent. And the bacon, the candy of meats, made it that much more irresistible. The accompanying cheddar-cauliflower puree tasted like a lighter version of mashed potatoes, and it balanced out the over-the-top chicken perfectly.
Dylan ordered the special of the evening, which included filet, coconut chicken breast, garlic mashed potatoes and fresh asparagus. The steak, in a word, was perfect. It was tender, juicy and cooked to a sound medium-rare. The coconut chicken added a not-so-typical twist to your average chicken dish, and the garlic mashed potatoes were a carby, creamy and indulgent side. I'll admit, I liked them a bit better than my cauliflower, and I snuck a few forkfuls when Dylan gazed out the window.
We were too filled up to try dessert, but after falling in love with everything that was placed at our table, I can only imagine that the desserts would be out of this world. Although The Tower Club is typically a members-only spot, you can request a visitor's pass to try it out, and its banquet room is now open to the public for events. I highly recommend you give it a try.
Three Questions with Chef Brad Lyons
417 Magazine: How would you describe The Tower Club's food?
Brad Lyons: We keep it fresh. Being a club that often feeds the same people, we change it up. There are new specials every night and new menus every three to four months.
417: What keeps people coming back? 
B.L.: The consistency of the food, the quality service and the dining room itself. 
417: What's the most important tool in your kitchen? 
B.L.: I'm big into sauté, so I'd have to say a sauté pan. Also, I always have a pair of tongs in my hand.